Israeli Occupation Forces notify structures of demolition and Stop-Work in Nablus governorate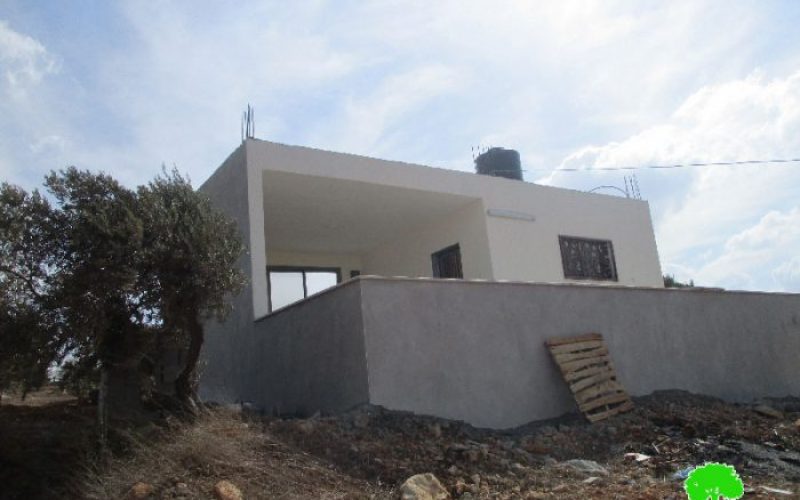 Violation: serving military order
Location: Qusra town- Nablus governorate
Date: November 02, 2016
Perpetrators: Planning and Construction Committee- Israel Civil Administration
Victims: six Palestinian families
Details:
The town of Qusra, west Nablus city witnessed on November 02, 2016 the serving of final Stop-Work orders on two agricultural rooms, water well and a residence in the area known as "Al-Qa'deh", which is the place where Migdalim colony is founded on some confiscated lands.
The affected people were given a one week deadline to demolish what has been so far built and restore the previous status of the area. This is because the occupation claims the area to be classified as area "C" according to Oslo Accords, which is under Israeli control.
It should be marked that the two agricultural rooms were built with funds from Ministry of Wall and Colonization Affairs to protect the area from colonial plans through establishing structures in targeted locations. The water well is reported to be funded by the Dutch Representative Office in Palestine to facilitate the planting and developing of lands in that area.
On July 04, 2016, the aforementioned structures were notified of stop-work. The owners proceeded to submit all legal documents to Beit El court to obtain a proper license but the court rejected all papers and ruled the demolition of the structures. (LINKE)
Stop-work order on under-construction residence:
South of the town, Planning and Construction Committee- Israel Civil Administration delivered citizen Marmar Oudeh (34) a military order of stop-work on his 120m2 house that is still under construction. The order came Under the pretext of unlicensed construction in an area classified "C" according to Oslo Accords.
According to the military order, the affected people were given a deadline until November 24, 2016 to complete all licensing procedures. This comes in time with the hearing session of Planning and Construction Committee- Israel Civil Administration in the Israeli court of Beit El colony to consider the status of the notified structures.
According to the data of Qusra village council, more than 13 structures are notified of Stop-Work. All were claimed "unlicensed construction".
The following table shows information about the affected people and their properties:
Affected citizen

Family

Minors

Area\m2

Nature of structure

No. of military order

Funding body

Photo

Qusai Abu Rabada

6

3

80

Ready- to-move in- to house

201886

Ministry of Wall and Colonization Affairs

1+2

9

Agricultural room

201699

Musbah Kan'an

5

3

90m3

Water well

2011889

Dutch Representative Office

3

Hani Abu Rabada

9

5

9

Agricultural room

2012888

Ministry of Wall and Colonization Affairs

4

Marmar Oudeh

4

2

120

Under construction house

203663

5

Mahmoud Oudeh

8

3

2m3

Water tank

Zeyad Oudeh

4

1

60m

Fence

Total

36

17

218
Source : Field observation- Department of Monitoring Israeli Violations- Land Research Center-2016
Demolition of a fence and damaging of water tank:
In addition to the aforementioned violations, Israeli Occupation Forces destroyed a fence that surrounded an area of 3 dunums, which recently underwent reclamation activities. The plot belongs to citizen Zeyad Oudeh. Not only, a water tank of 2m3 that was used for irrigations ends was damaged during the attack.
About Qusra:[i]
It is located 23 km to the south of Nablus city and is administered by Qusra village Council. Qusra is surrounded by Jurish (south), Talfit (west), Majdal Bani Fadil (east), and Mizpe Rachel colony (south).
Qusra is inhabited by 5644 people according to 2014 PBS population projections. Its total area is 8886 dunums that include 775 dunums of built up area.
The Israeli occupation confiscated 223 dunums of the village lands for the sake of:
Migdalim colony that devoured 155 dunums. It was built in 1984 and is inhabited by 152 colonists.
Bypass road no. 508 that took over 68 dunums.
According to Oslo Accords, Qusra is divided into area B (4323 dunums) and area A (4563 dunums).
1] Source: Geographic Information System- Monitoring Israeli Violations Team- Land Research Center
Prepared by
The Land Research Center
LRC