Israeli Occupation Forces confiscate water tanks and mobile toilets in Sateh Al-Bahar area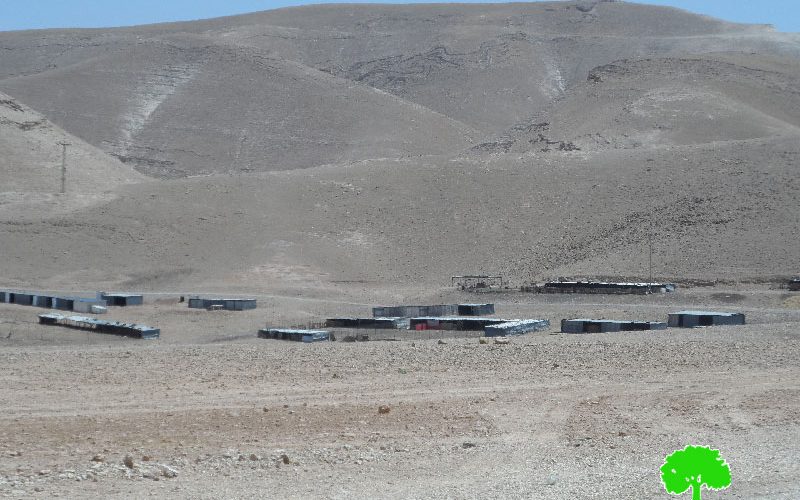 Violation: confiscation of structures and tanks
Location: Arab AL-Kaa'bnah Bedouin community
Date: November 01, 2016
Perpetrators: Israeli Occupation Forces
Victims: four Bedouin families
Details:
It is reported that a massive force from the Israeli occupation army raided on November 01, 2016 the Bedouin community Arab AL-Kaa'bnah, south Jericho city and confiscated four water tanks (1m3 each) and three mobile toilets that were gifted by ACF due to the hard life conditions and Israeli practices the residents of the area endure.
It should be marked that this is the second confiscation operation in the area in less than three months. On June 05, 2016, Israeli Occupation Forces confiscated six rooms and a caravan used as a kindergarten from the Bedouin community. For further information, please read the special report (LINK).
Photos 1-2: general view of the Bedouin community
The following table shows information on the affected people and properties:
| | | | |
| --- | --- | --- | --- |
| Affected citizen | Family | Minors | Confiscated items |
| Mohammad Kaa'bnah | 6 | 4 | Water tank+ mobile toilet |
| Oudeh Kaa'bnah | 7 | 3 | Water tank+ mobile toilet |
| Akram Kaa'bnah | 4 | 2 | Water tank+ mobile toilet |
| Fahmi Kaa'bnah | 7 | 4 | Water tank |
| Total | 24 | 13 | 4 tanks+ three mobile toilets |
Source : Field observation- Department of Monitoring Israeli Violations- Land Research Center-2016
It should be marked that the Bedouin community of Arab Al-Kaa'bnah is one of 46 communities founded in the Palestinian Jordan Valley (Al-Ghoor) that are threatened of forcible displacement. Over the past ten years, this very community was demolished many times, the latest of which was in 2014.
The community is inhabited by 13 Bedouin families that live primitive life and depend on livestock as the only source of income.
Sateh Al-Bahar is founded to the east of Mizpe Yeriho colony; more specifically in the area known as Al-Nabi Mousa. Residents of the area have been living there since 25 years ago and are threatened of forcible displacement, taking in consideration that the occupation claims the area closed military zone.
Prepared by
The Land Research Center
LRC