Colonists cut down and poison olive trees in the Bethlehem village of Nahhalin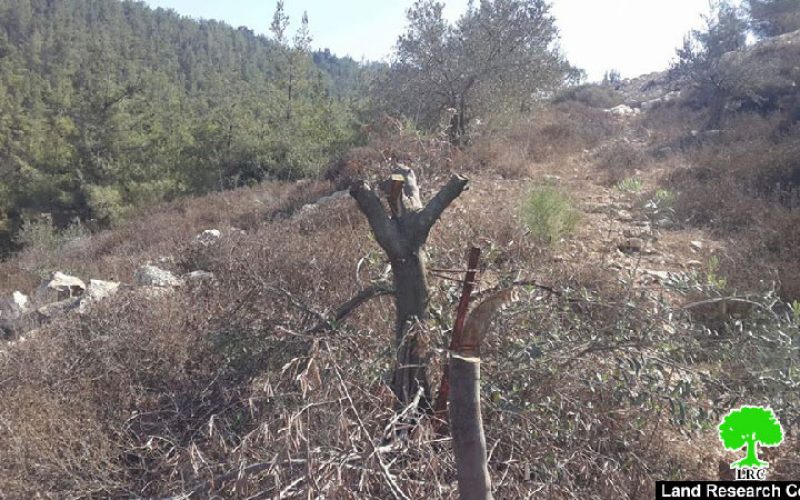 Violation: killing olive trees
Location: Wad Al-Harayq- Nahhalin
Date: October 29, 2016
Perpetrators: Beit Ein colonists
Victims: citizen Ahmad Fanoun
Details:
On October 29, 2016, colonists of Beit Ein carried out an attack on olive groves, targeting trees aging 20 years in the area Wad Al-Harayq of Nahhalin village, west Bethlehem city.
Fanoun family was shocked to find out that twenty olive trees were attacked on their 4 dunum land that is adjacent to the colonies bloc of Gosh Etzion. Noteworthy, the family owns around 70 dunums of olive and fruit fields in the area, which is constantly targeted by colonists. Despite that the target lands possess Palestinian ownership document, colonist still demolish retaining wall and carry out different attacks in the area.
A member from Nahhalin council, Majid Ghayatha, told Land Research Center the following:
" Agricultural lands in the area witnessed many attacks suck like demolition of retaining walls and fences, which prevent soil erosion in winter time. Not only, the area witnessed attacks on trees by colonists in the past couple of years".
Nahhalin:
The village is located 10km to the south west of Bethlehem and 3.5 km to the east of the armistice line of 1949.
The village's total area is 18,858 dunums including 890 dunums of built-up area, inhabited by8805 people according to the PBS statistics of 2014.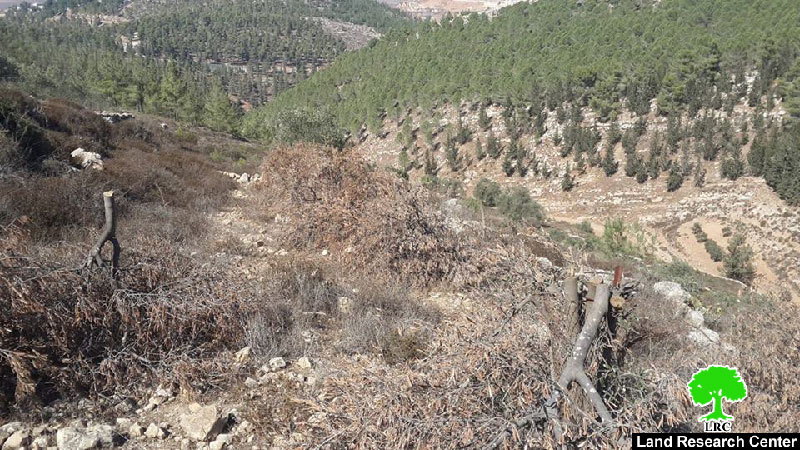 Israel has confiscated 4,283 dunums from the village lands 3,583 dunums of which for colonial expansion purposes and 700 dunums for the favor of bypass roads. There are 8 colonies founded over the village lands namely (Beit Ein, Tsoref, Majdal Oz, Jabot, Kfar Etzion, Efrat, Illit, Rosen Tsurem and Allon Shevut).
Prepared by
The Land Research Center
LRC