Stop-work order on  land rehabilitation works in Qalqiliya governorate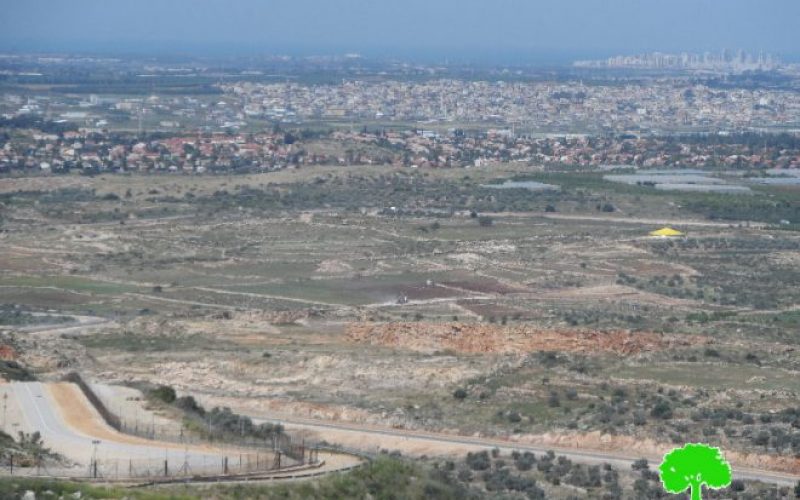 Violation: halt on reclamation activities
Location: Jayyous village- Qalqiliya
Date: October 30, 2016
Perpetrators: Planning and Construction Committee- Israel Civil Administration
Victims: farmers of Jayyous
Details:
Lands reclamation and rehabilitation projects that are implemented in Palestinian suburbs with funds from local and international organizations are a vital factor in supporting farmers steadfastness and resilience against Israeli plans and attacks. It should be marked that the so-called Planning and Construction Committee- Israel Civil Administration ordered on October 30, 2016 a halt on rehabilitation and reclamation activities in some agricultural lands in Jayyous village, northeast Qalqiliya village.
The coordinator of Agricultural Relief in Qalqiliya, Mahmoud Abu Hamdan, told Land Research Center the following:
" A force from the Israeli occupation army accompanied by a staff from Planning and Construction Committee- Israel Civil Administration raided the western part of Jayyous, especially in the area of Bier Yobak that was recently restored after modifying the route of the apartheid wall, and halted some reclamation activities "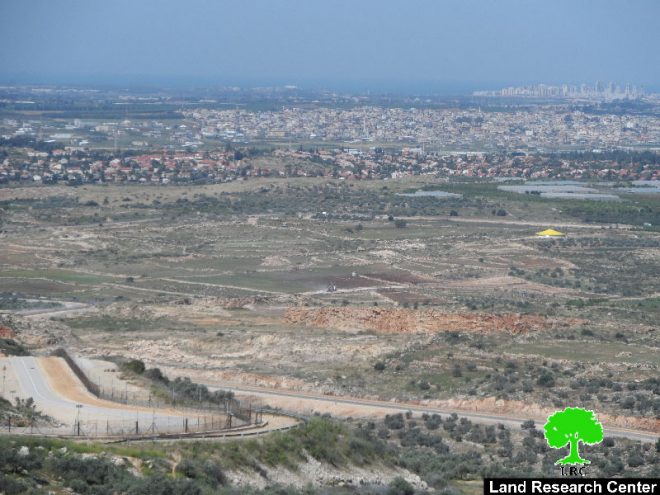 Photo 1: the target location with a view of the apartheid wall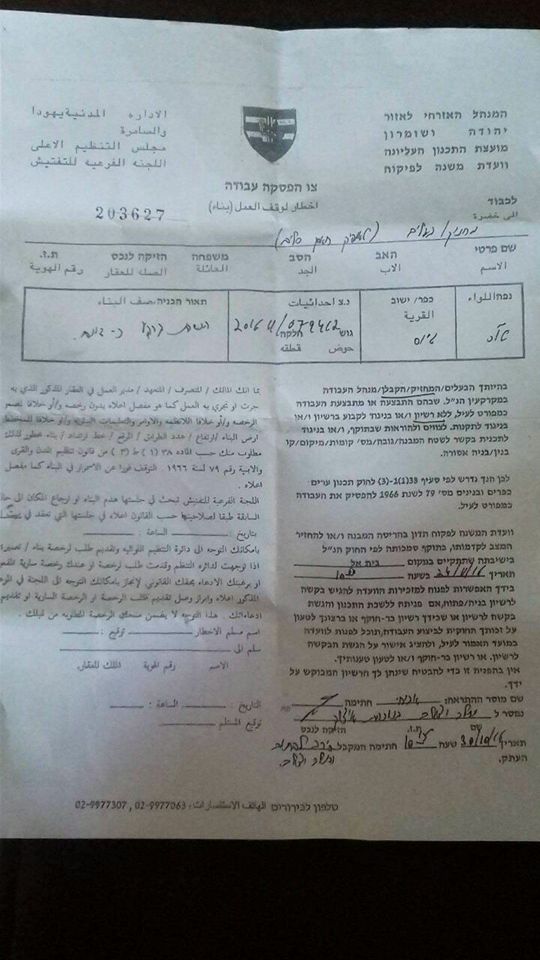 The military order no. 203627 served on the area
He also added:
" Soldiers of the occupation surprisingly raided the 15 dunum land of Tawfiq Salim and ordered the staff of the Agricultural Relief to leave the area, claiming it a closed military zone. The staff was given a military order that contained a threat of confiscation if reclamation works go on".
According to the military order, the affected were given a deadline until November 24, 2016 to complete all licensing procedures. This comes in time with the hearing session of the Planning and Construction Committee- Israel Civil Administration in the Israeli court of Beit El to consider the status of the notified structures.
Israeli Occupation Forces are reported to repeatedly break into the western part of Jayyous, harass farmers and hinder developmental projects in there.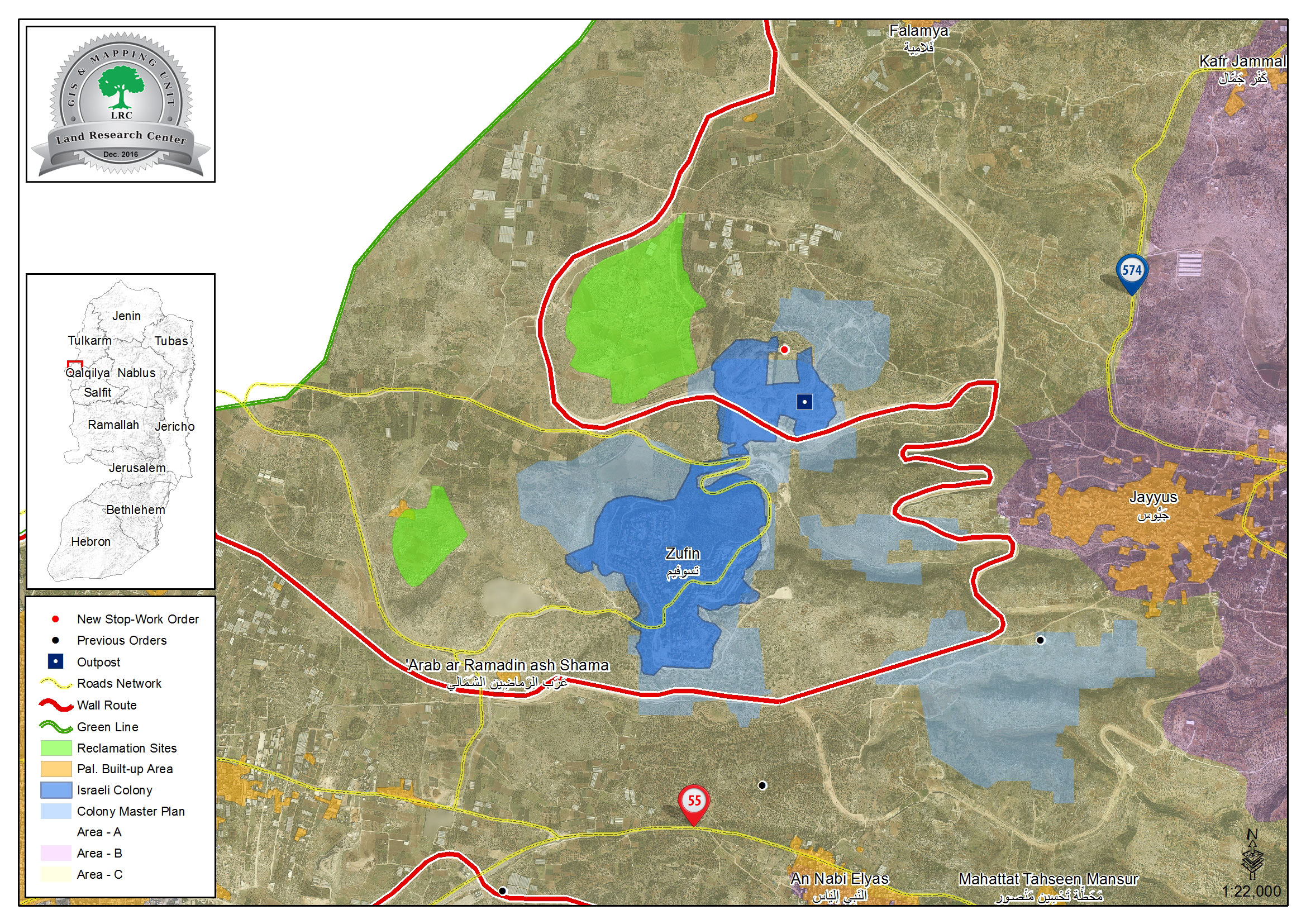 About the apartheid wall in Jayyous:
The segregation wall isolated, in 2002, around 8600 dunums form the villages of Jayyous and Falamya. After a long tribunal procedures in Israel Supreme Court, a decision was made on September 9th 2009 to modify the wall to its final status where 2450 dunums from northwest Jayyous shall be returned to their owners.
On January 18th 2013, the modification of the wall started and was represented in ravaging new areas for the sake of establishing a new modified segment to substitute the old one. The removed segment is of 3km from the northwestern side of Jayyous. As a result, 80 dunums were left damaged after the removal.
On September 1st 2014, the work on the new segment was done and on September 7th, farmers were given access to their lands, which were returned as a matter of fact.
According to the mayor of Jayyous: " the returned lands contain two artisan wells namely( Yabok and Abu Thahir) and have more than 25dunums planted with green houses. Rest of the area is olive groves.
Noteworthy, the isolated lands have 27dunums planted with vegetables, citrus, olives and guava as well.
Prepared by
The Land Research Center
LRC