Stop-work order on a road in the Salfit town of Al-Zawiya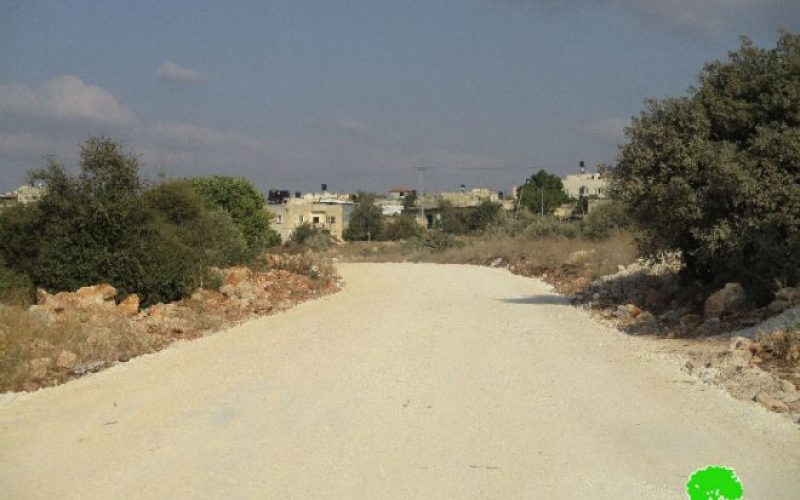 Violation: serving a stop-work order
Location: Al-Zawiya town- Salfit governorate
Date: October 13, 2016
Perpetrators: the so-called Planning and Construction Committee- Israel Civil Administration
Victims: residents of the town
Details:
The so-called Planning and Construction Committee- Israel Civil Administration accompanied by Israeli Occupation Forces raided on October 13, 2016 the area known as "Al-Wi'reh" and served a stop-work order on a road that is being opened in the area. The order mentioned that the road was unlicensed and founded in area classified C according to Oslo Accords, which is under Israeli control.
The military order no 201365 gave the affected a deadline until October 31, 2016 to complete all licensing procedures. This comes in time with the hearing session of the Planning and Construction Committee- Israel Civil Administration in the Israeli court of Beit El colony to consider the status of the notified structure.
Photos 1-3: the target road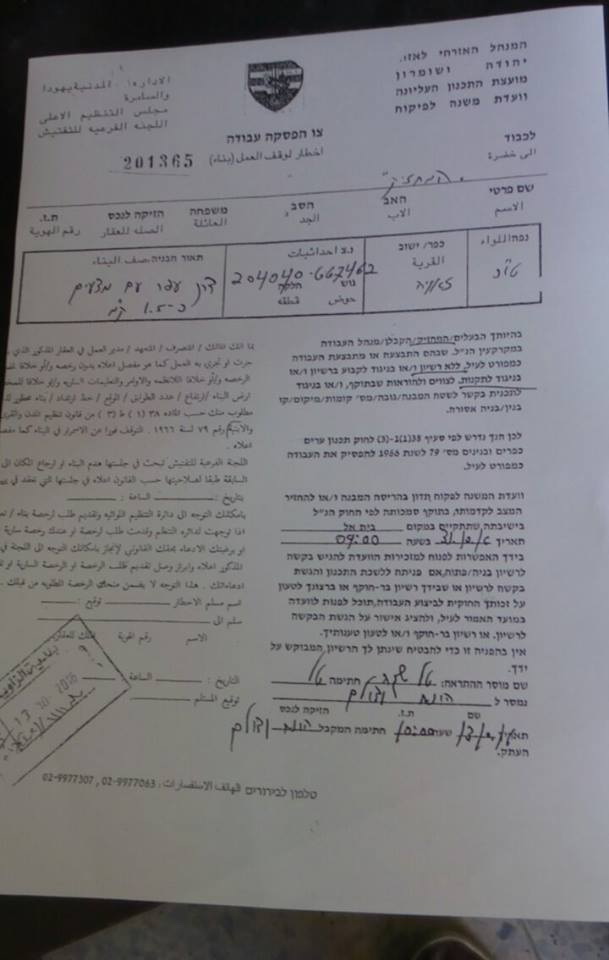 The military order no. 201365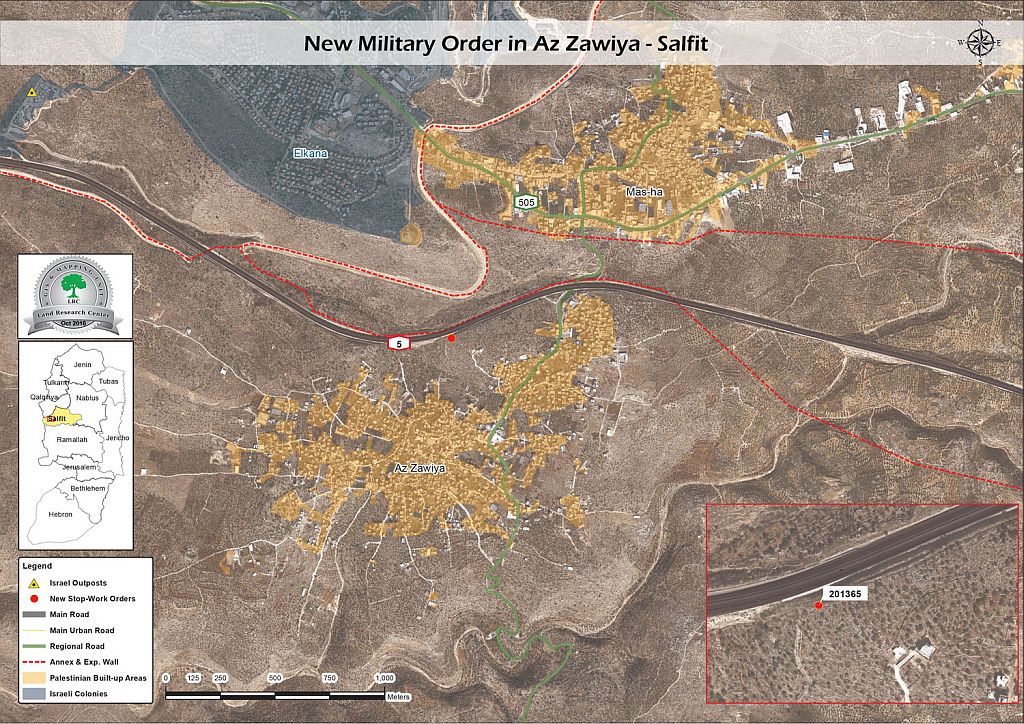 An aerial photo of the target area
The mayor of Al-Zawiya, Mr. Na'im Shuqair, told Land Research Center the following:
" Al-Zawiya municipality embarked on opening a road (18m *2km) that travels parallel to an Israeli bypass road that penetrates the lands of the town. The objective of opening the road is to link the northern entrance of the town to the northwestern side of it in order to serve the expansion of the town's built-up area. Noteworthy, the road serves tens of agricultural dunums planted with olives. The overlaying of a base-course layer was funded by the municipality itself. As for asphalting the road and providing it with lights, the municipality managed to obtain a fund for that end. But the occupation came and targeted the road with stop-work. Not only, the occupation forces threatened the contractor and workers of arrest in case the keep on doing their work there".
It should be marked that Al-Zawiya town is a constant target of Israeli attacks and violations. More than four houses in the town are threatened of stop-work. Not only, farmers get always harassed by the occupation forces on the claim of "maintaining colonists' security".
About Az Zawiya:
Located 17 kilometer west of Salfit and adjacent to the Green Line, Az Zawiya has a population of 4754 people according to statistics conducted in 2007. (81%) of the population depends on agriculture and sheep grazing while the rest work in governmental jobs or private sector projects. Az Zawiya has a total area of 12,000 dunums, 693 of which are a built-up area of the town. Most agricultural lands in Az Zawiya are planted with olive, figs, and cactus. The Israeli occupation confiscated 1747 dunums of Az Zawiya lands for colonies and the Apartheid Wall as the following:
Two colonies are built on Az Zawiya lands. The first is Mazor Atiqa which was built in 1986 and confiscated 573 dunums. The other is Elkana which was built in 1977 and confiscated 57 dunums. Elkana is inhabited by 3050 colonists.
Bypass road number 5 and it devoured 520 dunums of Az Zawiya lands
The Apartheid Wall which destroyed 579 and isolated 4228 dunums
Prepared by
The Land Research Center
LRC