During the olive harvesting season: Israeli Occupation Forces set fire to olive trees in Qalqiliya governorate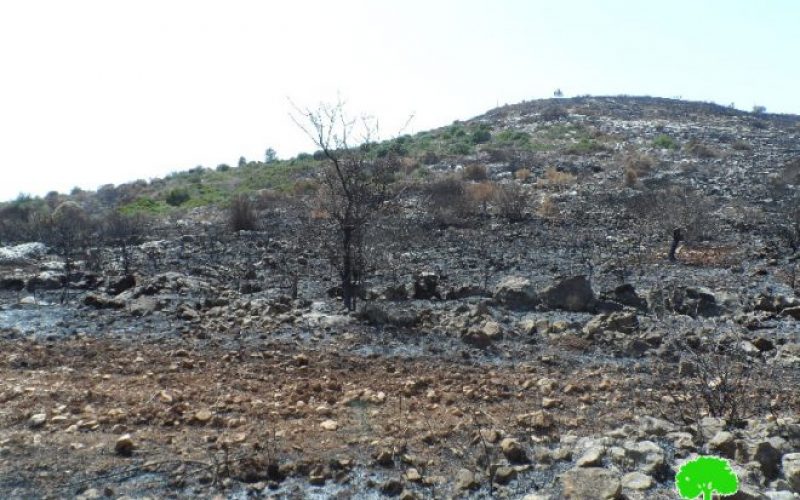 Violation: torching olive trees
Location: Kfar Qaddum village- Tulkarm
Date: October 14, 2016
Perpetrators: Israeli Occupation Forces
Victims: farmers Adnan and Abelsalam Shteiwi
Details:
Israeli Occupation Forces on October 14, 2016 fired stun grenades at a weekly march in Kfar Qaddum village, causing fire to kill 23 olive trees aging around 40 years each. Trees were totally burnt down because the fire brigade was hindered by the clashes that erupted between marchers and the occupation troops in the area.
Noteworthy, the weekly march is being conducted by the residents of Kfar Qaddum and some internationals to demand the opening of the area's southern entrance that has been closed since 2000.
It is reported that 14 trees belonging to farmer Adnan Shteiwi and 9 trees belonging to Abdesalam Shteiwi were totally burnt down.
It should be marked that Israeli Occupation Forces intentionally carry out attacks and conduct violations during the olive harvesting season to strike the economy of Palestinian areas and affect the income of Palestinian farmers who depend on agriculture. Not only the Israeli army, colonists also take part in such attacks and violations to shake the economy of Palestinian and badly affect them.
Photos 1+2: the ashes of the olive trees
About Kfar Qadum village:
It is located 25km to the east of Qalqiliya city and is of 20,000 dunums in area, of which 1,382 dunums are the village's built-up area. More detailed, 2500 dunums of the village are considered pastoral and around 5000 dunums are subject for colonial interest; especially for the colony of Kedumim. The percentage of the agricultural lands in the area is 85% of arable land planted with olives.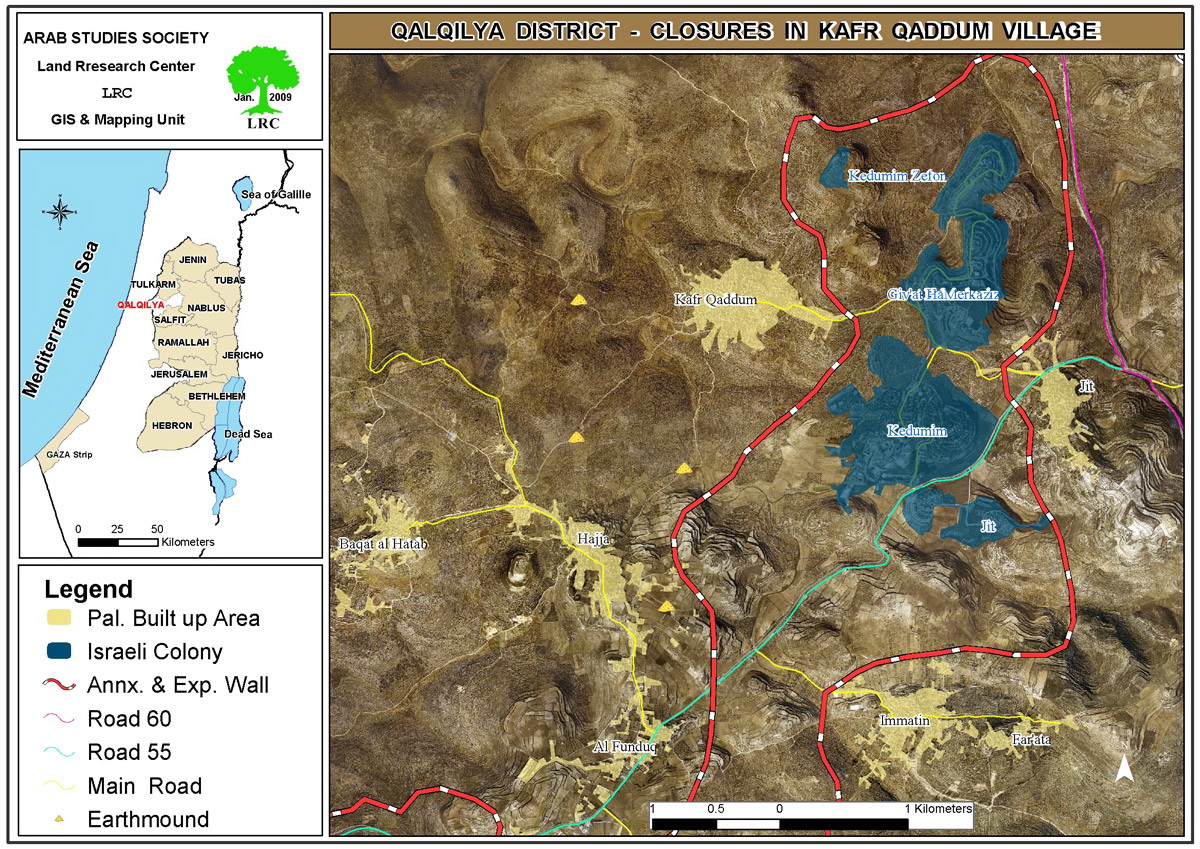 About Kedumim:
The colony of Kedumim is located on the once-was Jordanian military camp in the southwestern part of the village. It was established in 1975 with a total land area of 1090 dunums and a population of 3290 colonists.
It should be mentioned that in 1982, the authorities of the occupation put hands on the nearby hills to establish the outpost of Kedumim 'Ailet on 533 confiscated dunums. The outpost is inhabited by around 300 colonists.
It should be also marked that by the beginning of 1990, Kedumim colonists looted a vast area of lands from Kfar Qaddum to establish the colony of Gilad Zohar. This colony totals around 753 dunums in area and populates 1053 colonists.
Prepared by
The Land Research Center
LRC