During olive harvesting season: Israeli attacks on Palestinian families rapidly increase in Qaryut village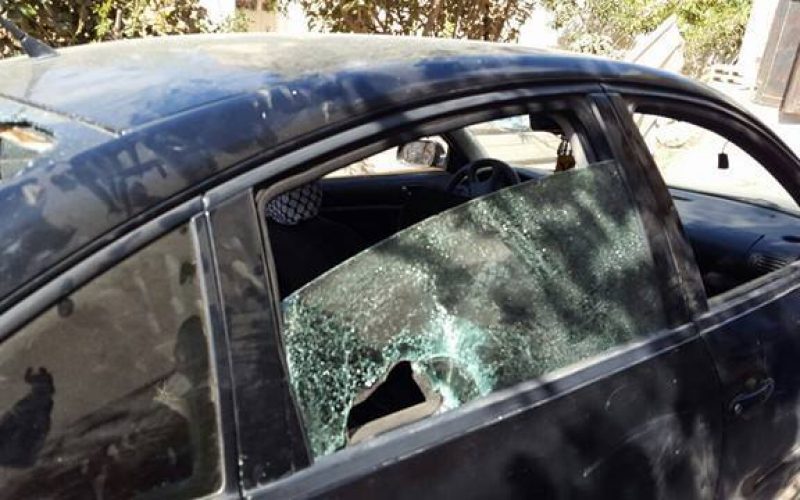 Violation: assaulting a family and destroying a vehicle
Location: Qaryut village- Nablus city
Date: October 10, 2016
Perpetrators: Eli colonists
Victims: farmer Saher Yousef
Preamble:
The coming days mark the start of olive harvesting season in Palestinian suburbs, which is considered as a national festival for farmers in specific and Palestinians in general.
This season is a special occasion for farmers to connect with their lands isolated behind the apartheid wall or declared inaccessible due to their proximity to colonies. In such season, farmers get permitted by the occupation to reach for their lands to harvest olive trees but through complicated procedures and restrictions.
It should be marked that Qaryut village is considered a hotspot for Israeli attacks and violations; especially during olive harvesting season. It is reported that the village witness numerous attacks on lands, trees and farmers each harvesting season.
Details:
At noon of October 10, 2016, a group of fanatic colonists from Eli colony attacked the family of farmer Saher Yousef , who were present in the area of Al-Bteisheh, south of the village. It is reported that colonists assaulted his three member family. The family escaped and took refuge in their Volks Wagon but the fanatic colonists followed them and broke the windows and flattened the tires of the car.
Israeli Occupation Forces interfered and took the colonists out of the land.
About Qaryut:
Qaryut is 20 km south of Nablus and 28 km away from Ramallah. It is one of the villages that are totally surrounded by colonies and outposts. The village populates 2321people on a total land area of 8471 dunums, of which 312dunums are the village's built-up area.
The Israeli occupation 1332 dunums from Qaryut village for the favor of the following colonies:
Shilo colony: it was built in 1978 on 799 confiscated dunums from Silon lands. Now, the colony has a total built-up area of 1347.
Eli colony: it was built in 1984 on 553 confiscated dunums. Now, the colony has a total built-up area of 3360 dunums.
Prepared by
The Land Research Center
LRC