Stop-work order on agricultural project in the Hebron town of Yatta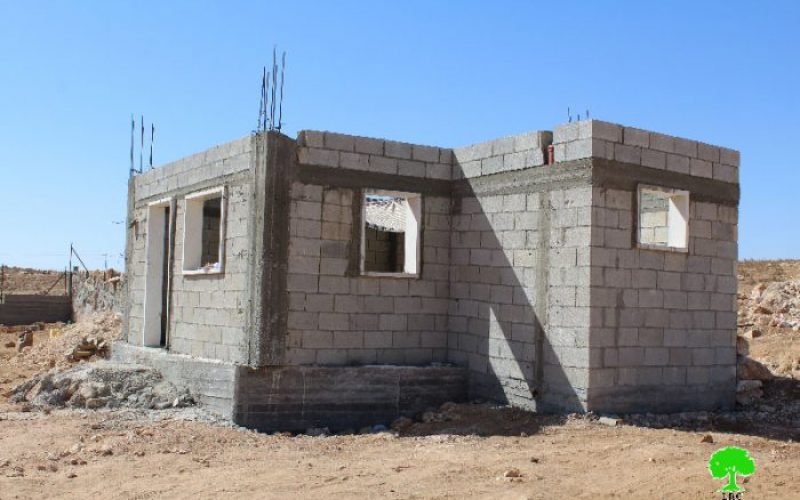 Violation: stop-work order on a project
Location: Ghzeiwi area- Yatta town
Date: September 15, 2016
Perpetrators: Inspection Sub-Committee- Israel Military Administration
Victims: citizen Zuhair Fansheh
Details:
Israeli occupation authorities notified on September 15, 2016 an agricultural project of stop-work in the Hebron town of Yatta. Noteworthy, the project is owned by citizen Zuhair Fansheh.
The affected citizen said that a vehicle relative to Israel Civil Administration raided Ghzeiwi area, south Yatta town , where the officer of the force verbally notified the owner of the project of stop-work on the claim of "unlicensed construction". Note that construction works on the project started in September 14, 2016.
Fansheh also said that a patrol from the occupation army, Civil Administration and some trucks and workers came next day to the location, issued a stop-work order and confiscated some of the work equipments.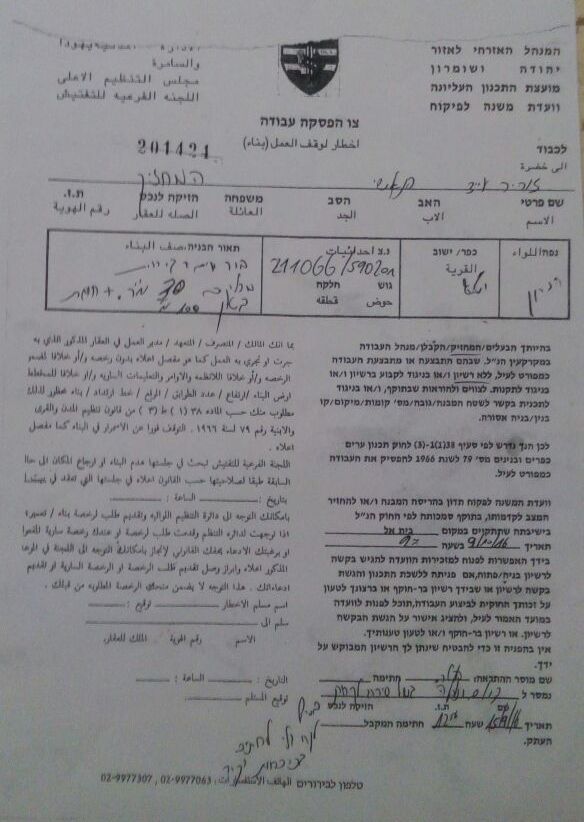 Photo1 : the stop-work order
Workers accompanying the force confiscated 300 cement bricks uploaded them onto the trucks and moved them to the nearby Gosh Zion colony. As a result, the owner was delivered a "minute of confiscation" notice.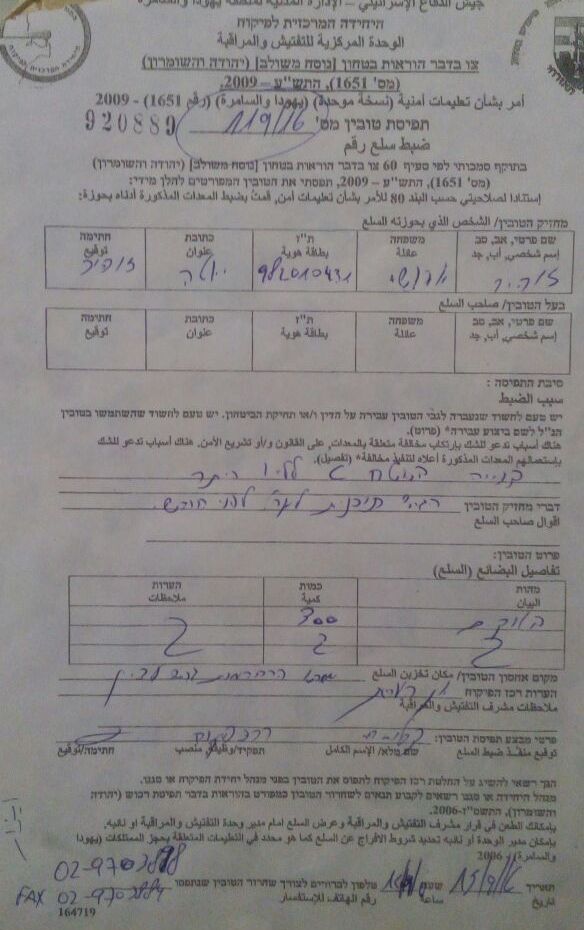 Photo 2: the "minute of confiscation" notice
It should be marked that the stop-work order held the number 201424; it assigned October 09, 2016 as the hearing session for the Inspection Sub-Committee- Israel Military Administration in the court of Beit El colony to consider the status of the notified structure. The order targeted the following:
| | | | | |
| --- | --- | --- | --- | --- |
| No. | Nature of threatened structure | No. of targeted structures | Area\volume | Remarks |
| 1 | Agricultural room | 1 | 20m2 | Used as storage unit |
| 2 | Wall | 1 | 120m | Surrounding the project area |
| 3 | Water well | 1 | 120m3 | For irrigation ends |
Source : Field observation- Department of Monitoring Israeli Violations- Land Research Center-2016
It should be marked that citizen Fansheh bought a five dunum plot in Ghzeiwi area to start an agricultural project on it. He built a cement wall around the plot and established a water well to irrigate the plants cultivated in there. Currently, the citizen intends to establish an agricultural house in the plot.
Fansheh started construction works on his project in 2016; he intended to cultivate the land to be a source of living for his 7 member family including 4 children.
Photos 3-7: the project of Fansheh
Prepared by
The Land Research Center
LRC