Israeli Occupation Forces demolish sheep farm in Beit Dajan village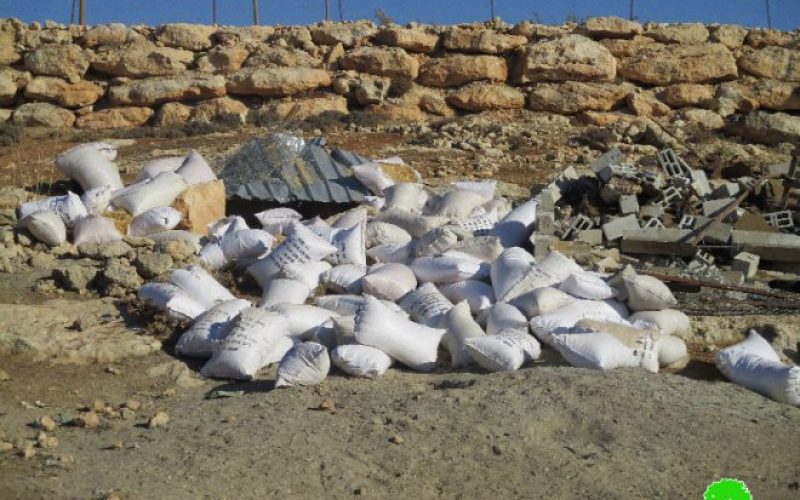 Violation: demolition of sheep farm
Location: Beit Dajan village- Nablus city
Date: September 26, 2016
Perpetrators: Israeli Occupation Forces
Victims: Saed Abu Jeish
Details:
A massive force from the Israeli occupation army raided on September 26, 2016 the eastern side of Beit Dajan village in Nablus city and embarked on demolishing an agricultural barrack (180m2) that shelters 70 sheep. Also, the force destroyed at least 90 kg of hay that was present in the farm. The occupation claimed the structure to be located within area classified "C" according to Oslo accords, which is under Israeli control. And thus demolition occurred. The barrack is reported to be owned by citizen Saed Abu Jeish (41) who provides living for a nine member family including 7 children.
Photos 1-5: views of the demolition operation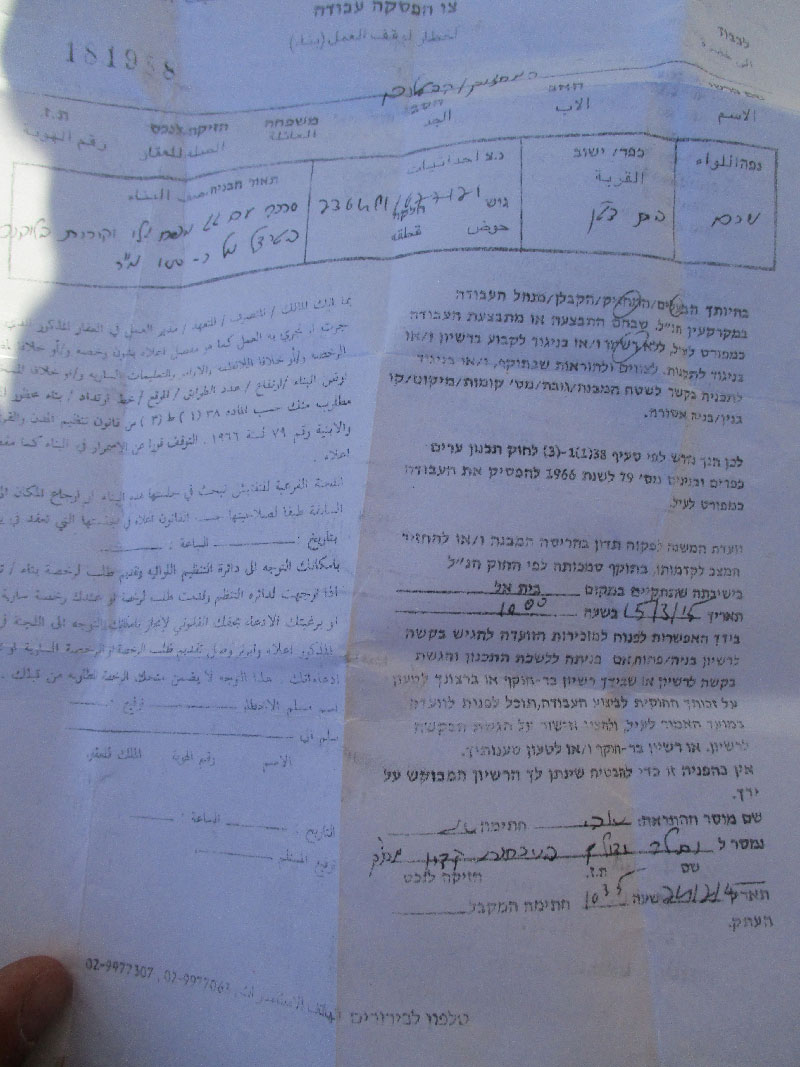 Photo 6: the military order targeting the barrack before being demolished

The affected famer told Land Research Center the following: " The so-called Planning and Construction Committee- Israel Civil Administration served a stop-work order on the barrack on February 24, 2015. I immediately hired at attorney to follow up on the case and to obtain a construction license, despite the building being located in area C"
He added: " On March, the court of Beit El colony ruled the demolition of the barrack despite preparing all the papers needed for a license. Thus, I filed a plea to object the demolition. The plea was rejected on August 10, 2016 and the demolition was approved effective".
For further information about the orders delivered for Abu Jeish and others, please read the report issued by Land Research Center. (LINK)
The chairman of Beit Dajan village council- about the notified structures in the area- to a researcher from Land Research Center said that more than 18 houses and barracks were notified with stop-work orders within the past three years. The orders were intense in the eastern side of the village, which has been recently transformed into closed military zones by the occupation.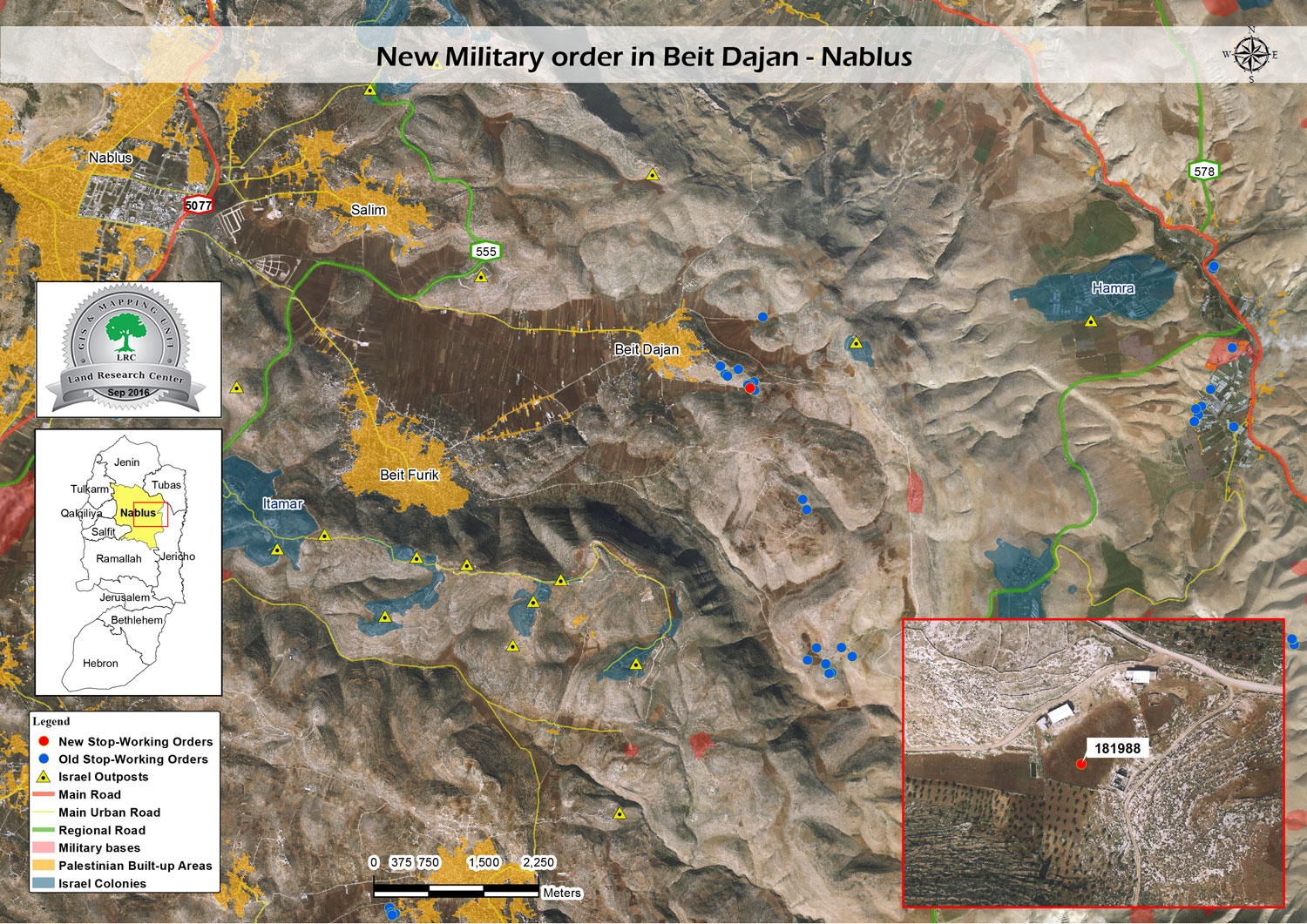 About Beit Dajan:
Beit Dajan is located 10 km to the east of Nablus; its total area is 44100 dunums including 360 dunums of built up area inhabited by 3900 people (2010 census) in addition to 12500 dunums that are related to al-Ghoor area . A large part of the village lands were confiscated for the construction of the colony of Mehola in 1973.
Beit Dajan is surrounded by a number of villages namely (Salem, Deir al-Hatab, Talluza, Beit Furik, Ghoor el-Far'a ) and depends on grains plantation and fruitful trees such like olive, figs and almond.
Prepared by
The Land Research Center
LRC