Israeli Occupation Forces demolish four agricultural wells in  Hebron town of Sa'ir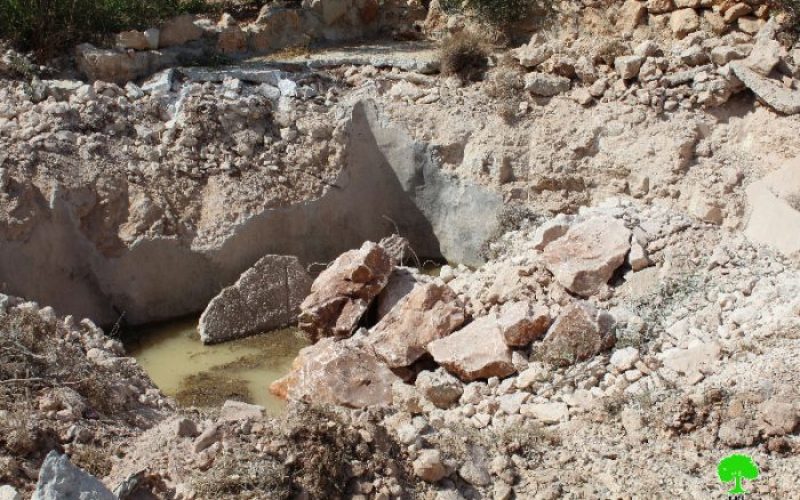 Violation: demolition of wells
Location: Jurat AL-Kheil- Sa'ir town
Date: September 27, 2016
Perpetrators: Israel Civil Administration
Victims: four farmers from the town
Details:
Israeli Occupation Forces demolished on September 27, 2016 four agricultural wells for rainwater catchment in the area of Jurat Al-Kheil, east Sa'ir town in Hebron on the claim of "unlicensed construction".
Affected people said that a massive force from the Israeli occupation army accompanied by a staff from Israel Civil Administration and two dozers raided the area at dawn and embarked on demolishing the wells and dump earth into them.
During the operation, a number of olive and vine trees were reported uprooted by the machineries of the occupation. The following table shows information about the affected people and wells:
No.

Affected farmer

Volume of well\m3

Area of irrigated by well

Year of construction

Photo

Remarks

1

Ziad Shalaldeh

150

12

2013

Partial fund from YAMCA

2

Ahmad Shalaldeh

150

4

2013

3

Ibrahim Shalaldeh

150

4

2013

4

Nabil Shalaldeh

150

1

2015

Total

600

21
Source : Field observation- Department of Monitoring Israeli Violations- Land Research Center-2016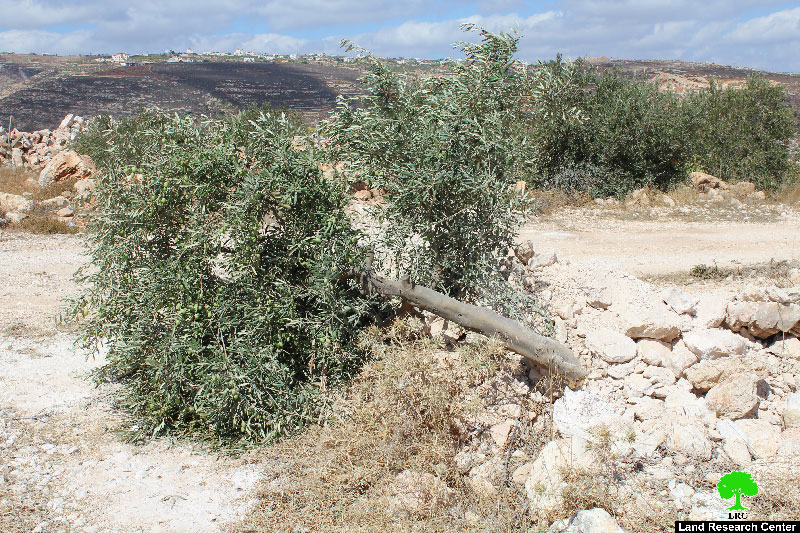 Photo 5: sings of trees uprooting
Photos 6-8: view of the wells before demolition
It should be Israeli Occupation Forces notified on January 15, 2014 the aforementioned structures of stop-work on the claim of unlicensed construction within area classified "C" according to Oslo Accords, which are under Israeli control. At time, the affected people sought a legal defense organization to object to the orders but Israel authorities did not grant them building permits and licenses. This step was taken to guarantee that area "C" remains empty of any Palestinian structure to be later used for colonial expansion plans and projects.
On August 16, 2016, Israeli Occupation Forces came back to the targeted area and demolished the whole community leaving only one house and well. (LINK)
Land Research Center LRC sees that demolitions contradict with all of the International conventions and Humanitarian laws including:
Article 17 of the (1948) Universal Declaration of Human Rights stating: "Everyone has the right to own property alone as well as in association with others. No one shall be arbitrarily deprived of his property."
Section ‹G› of article 23 of the (1907) The Hague Conventions asserting: "In addition to the prohibitions provided by special Conventions, it is especially forbidden to destroy or seize the enemy's property, unless such destruction or seizure be imperatively demanded by the necessities of war."
Article 53 of the Geneva Fourth Convention (1948) declaring: "Any destruction by the Occupying Power of real or personal property belonging individually or collectively to private persons, or to the State, or to other public authorities, or to social or cooperative organizations, is prohibited, except where such destruction is rendered absolutely necessary by military operations."
Section 1, Article 11 of the International Covenant on Economic, Social and Cultural Rights (1966): "The States Parties to the present Covenant recognize the right of everyone to an adequate standard of living for himself and his family, including adequate food, clothing and housing, and to the continuous improvement of living conditions. The States Parties will take appropriate steps to ensure the realization of this right, recognizing to this effect the essential importance of international co-operation based on free consent."
Prepared by
The Land Research Center
LRC