Israeli Occupation Forces entirely demolish the Hebron hamlet of Jurat Al-Kheil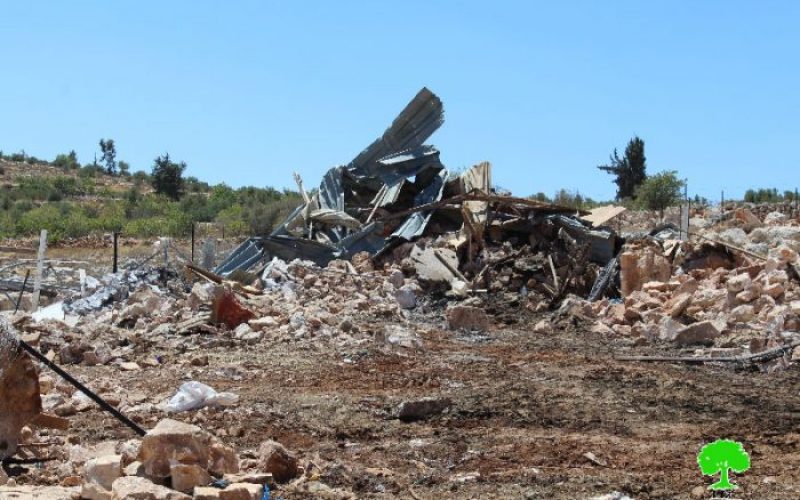 Violation: demolition of a whole hamlet
Location: Jurat Al-Kheil- Sa'ir village
Date: August 16, 2016
Perpetrators: Israel Civil Administration
Victims: Citizen from Shalaldeh family
Details:
Israeli Occupation Forces demolished on August 16, 2016 residences and agricultural structures relative to citizens of Jurat Al-Kheil hamlet, east Sa'ir town in Hebron on the claim of "unlicensed construction". Ironically, the occupation government never grants licenses and building permits for Palestinians.
Affected citizens said that a massive force from the occupation army , the so-called Border Police and Civil Administration accompanied by workers and dozers raided the hamlet at dawn from the eastern side through Sa'ir road and deployed in the area.
Army soldiers then evicted residents from their houses and detained their phones in the same time workers of Israel civil company evicted some of the houses' interior. Dozers then embarked on demolishing various structures and residences for five continuous hours.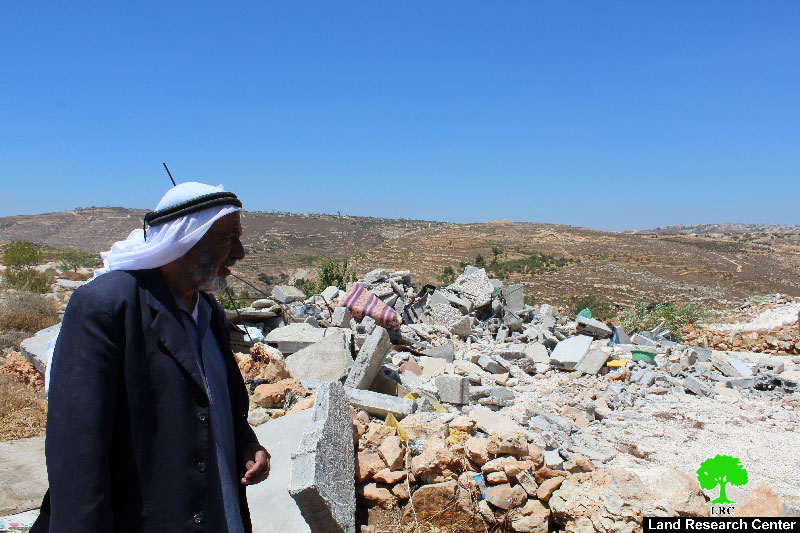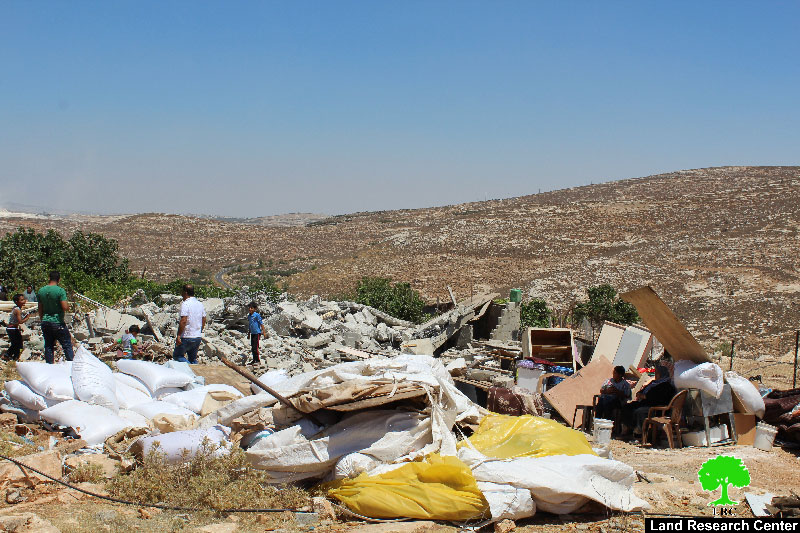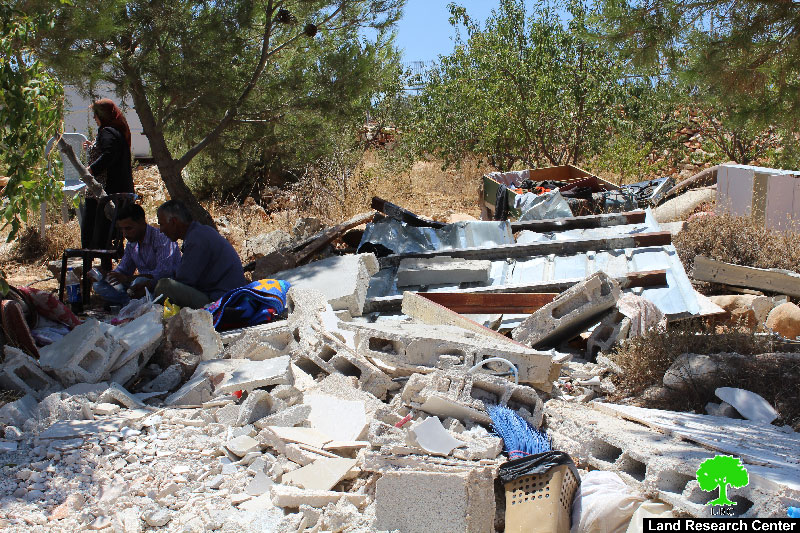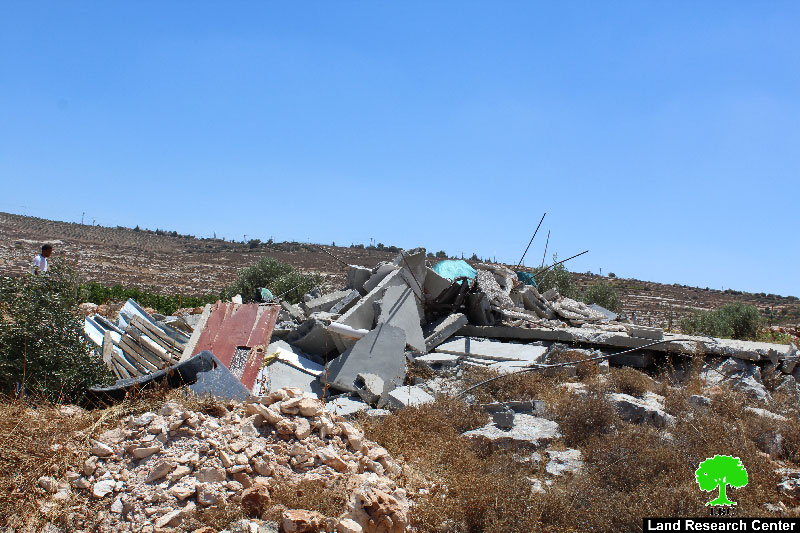 Photos 1-6: rubbles of the demolished residences
According to the hamlet's residents, the following machineries were used in the demolition operation:
| | | |
| --- | --- | --- |
| No. | Type | No. of machineries |
| 1 | Track dozer relative to Israeli civil company | 2 |
| 2 | Big Wheel dozer relative to Israeli civil company | 1 |
| 3 | Small Wheel dozer relative to Israeli civil company | 1 |
| 4 | JCB digger relative to Israeli civil company | 2 |
| 5 | Truck used to move the machineries | 2 |
The aforementioned machineries demolished seven residence and two agricultural facilities detailed in the below table:
No.

Affected citizen

Family

Minors

Area of demolished structure\m2

Nature of demolished structure

Year of establishment

Remarks

1

Zeyad Shalaldeh

8

5

40

House

2010

The road leading to the house was ravaged

2

Faris Shalaldeh

10

6

60

House

2010

Was demolished on some of its interior

3

Mahmoud Shalaldeh

6

2

50

House

2013

Roofed with metal slaps

4

Musafa Shalaldeh

2

0

30

Residential room

2013

Cement bricks walls

5

Mobile toilet

2013

Funded by GVC organization

5

Ibrahim Shalaldeh

5

2

100

House

2007

Was demolished on some of its interior

100

Agricultural barrack

2004

Was demolished on the fodder

30

Cloth shed

2013

Used as fodder storage unit

6

Abdallah Shalaldeh

3

1

60

House

2013

Cement walls and roofed with woods

7

Ahmad Shalaldeh

6

2

80

House

2010

Stone walls and roofed with cement

20 م3

cesspool

2010

Was closed by duping dirt into it

Total

40

18

555
Source : Field observation- Department of Monitoring Israeli Violations- Land Research Center-2016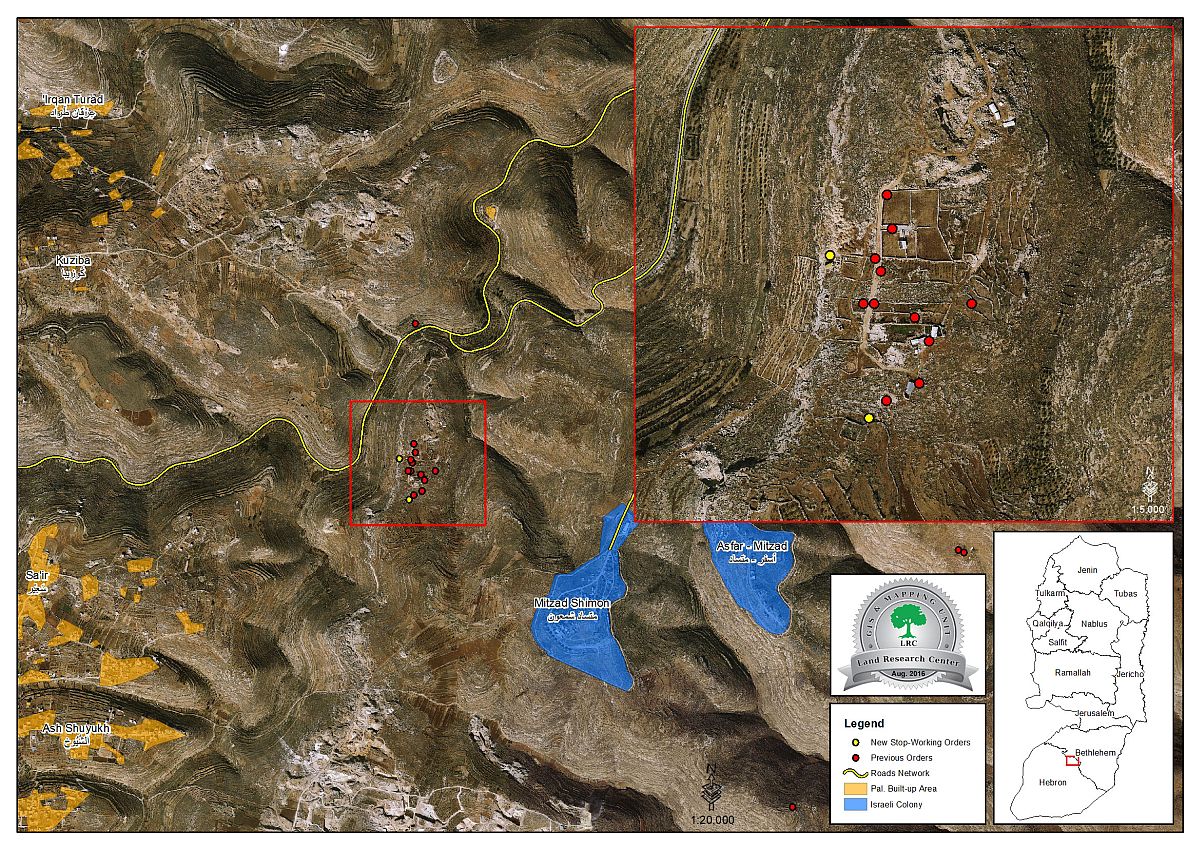 Photos 7+8: the house of Zeyad Shalaldeh before and after demolition
Photos 9+10: the house of Ibrahim Shalaldeh before and after demolition
Israeli Occupation Forces notified on January 15, 2014 the aforementioned structures of stop-work on the claim of unlicensed construction within area classified "C" according to Oslo Accords, which are under Israeli control. At time, the affected people sought a legal defense organization to object to the orders but Israel authorities did not grant them building permits and licenses. This step was taken to guarantee that area "C" remains empty of any Palestinian structure to be later used for colonial expansion plans and projects.
For further information on the attacks the area witnessed, please read the following report issued by Land Research Center on January 24, 2014 (LINK).
The hamlet of Jurat Al-Kheil is located to the east of Sa'ir town and is edged by Asfar colony from the east. Noteworthy, the colony is founded on confiscated lands from the hamlet.
Military watchtower on the lands of Jurat Al-Kheil hamlet:
Israeli Occupation Forces established a military watchtower in the area of Wad Sa'ir that leads to Jurat Al-Kheil hamlet. A metal gate checkpoint was set on the road opposite to the watchtower , which in fact links Sa'ir and Hebron governorate to Bethlehem and northern governorates. Israeli Occupation Forces closed the metal gate and denied citizens access through it at time colonists could freely move in and out.
Photos 11+12: the military watchtower in Wad Sa'ir area
The residents of Jurat Al-Kheil considered the demolition of their hamlet as systematic forcible displacement that is part of the Israeli agenda, which has a main purpose to takeover lands and expand colonization.
It should be marked that Jurat Al-Kheil hamlet is one of the agricultural areas in Sa'ir village. It is inhabited by Shalaldeh family that works in livestock and agriculture sectors. Israeli Occupation Forces was reported to serve an eviction order on lands of the hamlet on March 22, 2015, claiming them "state property". For further information, please read the report issued by Land Research Center in that regard. (LINK)
Jurat Al-Kheil was reported to undergo a massive demolition operation on November 16, 2015 that reached out many residential and agricultural structures. For further information, please read the report issued by Land Research Center in that regard. (LINK)
Stop-Work orders on the remaining houses in the hamlet:
After the demolition was completed, Israeli Occupation Forces served stop-work orders the only remaining house in the hamlet in addition to water well.
The stop-work order on the house:
It is owned by citizen Nabil Shalaldeh and is home for the owner's eight member family including three children. The house is of 70m2 in area and was built in 2015. Noteworthy, Israeli Occupation Forces also confiscated a cement truck that was parked by the house and delivered the owner a minute of confiscation.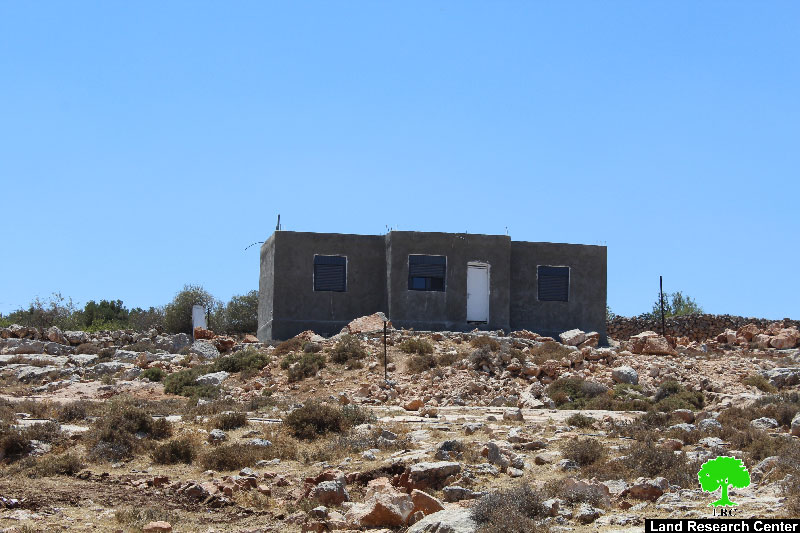 Photo 13: the threatened house of Nabil
The Stop-Work order on the water well
The 80m2 well is owned by citizen Faris Shalaldeh and was established in 2012 with funds from FAO .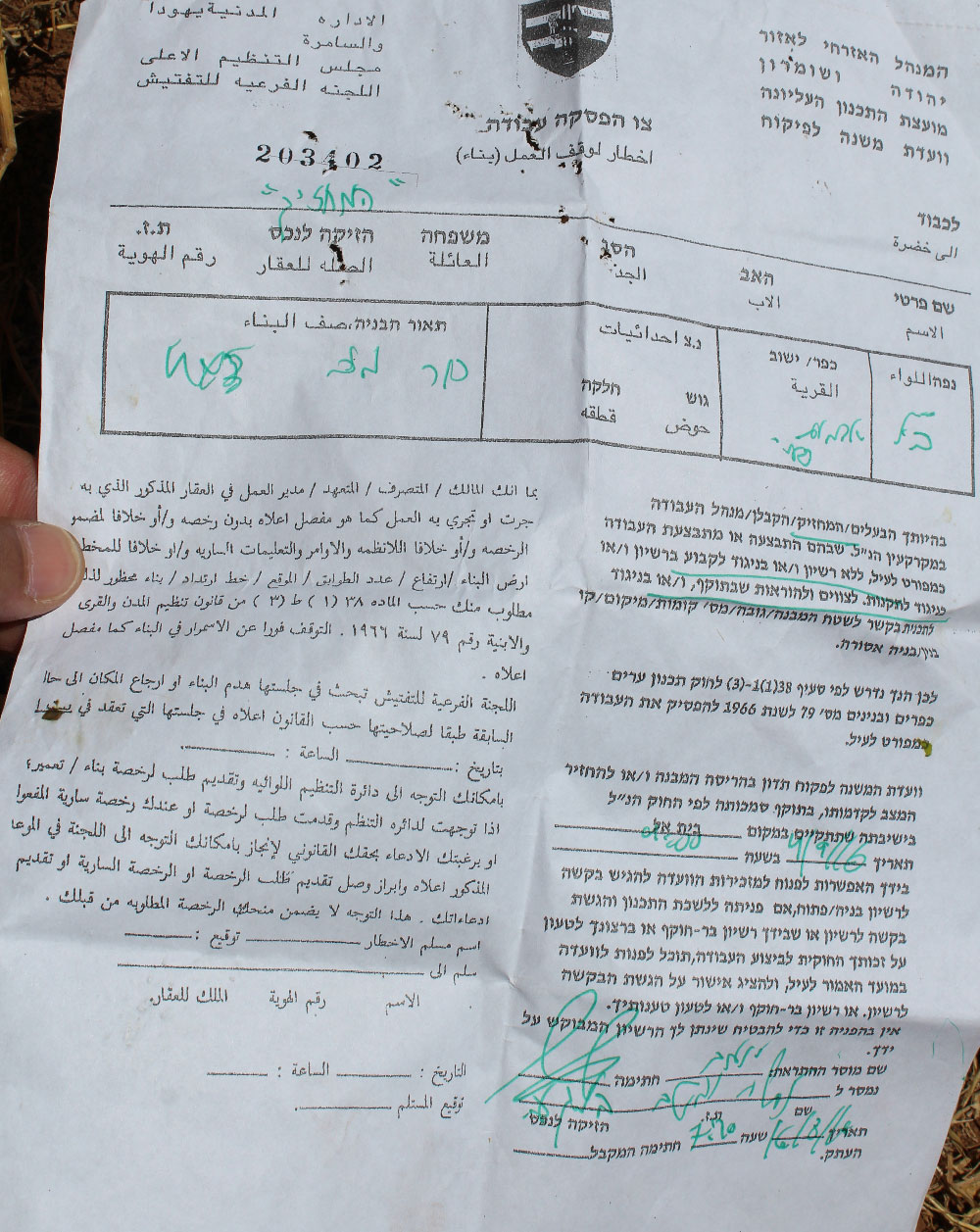 Photo 14: the order served on the well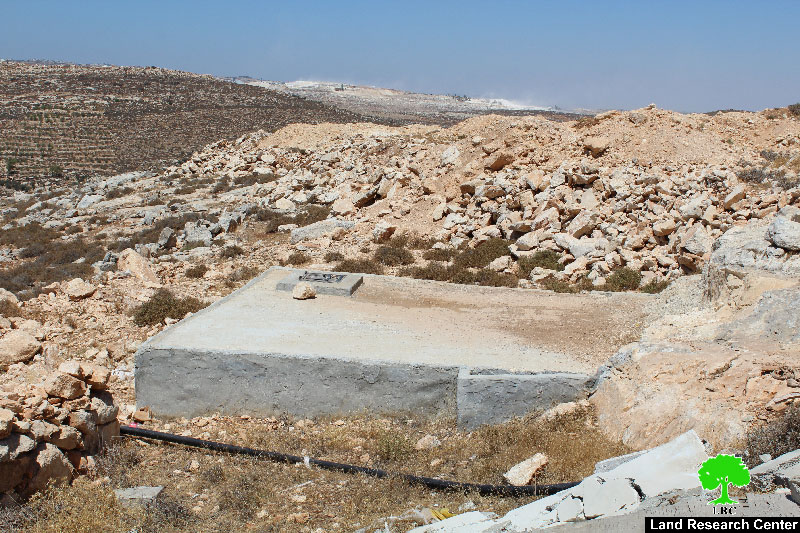 Photo 15: the threatened well
Land Research Center LRC sees that demolitions contradict with all of the International conventions and Humanitarian laws including:
Article 17 of the (1948) Universal Declaration of Human Rights stating: "Everyone has the right to own property alone as well as in association with others. No one shall be arbitrarily deprived of his property."
Section ‹G› of article 23 of the (1907) The Hague Conventions asserting: "In addition to the prohibitions provided by special Conventions, it is especially forbidden to destroy or seize the enemy's property, unless such destruction or seizure be imperatively demanded by the necessities of war."
Article 53 of the Geneva Fourth Convention (1948) declaring: "Any destruction by the Occupying Power of real or personal property belonging individually or collectively to private persons, or to the State, or to other public authorities, or to social or cooperative organizations, is prohibited, except where such destruction is rendered absolutely necessary by military operations."
Prepared by
The Land Research Center
LRC