The Israeli occupation demolishes a house and water cistern in Hebron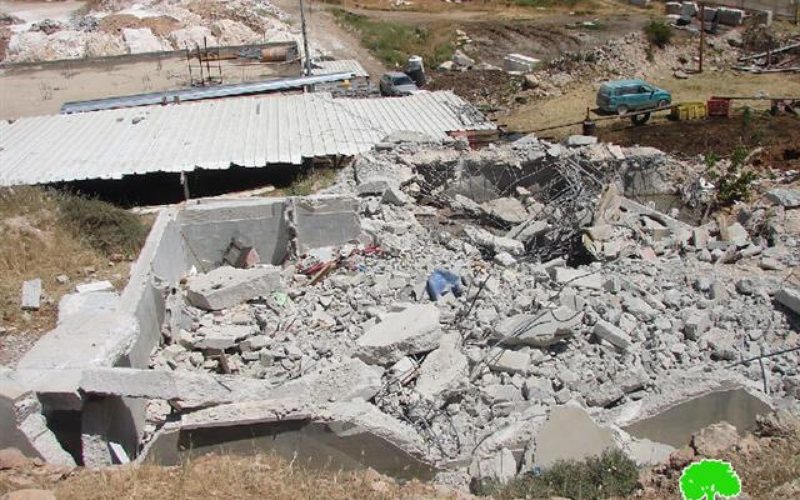 Violation: Leveling a residence and well
Date: 30/04/2014
Location: Khallet Ash Sharabati- Hebron governorate
Perpetrators: The Civil Administration and the Israeli occupation army
Victims: Muhammad Ar Rajabi
Details:
On April 30, the Israeli occupation authorities leveled a two-storey residence and a water cistern belonging to Muhammad Ar Rajabi in Khallet Ash Sharabati, southeast of the West Bank city of Hebron.
Ar Rajabi (50) asserted to an LRC observer that a force of the Israeli army accompanying officers of the Civil Administration riding two bulldozers and jackhammer showed up at the place at 12:30 p.m. They informed Ar Rajabi that they would demolish the residence so the family should take the furniture out before embarking on leveling the structures.
The demolished house had an area of 110m2 and was built with cement blocks. It used to shelter Ar Rajabi's 8-member family, including 4 children. The house was built in 2000 near a dairy farm as Ar Rajabi works in animal husbandry.
The Israeli authorities also demolished a 300m3 well that was full of water and used for domestic purposes. The well was also built in 2000.
Pictures 1-4: The damage inflicted on Ar Rajabi's property
Ar Rajabi pointed out that the Israeli authorities delivered him a stop-work order on the house and well in 2010. Ar Rajabi hired a lawyer for that end but to no avail as the Israeli authorities did demolished the house that cost Ar Rajabi NIS 70,000 while the well 50,000.
Ar Rajabi had a bitter history with the occupation as in 1997, the Israeli occupation authorities demolished an animal farm and water cistern owned by Ar Rajabi in Khallet al Wardeh. They were demolished for the same pretext: Unlicensed construction.
Prepared by
The Land Research Center
LRC