Israeli Halt of construction orders in Al Funduq and Jinsafut villages in Qalqilyia Governorate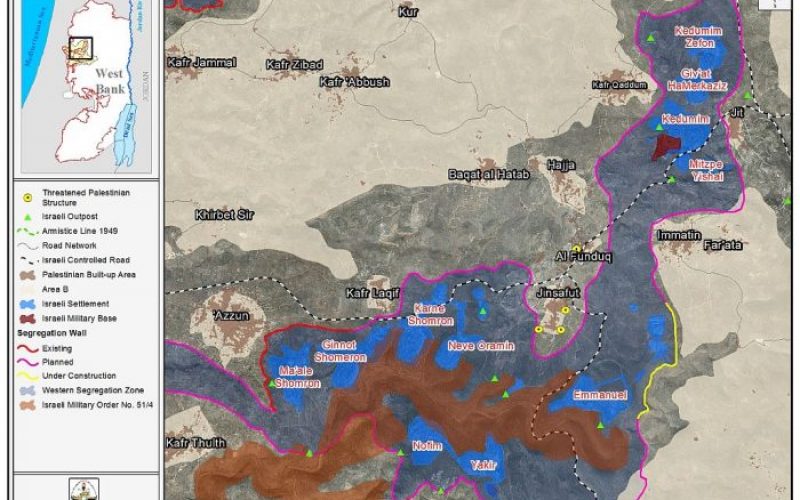 At the time Israel is unprecedentedly escalating its settlement building in the occupied Palestinian territory (oPt)[1], it has significantly increased its demolition policy of Palestinian homes and properties, especially in the area classified as "C" under the OSLO II Interim agreement of 1995, where Israel retains full control over security as well as over planning, zoning and infrastructure in the occupied West Bank (oWB).
On the 27th of September 2016, the Israeli Civil Administration has ordered the halt-of-construction of seven Palestinian homes and structures in Jinsafut and Al Funduq communities in Qalqilyia Governorate allegedly for unlicensed building. The targeted Palestinian properties are located in the area classified as "C" in the oWB. Table 1 below gives details of military orders and owners of the threatened homes and structures in Al Funduq and Jinsafut villages.
Table 1: details of military orders handed out to residents of Jinsafut and Al Funduq communities in Qalqilyia Governorate

No.

Military Order No.

Owner of property

area of structure

Village

1

Salah Hasan Mustafa Jadallah

120 sqm

Jinsafut

2

Marwan Abdel Kareem Nassar

200 sqm

Jinsafut

3

Maked Mahmoud Yousef Sukkar

50 sqm

Jinsafut

4

Ahmad Adel Muhammad Tayyem

50 sqm

Funduq

5

Adel Tayyem

100 sqm

Funduq

6

Sameer Muhammad Shaker

200 sqm

Funduq

7

Sabri Hussein Rashidiyeh

70 sqm

Funduq
ARIJ's recent statistics showed that since the beginning of 2016 (up to August 2016), Israel has demolished 399 Palestinian homes and 412 structures[2] in the oWB under the same pretext (unlicensed building) and threatened to demolish 500 more (ARIJ, 2016). In contrast, the Israeli Ministry of Interior has published plans for 38 Israeli settlements in the oWB totaling 112. These plans included the expansion of the built-up area of the settlements, assigning areas as public parks, constructing roads, building of public institutions, educational facilities, and engineering facilities and designating lands as open spaces reserving them for future settlement development. Click here for more details of settlement plans in the oWB during 2016
Al Fundquq and Jinsafut villages are located in the Qalqilyia Governorates. Both villages are home to more than 3500 Palestinian citizens. The Israeli occupation practices has severely affected the two communities in terms of building settlements, establishing outposts and construction of bypass roads. For more details, see Al Funduq and Jinsafut village profile.
When Israel launched its segregation plan in 2002, it unveiled its overall segregation map that included a western and eastern segregation zones in the occupied West Bank. Later in years, this map has undergone several amendments which focused mostly on areas that raised geographical dilemmas for the construction of the wall in the occupied West Bank. The map of the segregation wall in its latest revised form published on the so-called Israeli "Ministry of Defense" website in April 2016, showed that the wall is extending 773 km on lands of the West Bank territory, annexing five major settlement blocs with its path and areas around them, in addition to outposts, military installations and Palestinian natural resources, a total of 733 km², 13% of the total west Bank territory (5661²).
The Segregation wall on lands of Al Funduq and Jinsafut villages is in planning phase, where it is intended to surround the urbanized area of the aforementioned villages from all directions except from their western side and separate them from their open spaces and agricultural areas, leaving no space for both villages to expand in the future (the expansion of the urban area). At the same time, the wall will cause the annexation of a set of Israeli settlements nearby which comprise the so-called Kedumim finger. See Map 1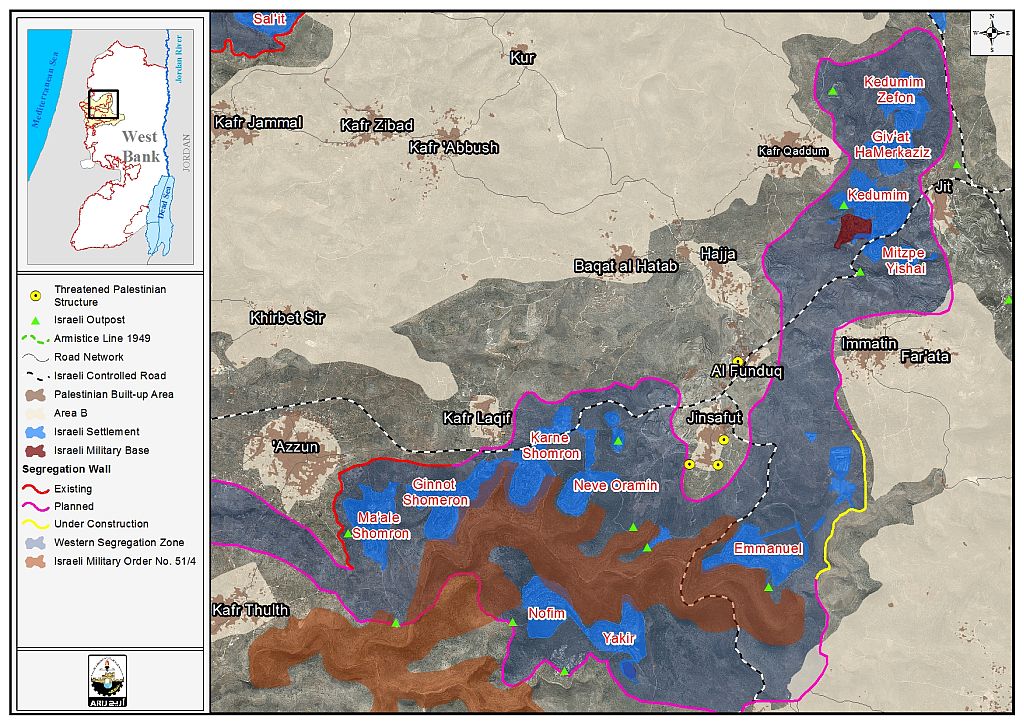 Map 1: Location of the threatened homes and srtuctures in Al Funduq and Jinsafut villages in Qalqilyia Governorate
To include,
The ever-ending Israeli demolition policy aims to empty the Palestinian land from its original Palestinian owners for the interest of the Israeli colonial and expansionist project. This methodic policy flagrantly violates the International humanitarian law, and the International law rules and conventions and United Nations resolutions, some of which are listed below:
Article 53 of the Fourth Geneva Convention states that Israel is prohibited to demolish Palestinian houses and provides that: 'Any destruction by the Occupying Power of real or personal property belonging individually or collectively to private persons, or to the State, or to other public authorities, or to social or cooperative organizations, is prohibited, except where such destruction is rendered absolutely necessary by military operations'. Under the same convention, particularly Article 147 provides that: 'extensive destruction and appropriation of property, not justified by military necessity and carried out unlawfully and wantonly' is a grave breach of the Convention'.
[2] Structures including Animal pins, water wells, agricultural facilities, garages, workshops
Prepared by:
The Applied Research Institute – Jerusalem