Demolition orders on residences and structures in Jericho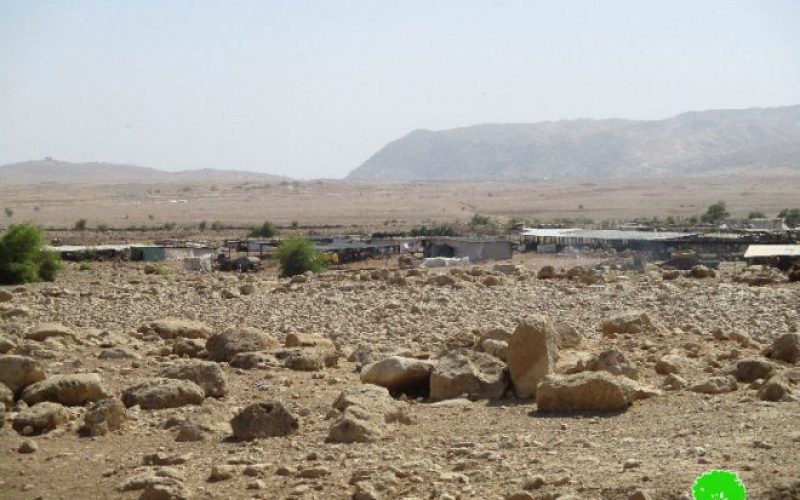 Violation: serving demolition orders
Location: Ras Al-Auja area
Date: September 27, 2016
Perpetrators: Planning and Construction Committee- Israel Civil Administration
Victims: four Bedouin families
Details:
The so-called Planning and Construction Committee- Israel Civil Administration raided on September 27, 2016 the Bedouin community of Al-Treifat in the area of Ras Al-Auja and delivered four Bedouin families demolition orders on their residential and agricultural structures on the claim of them being located in area classified C according to Oslo Accords, which is under Israeli control.
According to the orders, the affected were given a seven day deadline to dismantle the targeted tents and structures.
It should be marked that the notified families were served stop-work work orders on August 17, 2016. At time, the families applied for building licenses but the occupation authorities did not grant them such permits. As a result, they recently got notified of demolition.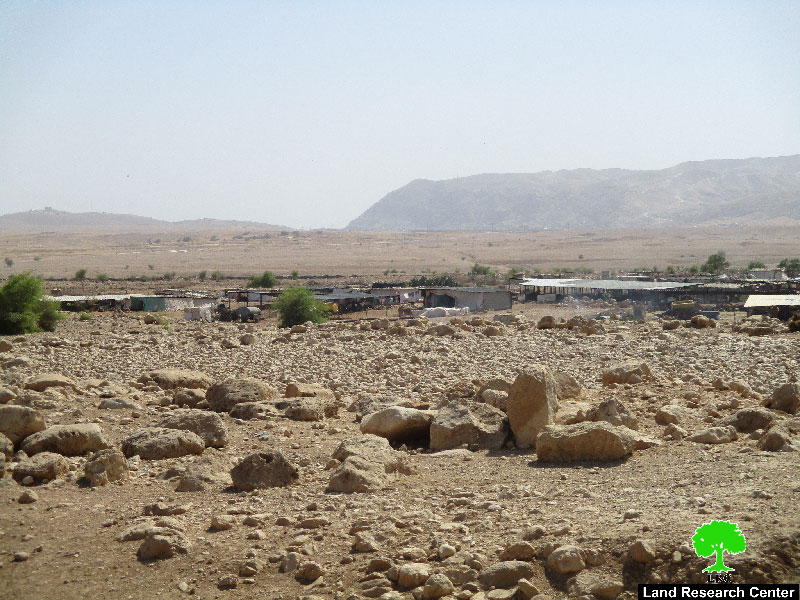 Photo 1: Al-Treifat Bedouin community
The following table shows information about the affected people and their properties:
Affected citizen

Family

Minors

Nature of notified structure

No. of demolition order

No. of stop work order

Remarks

Residence\m2

Sheep tent\m2

Hussein Al-Zayed

13

3

Two tents (80+60)

Three sheep tents (60+60+90)

Had structures demolished before

Kifah AL-Zayed

6

4

Tent (90)

Sheep tent (60)

—

Saddam Al-Zayed

2

0

Tent (60)

Sheep tent (60)

202147

Had structures demolished before

Hani AL-Zayed

2

0

Tent (60)

Sheep tent (60)

—

Total

23

7

5

6
Source : Field observation- Department of Monitoring Israeli Violations- Land Research Center-2016
It should be marked that Al-Treifat community hail from the occupied Bier al-Saba' , from which they were expelled in 1948 to reside in the areas of south Hebron governorate .Hard life conditions and the lack of pastoral lands and water is what pushed a big part of this Bedouin community to move to the area of Al-Jiftlik, Nuwei'ma and Al-Auja.
Bedouins of this community live a primitive life that lacks all basic needs and standards such like water and electricity not mentioning the infrastructure. Metal slabs and cloth shades are the main material from which Bedouins build their houses. Mobile Water tanks is the only means for water supply.
Since 1967 until 2005, the whole community was demolished three times by the Israeli occupation forces.
Prepared by
The Land Research Center
LRC