Israeli Occupation Forces demolish agricultural structures and seal off roads in Nablus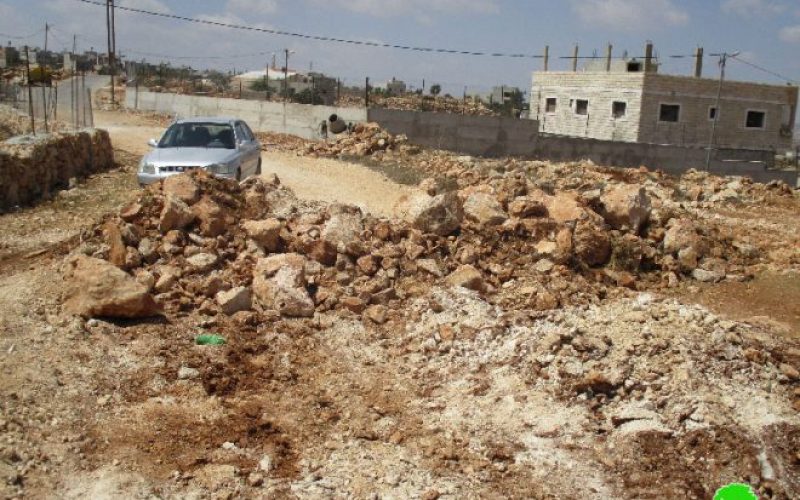 Violation: demolition of structure and shut down on roads
Location: Qusra town and Duma village- Nablus
Date: August 16, 2016
Perpetrators: Israeli Occupation Forces
Victims: farmers from the area
Details:
A massive force from the Israeli occupation army accompanied by a military dozer raided on August 16, 2016 Qusra town, south Nablus city and demolished an agricultural room in the area known as "Buseileh" on the claim of unlicensed construction. The metal slaps room is owned by citizen Samir Ibrahim from the town. It is used as a storage unit for agricultural tools.
According to the field follow-up of Land Research Center in Qusra town, nine agricultural rooms were notified of stop-work orders on the claim of unlicensed construction during the past year. The rooms are reported funded by international humanitarian organizations, the aim of which are to reinforce the steadfastness of farmers in their lands.
Closure on agricultural roads:
During the vicious attack of the occupation on the town, forces from the army closed two agricultural roads that serve 75 dunums, which underwent rehabilitation implemented within activities of agricultural projects.
To the south of Qusra, Israeli Occupation Forces closed an agricultural road via earth mounds. The road serves at least 40 dunums from the areas known as "Basaltah" and " Al-Wa'ar". Noteworthy, the road was funded by PREMIÈRE URGENCE INTERNATIONALE.
To the east of the town, the occupation closed another agricultural road via earth mounds. The road serves 35 dunums of lands that underwent recent reclamation in the areas of Ras Al-Nakhil and Qila' Al-Badawi. The reclamation was implemented by Economic & Social Development Center of Palestine with funds from the Dutch Representative Office in Palestine.
It should be marked that the above-mentioned roads were notified of stop-work. The occupation tends to hinder the developmental projects in such areas. Until now, the roads are denied permits and licenses of construction by the occupation.
About Qusra:[i]
It is located 23 km to the south of Nablus city and is administered by Qusra village Council. Qusra is surrounded by Jurish (south), Talfit (west), Majdal Bani Fadil (east), and Mizpe Rachel colony (south).
Qusra is inhabited by 5644 people according to 2014 PBS population projections. Its total area is 8886 dunums that include 775 dunums of built up area.
The Israeli occupation confiscated 223 dunums of the village lands for the sake of:
Migdalim colony that devoured 155 dunums. It was built in 1984 and is inhabited by 152 colonists.
Bypass road no. 508 that took over 68 dunums.
According to Oslo Accords, Qusra is divided into area B (4323 dunums) and area A (4563 dunums).
[1] Source: Geographic Information System- Monitoring Israeli Violations Team- Land Research Center
Demolition of a residence in Duma village:
To the east of Qusra town, Israeli Occupation Forces demolished a 90m2 residence that was still under construction. The demolition was implemented on the claim that the structure was founded in area classified as C according to Oslo Accords.
The target house belongs to citizen Tariq S'idan (34) from Jerusalem city. Noteworthy, the house was previously notified of stop-work.
The following table shows information about the affected structures and properties:
Affected

Location

Family

Minors

Nature of structure

Remarks

Photo

Samir Hasan

Qusra

7

2

Agricultural room (9m2)

Funded by ACTED

Basaltah- Al-Wa'ar road

Qusra

Closing a road that serves 40 dunums

Implemented by PREMIÈRE URGENCE INTERNATIONALE

Ras Al-Nakhil- Qila' Al-Badwi road

Qusra

Closing a road that serves 35 dunums

was implemented by Economic & Social Development Center of Palestine

Tariq S'idan

Duma

4

2

Under construction (90m2)

Total

11

4
Source : Field observation- Department of Monitoring Israeli Violations- Land Research Center-2016
Prepared by
The Land Research Center
LRC