Demolition of residences and structures in the Bedouin community of Al-Maa'zi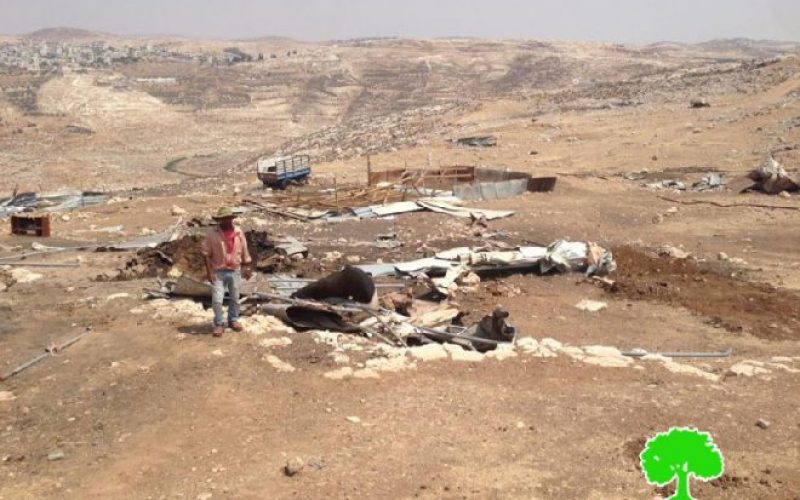 Violation: demolition of residences and structures
Location: north Jaba' town- Jerusalem governorate
Date: August 29, 2016
Perpetrators: Israeli Occupation Forces
Victims: five Bedouin families (28 members including 19 minors)
Details:
A massive force from the Israeli occupation army accompanied by a military dozer raided the Bedouin community of Arab AL-Maa'azi, north Jaba' town- Jerusalem governorate and carried out a demolition operation on some residences and structures. Note that Adam colony is only 200 from Bedouin community.
It should be marked that the force imposed a closure on the area before the vast demolition operation took place. A metal-slaps room donated by Ministry of Wall Affairs and a number of barns were demolished as a result.
It is reported that the community witnessed a demolition operation on August 30, 2015 that rendered a number of residences and agricultural structures demolished.
In addition to the aforementioned, the community was served a number of Stop-Work orders in 1998 and 2013 but given that the area is classified as " Public domain lands", which have no ownership documents, it was hard for the residents of the community to obtain legal licenses and permits for construction in the area despite residing there for over 40 years.
Photos 1-5: views from the demolition operation
The following table shows information about the affected people and properties:
Affected citizen

Family

Minors

No. of sheep

Demolished structure

Remarks

Room\area

Barn

Related items

Fahimeh Barakat

1

0

0

12

0

—-

Had structures demolished before

Ahmad Saray'a

7

5

34

30

40

Water tank 2m3

Had structures demolished before

Younes Saray'a

2

0

15

30

0

—

Had structures demolished before

Raed Saray'a

9

7

45

30

100

Two solar cells

Had structures demolished before

Najeh Saray'a

9

7

20

30

50

—-

Had structures demolished before

Total

28

19

114

132

190
Source : Field observation- Department of Monitoring Israeli Violations- Land Research Center-2016
Sings of the destruction following the demolition operation in Al-Maa'zi Bedouin community
About Arab Al-Maa'zi:
The Bedouin people residing in the area of northern Jaba' town are reported to be there since 30 years ago and never been attacked or targeted before. In 2013, the Israeli occupation authorities started a series of harassments and attacks on the area, targeting residents and their properties as well.
The residents of this area hail from Negev but were displaced in the aftermath of the 1948 war to the areas of Palestinian Jordan Valley (Al-Ghoor). Now, the occupation is working so hard to empty the areas of Al-Ghoor to serve colonial expansion plans.
About Arab Al-Maa'zi community:
It is located on lands from Jaba' town in east Jerusalem. The community is bounded by the bypass road no. 458 from the east, bypass road no.60 from the west, Adam colony from the south and Shei'r Benyamin colony from the north.
The community accommodates 8 Bedouin families including 60 members since 1974.
Prepared by
The Land Research Center
LRC