A new residential neighborhood in the settlement of Karnei Shomron in Qalqilyia Governorate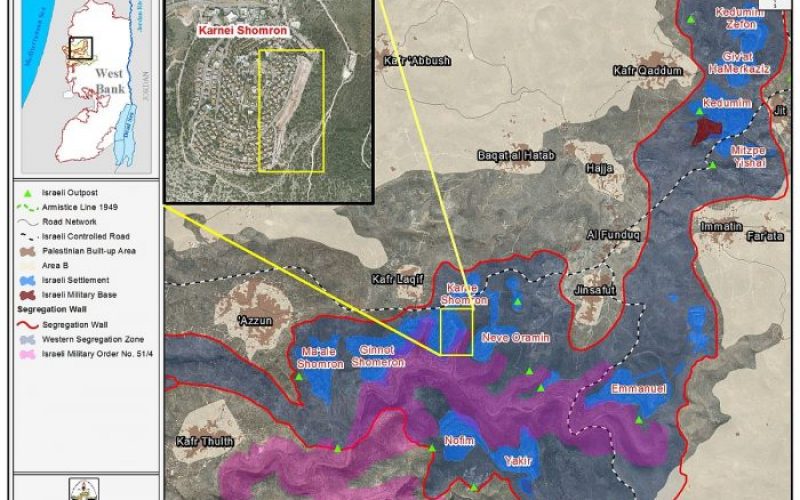 The (MOCH) published on the 1st of August 2016 a plan for Karnei Shomron settlement in Qalqilyia Governorate showing expansion to take place in the settlement in the coming time. The plan includes the building of a new residential neighborhood of 42 settlement units. The MOCH's deadline for submitting bids is August 29, 2016. See Photos of the plan
Photos 1-2: The lower and upper sections of the new settlement neighborhood

Photo 3: The complete plan of the new neighborhood in Karnei Shomron settlement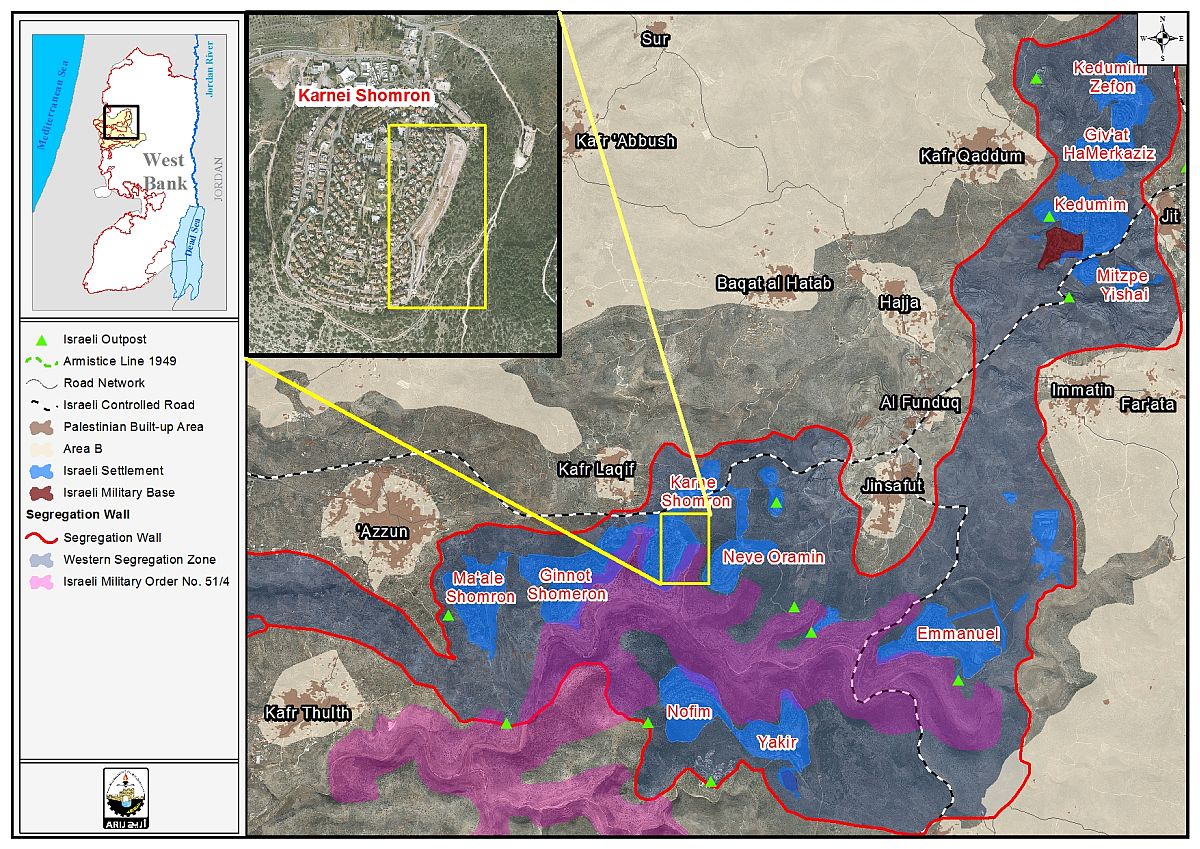 Map 1: A satellite image showing the location of the new construction/neighborhood
to take place in Karnei Shomron Settlement
A glance about Karnei Shomron settlement
The settlement was illegally established in 1978, on lands of a number of Palestinian communities in Qalqilyia and Salfit Governorates. Since its establishment, the settlement received the attention of the consecutive Israeli Governments and has been expanded to become one of the most strategic settlements in the oPt. Today, the settlement occupies a land area of 1022 dunums of Jinsafut, Hajja, Kafr Laqef and Deir Istya villages and is home to 7512 Israeli Settlers.
The Israeli Segregation Wall plan annexes Karnei Shomron and settlements nearby to Israel's proper
The latest Israeli Segregation Wall route which was published on the so-called "Israeli Ministry of Defense" website in 2007 shows the wall will surround[1] the settlement of Karnei Shomron and a number of settlements nearby (Ma'ale Shomron, Ginnot Shomron, Neve Oramin, Nofim, Yakir, Emmanuel, Mitzpe Yeshai, Kedumim, Giv'at Hamerkaziz and Kedumim Zefon) in one bloc and annex it along with five other settlement blocs[2] in the West Bank to Israel. This comes as part of the Israeli plan to annex the bloc to its proper along with 11 Israeli outposts and extra Palestinian land, under what it calls "Kedumim bloc (Kedumim finger)".
Israel has constantly planned to retain control of settlements blocs in the occupied Palestinian territory as the various published maps of the segregation Wall indicated that the wall has never been planned to maintain security in the oPt as claimed, but rather to grab Palestinian land for the sake of future settlement development. Today, the wall penetrates deep inside the West Bank territory[3], and disrupts the territorial contiguity of the Palestinian communities in the oWB;
Building plans in Karnei Shomron settlement
Since its establishment, the settlement of Karnei Shomron witnessed huge construction in terms of residential buildings, public institutions , roads and many other facilities. The construction potential was based on plan No. 117/6 approved in the year 1991 and includes the designation of over 442 dunums of land for settlement construction. Below is a detailed description of the plans that were issued to expand the settlement since its establishment in 1978. See Table 1
Table 1: Plans issued for the expansion of Karnei Shomron settlement in Qalqilyia Governorate
No.
Settlement Name
TPS No.
Date of Approval
Purpose
Area (Dunums)
1
Karnei Shomron
117/1/4
02/08/00
Determination of residential neighborhood areas
255 dunums
2
Karnei Shomron
117/1/4/1
25/02/99
Setting plots limits
166 dunums
3
Karnei Shomron
117/1/4/2
14/02/00
Public Institutions
4
Karnei Shomron
117/1/4/3
26/03/03
Distribution of surface areas
39.5 dunums
5
Karnei Shomron
117/1/4/3/1
11/09/13
Changing to a residential Area
6
Karnei Shomron
117/1/4/4
14/12/04
Redefining the boundaries of the plots
40 dunums
7
Karnei Shomron
117/1/4/5
23/07/07
Geva' Hamarkezit
8
Karnei Shomron
117/1/4/6
19/05/08
Geva' Hamarkezit
9
Karnei Shomron
8/ 4/ 1/ 117
Karnei Shomron, Plot No. 35.
10
Karnei Shomron
117/1/5
15/06/94
Determining Division of Land
11
Karnei Shomron
117/1/6
21/05/97
Changing the designation of a nature reserve for housing
29.6 dunums
12
Karnei Shomron
117/1/6/1
16/08/00
Land Distribution
0.95 dunums
13
Karnei Shomron
117/10
28/04/99
Road connecting Karnei Shomron settlement with the Neighborhood Neve Menachem
22.7 dunums
14
Karnei Shomron
117/11
20/09/00
Public Institutions
9.8 dunums
15
Karnei Shomron
117/13
08/05/13
Changing agricultural area designation to residential area
16 dunums
16
Karnei Shomron
117/3
06/11/96
Area for ndustry, Employment and Services
72.4 dunums
17
Karnei Shomron
117/6
06/02/91
The base map of Karnei Shomron Settlement
441.8 dunums
18
Karnei Shomron
117/6/1
27/09/92
determining residential areas
66.7 dunums
19
Karnei Shomron
117/8
15/06/94
Karnei Shomron West
512.4 dunums
20
Karnei Shomron
117/8/1
01/07/92
Determining Areas (Preparation of a detailed urban construction plan)
138.5 dunums
21
Karnei Shomron
117/8/1/2
11/07/01
Commercial Center and offices
22
Karnei Shomron
117/8/1/3
28/07/04
Changing nature of the construction,
161.5 dunums
23
Karnei Shomron
117/8/1/5
13/04/11
Changing the designation of open space to public institutions
23.8 dunums
24
Karnei Shomron
117/8/10
24/05/06
Increasing the permitted building area
25
Karnei Shomron
117/8/11
28/09/05
Land Redistribution
1.99 dunums
26
Karnei Shomron
117/8/12
06/10/10
Changing of Building Lines
27
Karnei Shomron
117/8/14
03/03/10
Changing of Building Lines
28
Karnei Shomron
117/8/15
21/07/10
Changing of Building Lines
29
Karnei Shomron
117/8/16
21/12/11
Changing Building Instructions
30
Karnei Shomron
117/8/18
######
31
Karnei Shomron
117/8/3
25/05/11
change in building provisions
32
Karnei Shomron
117/8/5
28/05/03
Land Redistribution
0.997 dunums
33
Karnei Shomron
4/ 8/ 117
Karnei Shomron, Plot No. 2245
34
Karnei Shomron
117/8/6
09/11/05
change in building provisions
35
Karnei Shomron
117/8/8
26/11/03
Union of 2 plots of land
0.858 dunums
36
Karnei Shomron
117/8/9
10/12/08
Changing Land
37
Karnei Shomron
מ/117
15/06/94
4,020 dunums
38
Karnei Shomron
3/ 927
21/01/2002
Road Number 531 – rehabilitation
To conclude,
Settlement construction has always been a priority under the successive Israeli Governments and this aspect is not surprising at all, as Israel has been advancing settlement plans in the occupied West Bank for almost five decades time.
The International community has harshly condemned Israel's decision to furtherexpand its settlements in the occupied West Bank including East Jerusalem; however Israel's settlement actions in the oPt raise questions about Israel's long-term goals in the oPt and its commitments to the signed agreements with the Palestinians, mainly the Article XXXI of the 1995 Oslo II Interim agreement which provides that: Israel is forbidden from building or planning to any project or settlements or any colonial expansion or any plan that lead to change the status of the West Bank and Gaza Strip. The article provides "Neither side shall initiate or take any step that will change the status of the West Bank and the Gaza Strip pending the outcome of the permanent status negotiations".
[1] The wall hasn't been constructed in area near Karnei Shomron settlement. It is yet planned to be constructed.
[2] the Ariel and Kedumim settlement bloc in Salfit and Qalqilyia Governorates, the Modi'in Illit Settlement bloc in Ramallah Governorate, the Gush Etzion Settlement bloc in Bethlehem and Hebron Governorates, the Ma'ale Adumim settlement bloc and the Giv'at Ze'ev settlement bloc in Jerusalem and Ramallah Governorates
[3]Upon completion, the will isolate 13% (733 km²) of the total West Bank Area (5661 km²) including the five major settlement blocs according to the Israeli classification.
Prepared By
The Applied Research Institute – Jerusalem
ARIJ