Yizhar colonists set  fire to agricultural lands in Nablus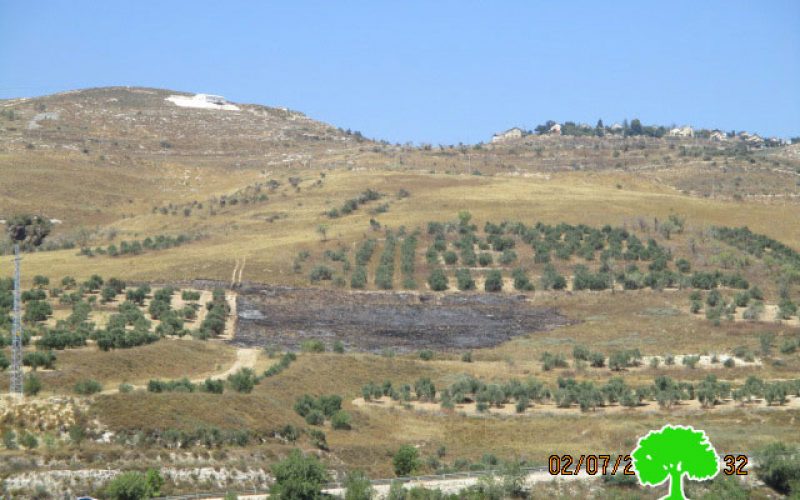 Violation: setting fire to lands
Location: Al-Brais area- Burin village
Date: July 01, 2016
Perpetrators: Yizhar colonists
Victims: farmer Mamon Najjar
Details:
The Nablus village of Burin witnessed on July 01, 2016 an attack carried out by colonists of the nearby Yizhar colony, rendering a vast area of agricultural lands burned down. It should be marked that colonists took advantage of farmers' absence to set fire and burn down an area of 7 dunums. Noteworthy, fire spread over real quickly due to the presence of yellow hay. As result, eight olive trees were partially damaged.
It is reported that the occupation army hindered the Palestinian Fire Brigade from reaching the area to extinguish the fire on the claim of "Security Reasons". This pretext was made based on the area's proximity to the bypass road number 60, which travels by the entrance of Yizhar colony.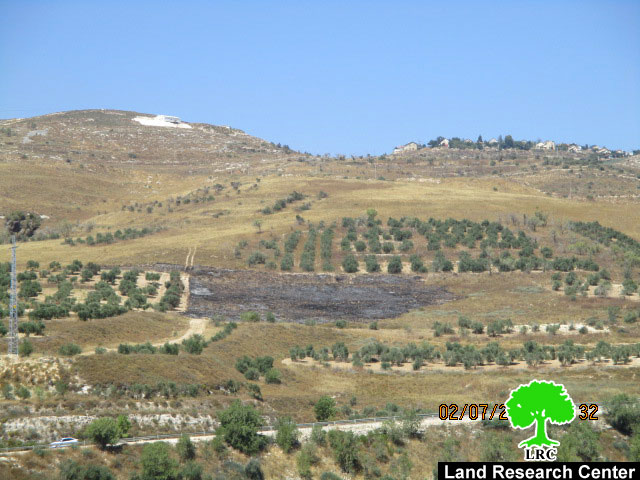 Photos 1+2: the fires that destroyed the agricultural lands
It should be also marked that the targeted lands are owned by farmer Mamon Najjar from Burin village. The farmer provides living for a seven member family though his wheat crops fields.
Colonists were reported to attack Momen's lands to divert him from using and benefiting from the crops. Yet, Momen insisted on taking care of his property and stood up against all conspiracies to get him out of it.
About Burin1:
It is located 8km to the south of Nablus city and is of 10,416 dunums in area, of which 335 dunums are the village's built-up area. Burin has a total population of 3500 people. Two Israeli colonies are founded on the lands of Burin which are:
Bracha: it confiscated 205 dunums from Burin's lands
Yizhar: it confiscated 150 dunums from Burin's lands
About Yizhar2:
It was established in 1983 with a total built-up area of 788 dunums. The colony populates 440 colonists and is founded on confiscated lands from the Palestinian villages of Burin, Huwwara, Einabus, Urif, Asira Al-Qibliya and Madama.
Source 1+2: Geographical Information System- Land Research Center
Prepared by
The Land Research Center
LRC