The Israeli occupation municipality demolishes three residences in Jerusalem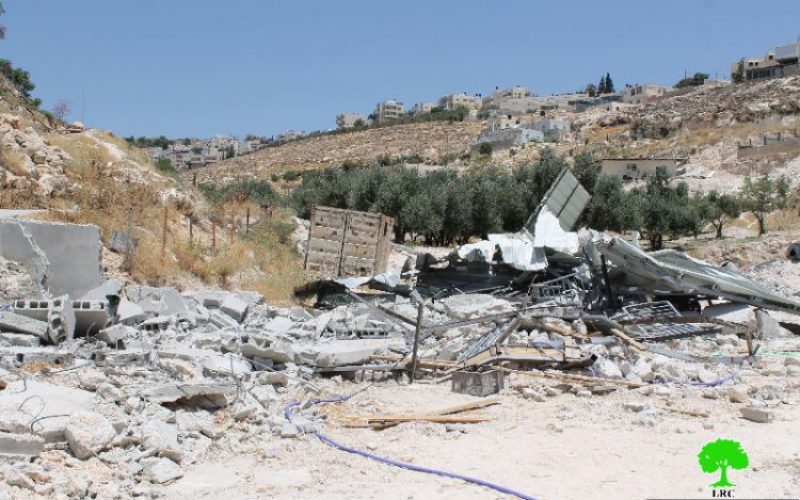 The municipality of Israeli occupation demolished on July 13, 2016 three under construction residences in Al-Faruq neighborhood in Jerusalem area of Jabal Al-Mukabir on the claim of unlicensed construction.
It should be marked that Police members and municipality dozers raided the area at dawn and embarked on demolishing residences belonging to the following residents:
Citizen Ali Abu Al-Sakran: the 70m2 residence was recently built to shelter the brother of the affected and his wife. The demolition took place two days after the brother, Dirgham, was released from Israeli prison.
Citizen Hasan Iqail (70) and his wife, Adlah, (63): the residence is of 70m2 in area.
Citizen Amer Iwaisat : he was planning to move in to the new house with his five member family including three children.
The demolitions occurred without any previous notices except for the residence of Iqail, which was threatened of demolition by the municipality one day before the actual demolition operation took place. Noteworthy, the attorney could not object to the order due to lack of time.
Citizen Ali Iwaisat told Land Research Center the following: " I built my residence three months ago, which is late April 2016, to move in to it with my wife and three children. The house is of 100m2 and is composed of three bedrooms, kitchen, bathroom and a living room. I did not apply to obtain a license from the municipality since the land, one which the house is founded is classified green areas, where construction is banned. Not only, issuing building permits and licenses are almost impossible and takes years to be done, not mentioning the high cost of such a procedure"
He also added:
" At dawn of July 13, 2016, a massive force from Israel Police and two military dozers arrived at the location, encircled the area and demolished the residence despite that fact that I did not receive any order; be it verbal or written".
Photos 1-3: residence of Amer Iwaisat
The dozers of the occupation's municipality also demolished an under construction residence in the same location that is owned by Citizen Ali Abu Sakran. The house is of 70m2 in area and is roofed by metal slaps. It is composed of two bedrooms, kitchen, bathroom and a living room.
Photos 4-5: the residence of Abu Sakran
The dozers also reached out another under construction residence in the neighborhood of Al-Faruq, belonging to citizen Hasan Iqail and his wife Adlah. The two elderly owners intended to move in to the 70m2 house but the occupation destroyed their dream .
Prepared by
The Land Research Center
LRC