Israeli Occupation Forces demolish a building on security claims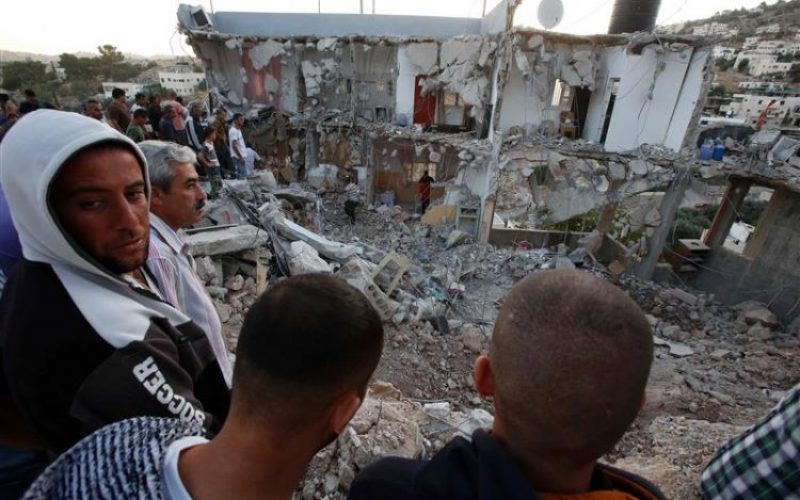 Violation: demolishing a four story building
Location: Surif town- Hebron governorate
Date: July 27, 2016
Perpetrators: Israeli Occupation Forces
Victims: citizens from Surif
Details:
Israeli Occupation Forces demolished on July 27, 2016 a four story building in Surif town, west Hebron city claiming a wanted person was hiding inside of the structure. Resources from Surif Municipality asserted that a massive force from the occupation army including hundreds of soldiers, tens of machineries and dozers raided the eastern side of the town and encircled the eastern neighborhood, where the building of citizen Mohammad Al-Heeh is founded. After the force evacuated the building from tenants, missiles were fired at the building. Another force situated on an opposite mountain repeatedly fired missiles on the building.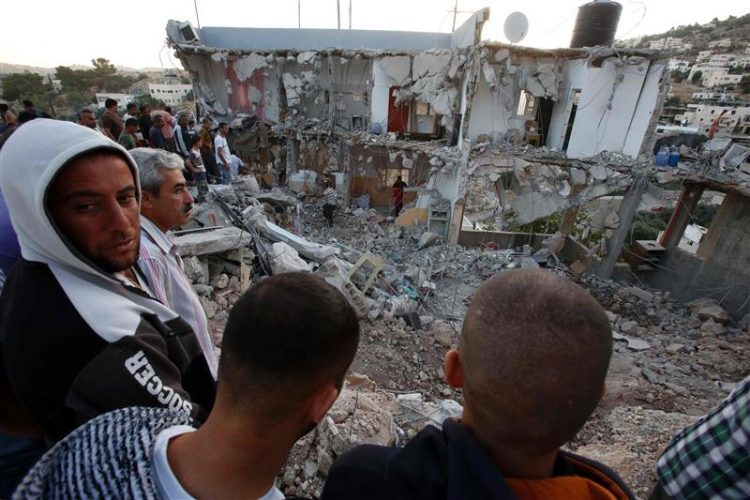 Photos 1+2: the rubbles of the residential building-Surif
Other resources mentioned that the building was shelled by an aircraft. Not only, dozers continued the attack by leveling the rubbles to the ground. After seven hours of air and ground shelling, which rendered Mohammad Al-Faqeeh dead, the forces left the area leaving immense destruction.
Listed below are some information and details on the demolished building:
First basement floor: it is of 60m2 and had no interior at time of demolition
Second basement floor: it is of 90m2 in area and was inhabited by the wife of building's owner, Um Samih Al-Heeh.
Third basement floor: it is rented and inhabited by a three member family including a child. The floor is of 150m2 in area.
First floor: it is of 120m2 in area and is inhabited by a three member family including a child. The floor is composed of an apartment (120m2) and a store (30m2)
It should be marked that Surif Municipality cleaned the rubbles of the building since it was founded on a main street.
Since Al-Aqsa uprising of 2015 until the date of this report, Israeli Occupation Forces demolished 44 residences, of which 19 were demolished in 2015 where the rest were demolished in 201. Demolitions were carried out as a collective punishment on the families of attackers and prisoners. 217 persons including 74 children were rendered homeless as a result. Closing and detonating houses also caused 50 residence to get partially damaged and uninhabitable.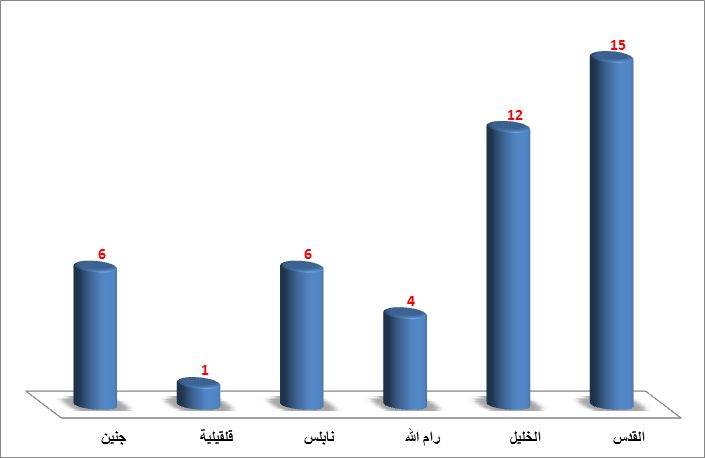 The graph illustrates the number of demolished residences on the claim of "Security Purposes" in
West Bank and East Jerusalem since September 2015 until July 27, 2016
Land Research Center sees the vicious attack on Palestinian buildings as a collective punishment against the families of martyrs and prisoners. The occupation seeks to traumatize and humiliate Palestinian families through such practices.
The Israeli government claims such orders to be deterrent for Palestinians who carry out stabbing or killing attacks. Such attacks come in response for colonists' attacks on Palestinians, the latest of which was represented in torching a family alive, not mentioning running over kids and women, attacks on trees (torching , cutting down, robbing) and lands confiscation.
Prepared by
The Land Research Center
LRC