Colonists set fire to olive groves  in the Ramallah village of Ras Karkar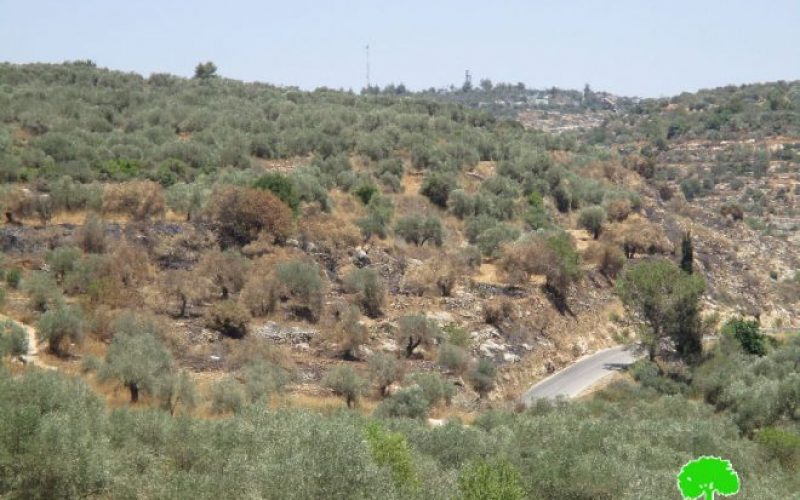 Violation: setting olive groves on fire
Location: Ras Karkar village- Ramallah
Date: July 11, 2016
Perpetrators: Talmon colonists
Victims: three Palestinian families
Details:
Agriculture is the moving wheel of economy in Palestinian suburbs, where olives are seen as the icon of giving, resilience and steadfastness, not mentioning its contribution to the livelihood of tens of Palestinian families.
It is reported that colonists, in reference to the above-mentioned, have never stopped harassing farmers in the West Bank through all possible means. Setting fire to groves ,cutting trees down and poisoning other trees are the main methods on colonists' agenda of violations against agriculture and nature.
On July 11, 2016, a group of fanatic colonists from Talmon colony intentionally set fire to olive groves in the area of Ain Ayyoub. The dryness of hay made fire spread faster to reach out an area of 15 dunums. (Ras Karkar village council)
Fire brigade of the nearby Ni'lin village tried to reach the fire location to control it but the intensive presence of the occupation forces and colonists stopped them from carrying out their duty. Colonists and army troops intended to hinder the brigade for three hours so that fire damages vast areas.
Photos 1-2: part of the damaged lands with a view of Talmon colony in the background
According to the date of Ras Karkar village council, 120 trees were partially damaged. The trees belong to three farmers namely (Azmi Nofal, Hussein Nofal and Ayyob Samhan)
Noteworthy, the village of Ras Karkar is one of the Palestinian villages and communities that is constantly targeted by the occupation and colonists. Vast area from the village's lands was burned down in violent colonial attacks, not mentioning the big numbers of trees that were cut down. Despite that Israel Police get informed of the incidents, colonists always get legally covered and never get convicted.
15 kilometer north west of Ramallah, Ras Karkar is surrounded by Deir 'Ammar (north), Kafr Ni'ma and Deir Ibziq (south), Al Jania (east), Bani Harth (west).
Ras Karkar has a population of 2450 people according to statistics conducted by the Palestinian Central Bureau of Statistics in 2008. It has a total area of 5050, 330 of which are a built-up area of the village.
The Israeli occupation devoured more than 32 dunums of the lands of the village for Talmon C colony which was built in 1989. Moreover, bypass number '463 took over 295 dunums of the village lands.
According to Oslo Accords, 19% of Ras Karkar is under Area B (PA has full civil and security control) while most of the village lands (81%) is under Area C (Israel maintains full security and administrative control). Here are the area in dunums:
Area B (940) dunums
Area C (4110) dunums
---
[i] Source: Geographic Information System- Monitoring Israeli Violations Team- Land Research Center
Prepared by
The Land Research Center
LRC