A new Israeli bypass road cater to the benefit of El Matan outpost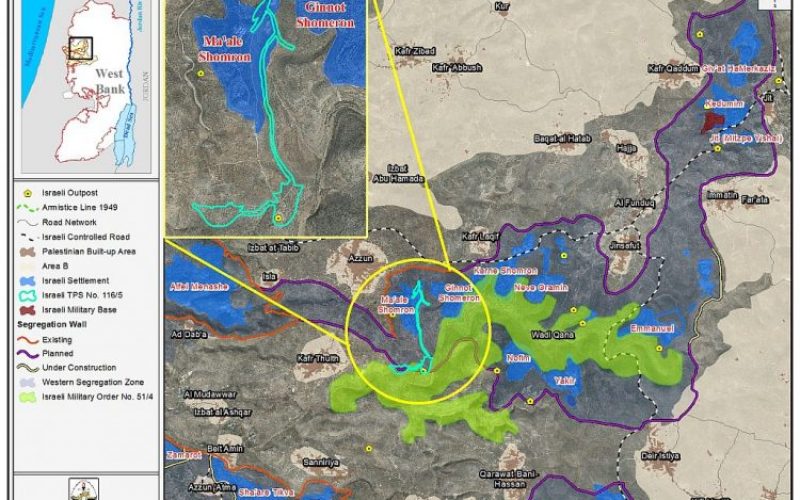 Since 1967, the successive Israeli Governments have actively supported Israeli settlers to build settlements and outposts in the occupied Palestinian territory by offering a variety of incentives in areas of the occupied West Bank . Since then, it has been a form of expanding Israel's control of land and natural resources with the purpose of creating irreversible facts on the ground that will become hard to change in the future. To present, there are 196 settlements and 232 Israeli outposts spreading like tumor in all parts of the occupied West Bank and occupy 3.4% of its area.
El Matan, a tiny but strategic Israeli outpost in the heart of Wadi Qana area, in Salfit Governorate. It is one example of the Israeli encroachment on Palestinian land. In June 2002, a group of religious Israeli settlers from the nearby settlements of the so-called Shomron local council occupied a hilltop south of Ma'ale Shomron and started adding caravans to the site. Since then, the outpost has been flourishing and growing. Today, there are around 30 structures in the outpost and is home to almost 50 Israeli settlers.
Recently, Israeli Authorities commenced the construction of a new bypass road that connects the outpost (El Matan) with the nearby Ma'ale Shomron settlement. Extensive construction is underway in the outpost and is being implemented based on a previously approved master plan (TPS) No. 116/5.
Photos 1-4: Photos of the new Israeli bypass road being constructed in the area of Wadi Qana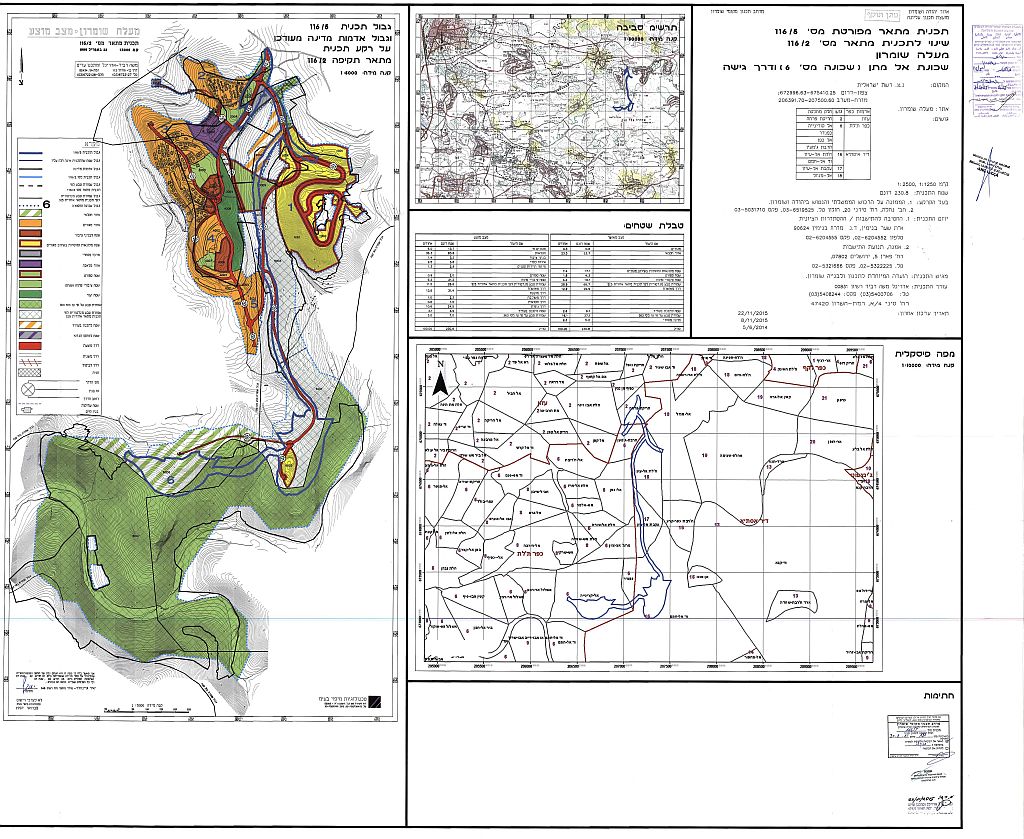 Photo 5: Israeli TPS No. 116/5

TPS No. 116/5 states the confiscation of 230.8 dunums of land of Azzun, Kafr Thuluth and Deir Istya. Areas affected by the implementation of the plan appear in Table 1
Table Lands affected by plan N100o. 116/5

No.

Affected Palestinian Community

Bloc No.

Area name

1

Azzun

2

Hareqit Farha

2

Kafr Thuluth

6

Al Qureneh

Kafendar

Al Kafan

Kherbit Jem'in

3

Deir Istya

16

Khallet Al EYoun

Wadi Al Hamam

17

Aqbet Al Eyoun

18

Mawqe' Al Manazel
Additionally, the plan was approved on the 2nd of December 2015 and indicates the construction of a bypass road that will connect El Matan outpost with the neighboring settlements in the so-called Shomron local council in addition to assigning lands as Nature Reserves, Public Parks, Sports Areas and attraction sites. Table 2 gives details of the type of construction that will take place in the area
Table 2: Details of construction as indicated in TPS No. 116/5

No.

Type of Construction

Area (Dunums)

1

Residential

13.7

2

Land Reserved for Agriculture

83.8

3

Public Buildings

3.2

4

Rural Area

5.8

5

Small Tourist Projects

2.9

6

Sport Area

2.0

7

Open Space and Public Park

21.2

8

Nature Reserve

26.6

9

Declared Nature Reserve – by M.O. No 363

7.0

10

Road – Awaiting Approval

Road – Approved

31.4

11

Road – Constructed

2.3

12

Agricultural Road

1.5

13

Attraction Site

24.5

14

Area reserved for future planning

4.9

Total Area

230.8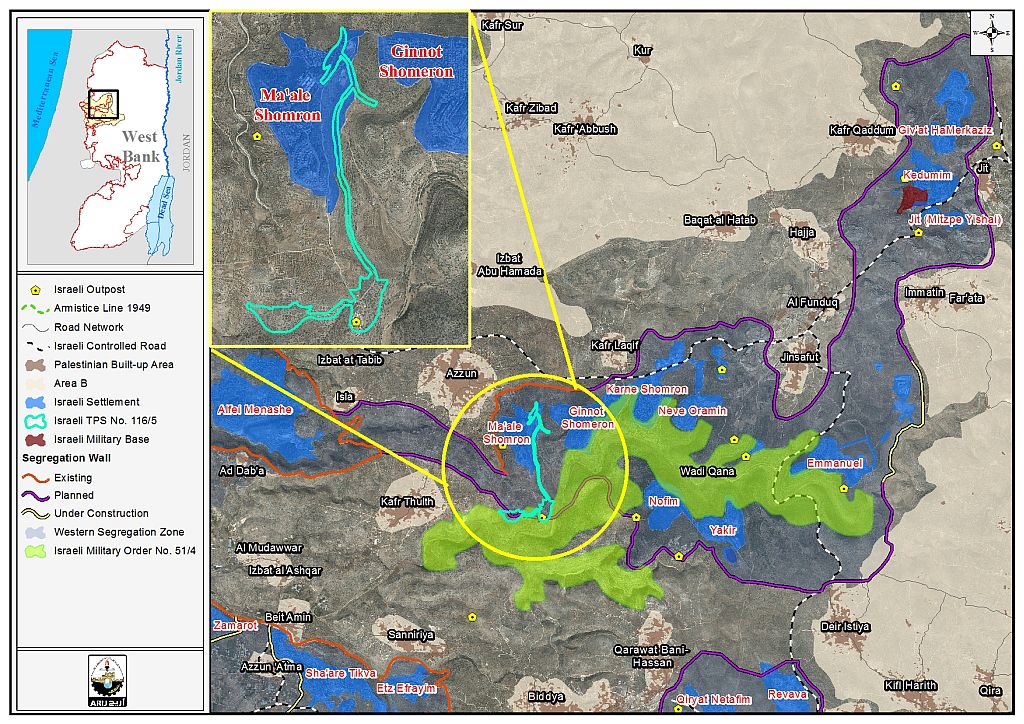 Map 1: details of TPS No. 116/5
Note that on the 23rd of December 2015, the so-called Israeli Civil Administration, represented by the Israeli High planning Council / Settlement Sub-Committee, posted in the Palestinian daily newspaper, Al Quds, an Ad announcing that TPS No. 116/5 of the Ma'ale Shomron settlement (El Matan neighborhood) comes into effect and updates a previously issued TPS No. 116/2. Provisions of the plan come as follows
Land Rezoning from agricultural and residential (Phase A) to various application purposes: Residential, Agriculture , Public Buildings, Rural Area , Small Tourist Projects, Sport Area, Open Space and Public Park, Nature Reserve , Declared Nature Reserve – by M.O. No 363, Roads and attraction Sites, Area reserved for future planning
Determination of various permissible land Uses.
Setting limits and provisions in the area with regard to construction plan.
Outlining the various road network classification.
Determine the obligation to be fulfilled by the implementer in terms of the given conditions, stages of implementation and development stages.
Instructions to preserve the landscape during the reconstruction and construction operations through a special annex of the site, as an integral part of the plan documentation. See Photo 5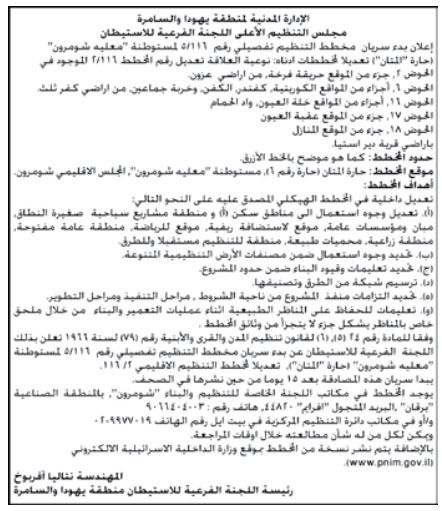 Photo 5: The posted announcement of TPS 115/6 in Al Quds Newspaper
Lately, in May 2016, the Israeli daily newspaper "Haaretz" reported that during the past few years the so-called "Karnei Shomron local council" along with the Israeli Ministry of Environment, the Israeli Civil Administration, and the Israeli Nature and Parks Authority have been seeking to promote Qana Valley (Wadi Qana) area in Salfit Governorate and enhance the bond of Israeli settlements and outposts in the area by creating more hiking trails, develop archaeological sites, make accessible routes for the disabled people, preserve water resources and natural places. This declaration comes as part of Israel's plan to foster its control over the Qana Valley area (Wadi Qana) under the cover of tourism and environment protection; for more information, click here: The Israelization of Qana Valley in Salfit Governorate. See Map 2
To sum Up,
The expansion going in El Matan outpost is not surprising as the consecutive Israeli governments, regardless of the party in power, have certainly encouraged the establishment of such sites throughout the years of the Israeli occupation[1] by providing military protection and infrastructure services, in addition to occasional financial support. Many existing outposts in the occupied West Bank have grown so large that they are in reality settlements.
[1] In 1996, following the signing of the Oslo Peace Accords in 1995, the Israeli settlers initiated a new phenomenon known as "outposts". An Outpost is created when a group of Israeli settlers takes control of a Palestinian hilltop located in close proximity to existing Israeli settlement which is known as the " mother settlement". The outposts often consisting of a few caravans of Israeli settlers are now spreading throughout the occupied Palestinian territory (opt).
Prepared by:
The Applied Research Institute – Jerusalem