Israeli Occupation Forces notify a soccer field of stop-work in Jericho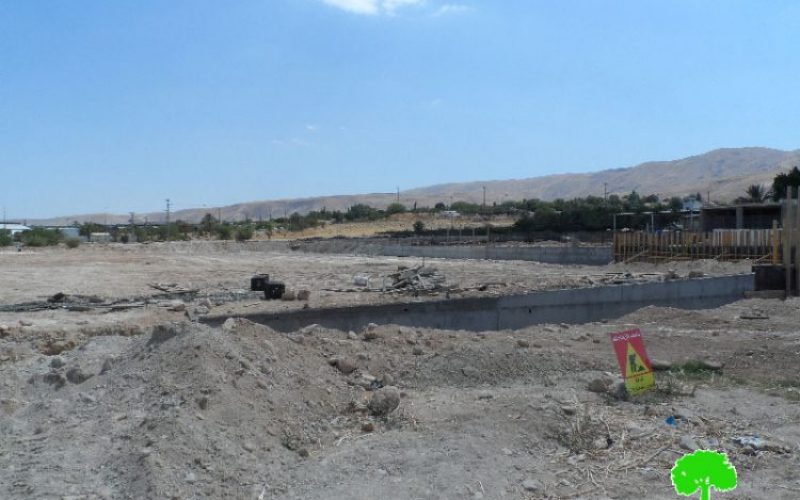 Violation: notifying a soccer field of stop-work
Location: Fasayil Al-Tahta village
Date: June 15, 2016
Perpetrators: Planning and Construction Committee- Israel Civil Administration
Victims: residents of the village
Details:
Children's' right to play is existential and is guaranteed by human rights. This applies everywhere in the world except in Palestine where people are denied their simplest rights to housing and to movement. It should be marked that the occupation uses various measures to harass Palestinians such like demolishing play grounds and soccer fields and taking over archeological places to expand colonies on.
On June 15, 2016 an army patrol accompanied with the so-called Buildings Inspector from Israel Civil Administration raided the village and hanged the stop-work order number 201511 at the entrance of soccer field, which is still under construction.
According to the order, a deadline until June 28, 2016 to complete all licensing procedures. This comes in time with the hearing session of the Planning and Construction Committee- Israel Civil Administration in the Israeli court of Beit El to consider the status of the notified structure.
Photos 1-2: the notified soccer field
Photo 3: the military order of stop-work
It should be marked that construction works on the fields started in May 2016 with funds from international bodies. The field is of 2 dunums in area and has 16m2 toilets. A huge retaining wall surrounds the field.
The chairman of Fasayil village council , Ibrahim I'bayyat, told Land Research Center the following: " The field is considered one of a type in the village. It will serve 400 youth of the village where infrastructure and services are denied by the occupation. The idea of the field came to decrease youth's psychological pressure that is caused by occupation practices and measures.
About Fasayil:
23 km north of Jericho Fasayil village totals 46,826 dunums in area. It has a population of 1258 (according to Palestinian Central Bureau of Statistics in 2013). It is surrounded by a number of illegal Israeli colonies that limit the expansion of the village and deprive its inhabitants from having a normal life.
From the north, Fasayil is surrounded by colonies of Yafit and Pezael (Fezael), Tomer and Gilgal and Netiv Hagedud from the south in addition to a bypass that links the northern colonies with the southern ones.
Prepared by
The Land Research Center
LRC