Israeli occupation forces close Al-Madares road in Jabal Al-Mukabir area via road blocks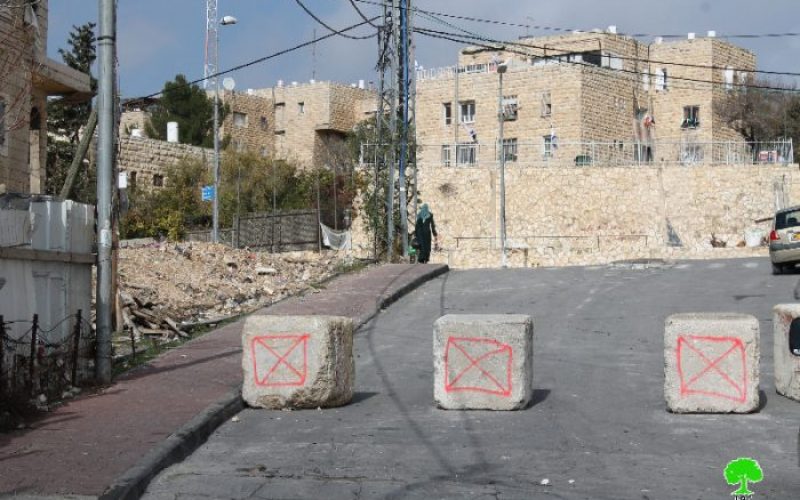 At the early hours of June 24, 201, Israeli occupation army closed Al-Madares road in the area of Jabal Al-Mukabir in the occupied city of Jerusalem via road blocks. This measure was undertaken as a collective punishment on the area's residents on the claim of "pelting stones" at colonists' residences located in Jabal Al-Mukabir.
Policemen deployed in the neighborhood and installed the road blocks. This is not the first time Israeli police closes the road that is vital and crucial at many levels for the area's residents.
The Occupation forces justified the closure on the claim that some residents threw stones at colonists' residences founded in the area. Noteworthy, policemen are reported present in the area around the clock to secure colonists and provide protection for them.

It should be marked that the area of Jabal Al-Mukabir suffers from the Israeli measures of closures, house raids and vandalization since two years ago. Not only, Israel conducted the policy of home demolition on the claim of "unlicensed construction" to push Jerusalemites to leave the city.
Also, Israeli police conduct night-raids to search and detain youth and kids, leaving psychological and physical damage on the residents and their properties.
International conventions and laws regarding freedom of movement which Israel unabatedly violates:
Article 3 of the Universal Declaration of Human Rights: "Everyone has the right to life, liberty and security of person".
Article 5: "No one shall be subjected to torture or to cruel, inhuman or degrading treatment or punishment".
Article 9: "No one shall be subjected to arbitrary arrest, detention or exile".
Article 13: Everyone has the right to freedom of movement and residence within the borders of each state.
Everyone has the right to leave any country, including his own, and to return to his country.
Article 7 of the International Covenant on Civil and Political Rights: "No one shall be subjected to torture or to cruel, inhuman or degrading treatment or punishment. In particular, no one shall be subjected without his free consent to medical or scientific experimentation."
Article 9: "Everyone has the right to liberty and security of person. No one shall be subjected to arbitrary arrest or detention. No one shall be deprived of his liberty except
Prepared by
The Land Research Center
LRC