Demolition orders on agricultural structures in the Hebron village of AL-Deirat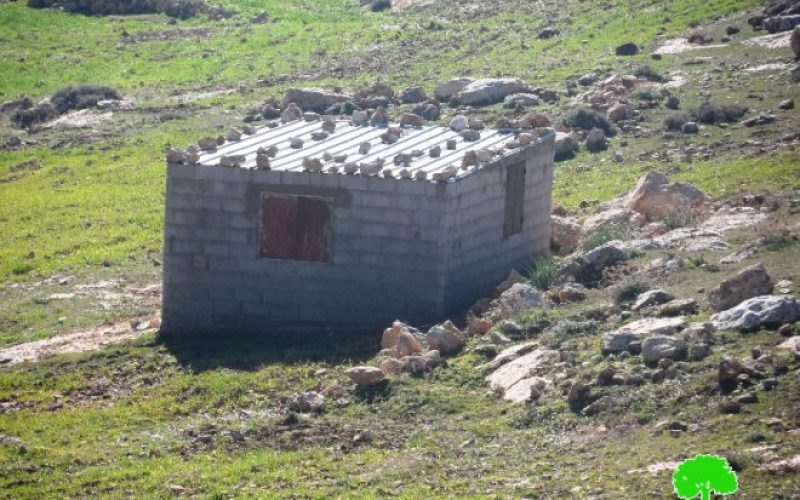 Violation: serving demolition orders
Location: AL-Deirat village- Yatta town
Date: June 07, 2016
Perpetrators: Israel Civil Administration
Victims: Mohammad and Mousa Al-Adra
Details:
Israeli Occupation Forces issued on June 07, 2016 demolition orders targeting agricultural structures on the claim of unlicensed construction in Al-Deirat village, east Yatta town in Hebron governorate.Citizen Mohammad Al-Adra asserted that he found the demolition orders left under a stone in his lands in Al-Hayyeh area, east of the village.
Israeli occupation authorities requested, through the orders, the owners to demolish the structures and restore their original status within a seven day deadline from the order's date of issuance. The following table shows information about the structures and properties:
No.

Name

Area\m2

Structure

Status of structure

No. of order

Photo

1

Mohammad Mahmoud AL-Adra

300m3

Water well

Used since 2013

1000m2

Foundation of farm

Under construction since 2013

2

2

Mousa Mahmoud Al-Adra

16m2

Agricultural room

Used since 2015

391865
Source : Field observation- Department of Monitoring Israeli Violations- Land Research Center-2016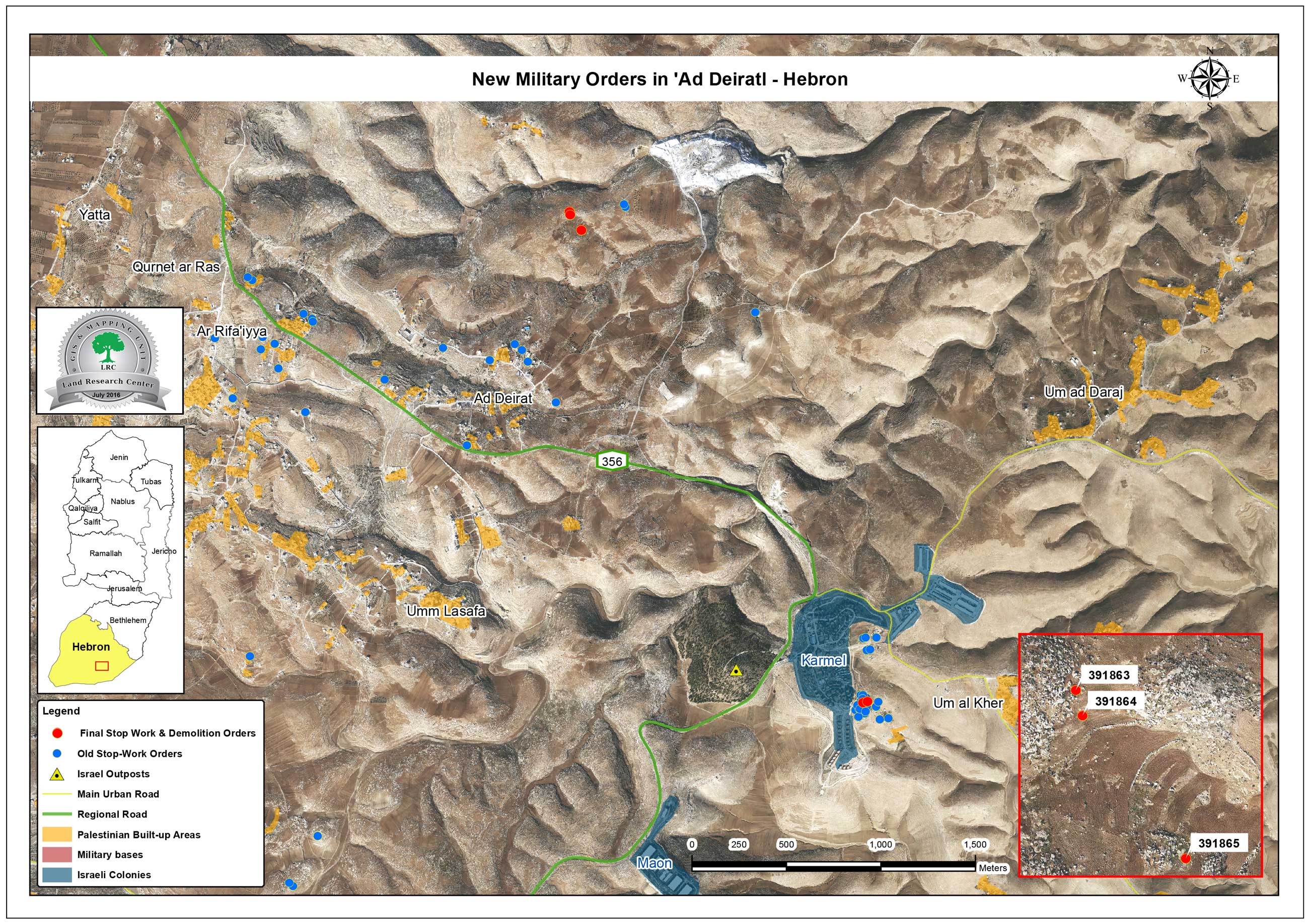 It should be marked that citizen Mahmoud Al-Adra was preparing a one dunum plot to establish a barrack to be used for cows breeding. The second demolition order was served on a water well for Al-Adra that was implemented by Palestinian Hydrology Group in 2013. The well had a volume of 300m2 that the owner intended to use in his agricultural project.
As for citizen Mousa Al-Adra, he received a demolition order on his agricultural room built of concrete slaps and metal slaps. The room was used as a storage unit for the agricultural tools the farmer used in his land. Noteworthy, the affected citizen has a four dunum plot in the area that he usually plants with winter crops.
About Al-Deirat :
Al-Deirat village is located to the east of Yatta town and is about 6km away from it. The village is considered agricultural and is inhabited by 700 people; a village council runs the affairs of al-Deirat despite there is no headquarter for the council itself.
A number of families reside in the village namely : (al-Hamamdah, Musa'fieh , al-Adra); al-Deirat is split by the bypass road no. 60, which links all Israeli colonies in the north with those in the south.
The village is edged by Arab al-Ka'abna and al-Karmel colony from the east, Yatta town from the west, Khirbet al-Bwaib from the north and Ma'on colony and Um Lisfa village from the south .Residents of the area aspire to obtain a master-plan for the village that includes their houses in order to protect them from Israeli orders of stop-work and demolition.
Prepared by
The Land Research Center
LRC