49 years of occupation:
The Israeli settlers = 27% of the West Bank population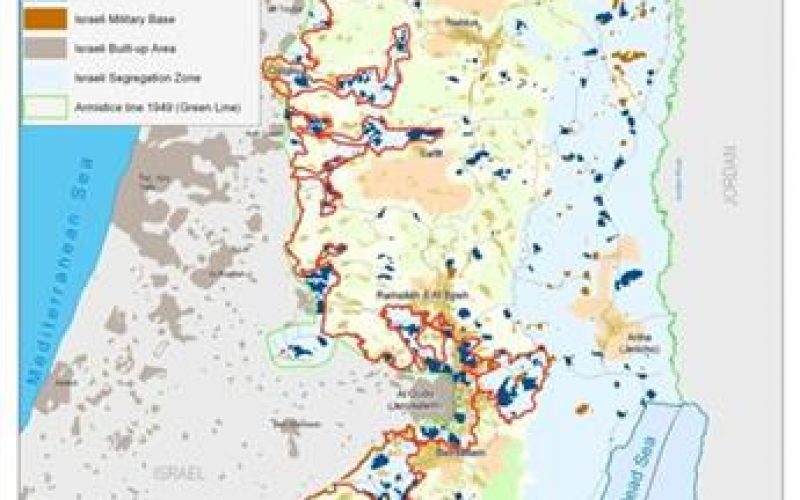 The number of the illegal Israeli settlers residing in the occupied Palestinian territory (oPt) including occupied East Jerusalem has always been a subject of deliberation by many officials; Palestinians, Israelis, others alike. The Applied Research Institute-Jerusalem (ARIJ) has always contested that the number of the Israeli settlers exceeds the wide spread number by approximately 25%; so when the number of Israeli settlers were proclaimed in 2011 somewhere between 489,000 and 515,000; ARIJ posted the settlers' number at 632,711. By mid year 2015, ARIJ posted the number of Israeli settlers at 758,412 while the circulated number fluctuated between 570,000 and just about 600,000 Israeli settlers living in oPt.
As the commemoration of 49 years of the Israeli occupation of the West Bank is upon the Palestinians, the former Knesset Member Yaakov "Ketzaleh" Katz, released; and for the first time, one of the most hidden truths of the Israeli occupation and that is the statistics on the precise number of Israeli settlers residing in oPt. According to the released information and as of December 31, 2015; there is more than 766,000 Israeli settlers residing in the West Bank; including East Jerusalem: 406,302 and 360,000 respectively.
The release of such information at this time is not accidental; and while the Paris peace conference is hoped to break the ice on the peace process and resume negotiation based on the prospects of the two-state solution, the growing realities on the ground (the settlements, hence the settlers' number) also grows much skepticisms of the prospects of its success. Such scene entails the increase the chances of the one-state solution. However, with the release of such number for the illegal settlers in oPt (close to 800,000 by the end of 2016 and excess of million by 2020) Israel seek to bring about a different reality and an argument that sums up a negotiation based on geographic and demographic realities.
See report via following link:
https://www.dropbox.com/s/tqmy1emc6bg6jwj/Judea%20Samaria%20population%20stats%2031Dec2015.pdf?dl=0
Prepared By
The Applied Research Institute – Jerusalem
ARIJ