Stop-Work orders in the Yatta area of Al-Jawaya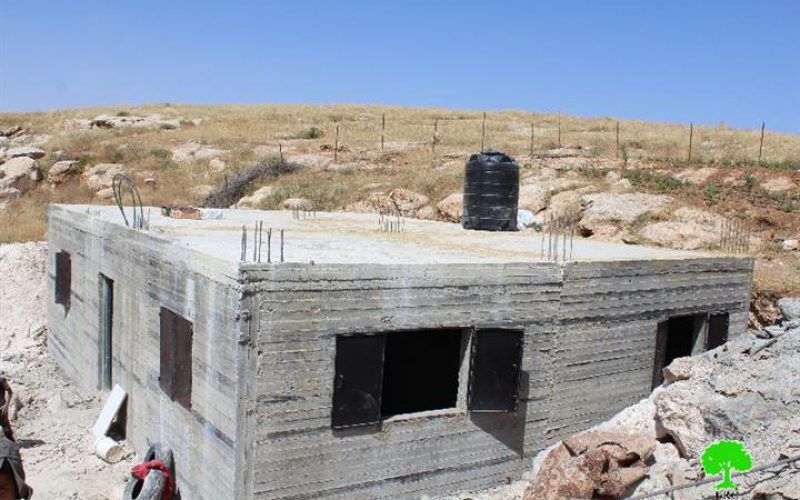 Violation: serving stop-work orders
Location: Al-Jawaya- Yatta town
Date: May 05, 2016
Perpetrators: Israel Civil Administration
Victims: Citizen Aayed Shawaheen
Details:
Israeli occupation authorities served on May 05, 2016 a stop-work order on the residence of Citizen Aayed Shawaheen in Al-Jawaya area, east Yatta town in Hebron and confiscated some construction material from the location.
Shawaheen (38) said that a vehicle relative to Israel Civil Administration accompanied by an army patrol arrived at the location, issued the stop-work order, confiscated some construction materials and equipments and took photos of the targeted structure before they had left. A minute of confiscation was delivered to the owner as a result.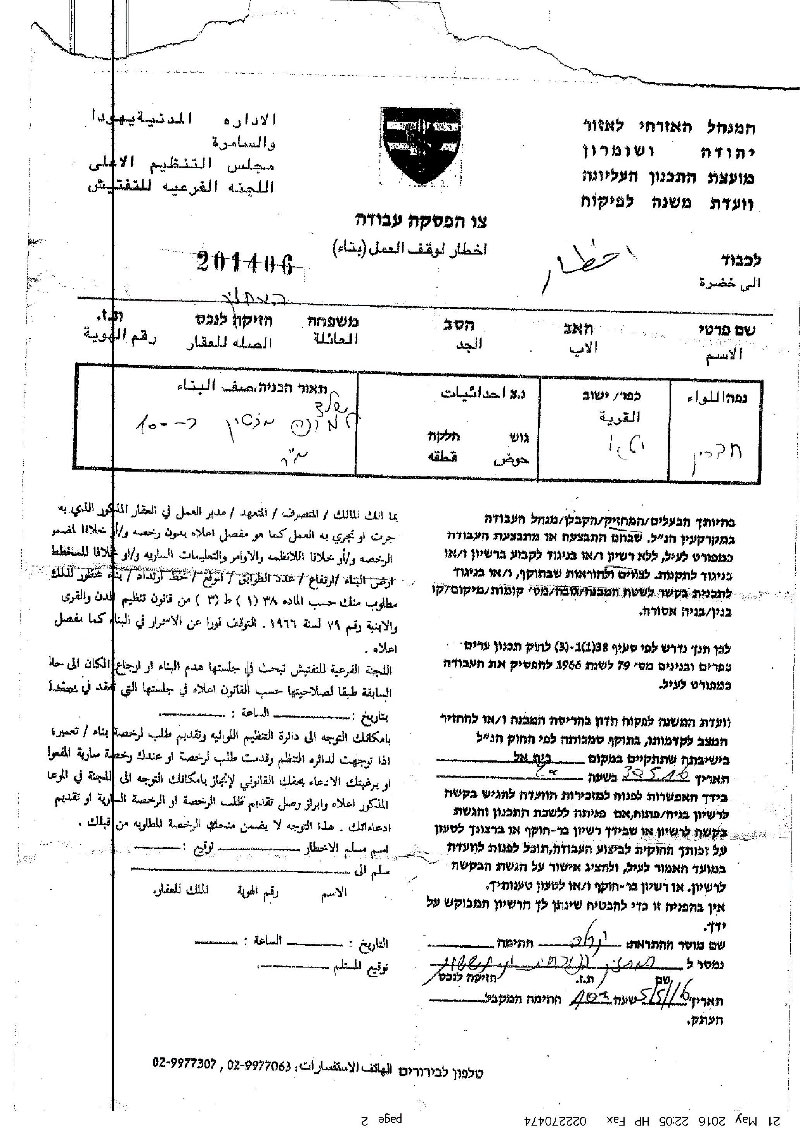 The order mentioned that the structure was "unlicensed" and ordered a halt on all construction works. May 30, 2016 was assigned as the hearing session of the Inspection Sub-Committee- Israel Civil Administration in the Israeli court of Beit El colony to consider whether to demolish the structure or restore its previous status.
The house is reported to be in the finishing phase. With a total area of 100m2, works of construction on the house started in 2016. The house is supposed to be home for 13 members including 7 children.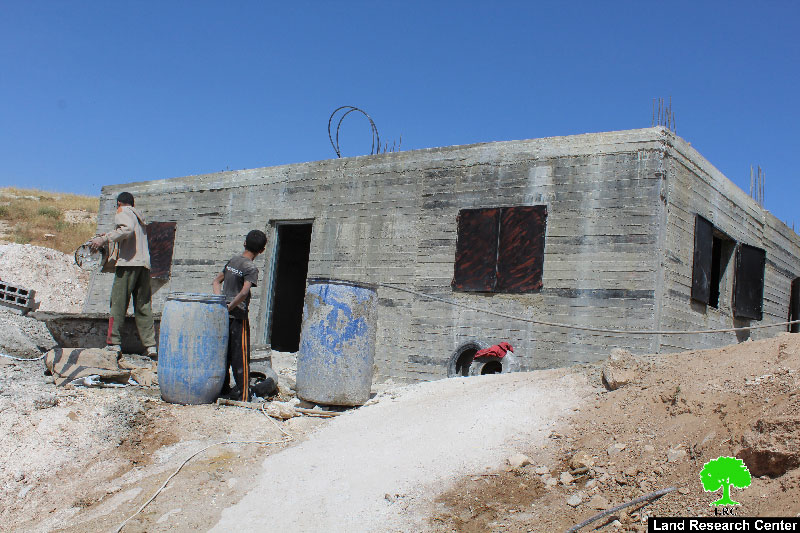 Photo 2: view of the targeted house
It should be marked that Israeli occupation authorities served on June 22, 2015 a stop-work order on a residential tent owned by Shawaheen on the claim of "unlicensed construction". At time, Shawaheen submitted a plea to object the order and applied for a building permit, which the occupation authorities did not grant it for him.
For further information on the aforementioned incident, please read Land Research Center report in that regard (LINK)
Land Research Center LRC sees that demolitions contradict with all of the International conventions and Humanitarian laws including:
Article 17 of the (1948) Universal Declaration of Human Rights stating: "Everyone has the right to own property alone as well as in association with others. No one shall be arbitrarily deprived of his property."
Section ‹G› of article 23 of the (1907) The Hague Conventions asserting: "In addition to the prohibitions provided by special Conventions, it is especially forbidden to destroy or seize the enemy's property, unless such destruction or seizure be imperatively demanded by the necessities of war."
Article 53 of the Geneva Fourth Convention (1948) declaring: "Any destruction by the Occupying Power of real or personal property belonging individually or collectively to private persons, or to the State, or to other public authorities, or to social or cooperative organizations, is prohibited, except where such destruction is rendered absolutely necessary by military operations."
Section 1, Article 11 of the International Covenant on Economic, Social and Cultural Rights (1966): "The States Parties to the present Covenant recognize the right of everyone to an adequate standard of living for himself and his family, including adequate food, clothing and housing, and to the continuous improvement of living conditions. The States Parties will take appropriate steps to ensure the realization of this right, recognizing to this effect the essential importance of international co-operation based on free consent."
Prepared by
The Land Research Center
LRC