Stop-Work order on Water-Supply pipeline in Tubas governorate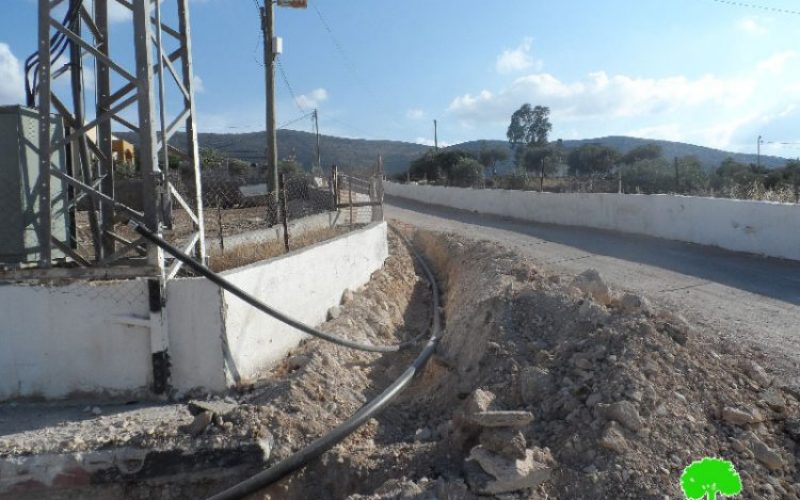 Violation: serving stop-work order on water-supply pipeline
Location: Al-Aqaba village and Ibziq hamlet- Tubas
Date: May 05, 2016
Perpetrators: Planning and Construction Committee- Israel Civil Administration
Victims: 630 residents of targeted areas
Details:
Water resources are factors of steadfastness and resilience for Palestinian farmers. Resources form a focal point in uplifting the agricultural sector and economy as well. It should be marked that Bedouin communities in the area of Jordan Valley (Al-Ghoor) suffer from Israeli practices that control water and natural resources. Palestinian farmers are banned from digging in search for water and using existing water resources as well.
It is reported that a massive force from Israel army on May 05, 2016 raided Al-Aqaba village and Ibziq hamlet, northeast Tubas governorate and delivered a stop-work order on the water-supply pipelines for the village council.
The order number 181193 compelled stop-work on setting up a water-supply pipeline (3.5km) that travels from Al-Tayasir village towards Al-Aqaba village. A deadline to complete all licensing procedures until May 30 to was mentioned in the order as well.
The chairman of Aqaba village council, Hajj Sami, told Land Research Center the following:
" The pipeline is considered very vital for the village; works on the pipelines started two weeks ago with funds from UNICEF. Works were implemented by Action Against Hunger ACF organization. The pipeline (3 inch *3.5km) pumps water from the nearby village of Al-Tayasir towards Al-Aqaba village to be fairly distributed on families. Noteworthy, the 300 people of the village depend on buying drinking water, which is relatively expensive".
Photo 1: the military order
Photos 2+3: the water-supply pipeline
It should be marked that Israeli occupation authorities served another stop-work order on the pipeline that travels from Al-Tayasir village towards Ibziq hamlet. The pipeline (3 inch *4km) was funded by funds from UNICEF to serve the 340 people of the hamlet. Noteworthy, people of the area depend on buying water for 25 NIS per 1m3, which is considered expensive.
It is reported that the Israeli Occupation Forces previously demolished water pipelines in Tubas governorate; especially the area of Sahel Atuf and Yarza hamlet. Such practices were implemented to destroy the agricultural sector and push Palestinians out of their lands.
Prepared by
The Land Research Center
LRC