Israeli Occupation Forces serve stop-work orders on 13 structures in Tubas governorate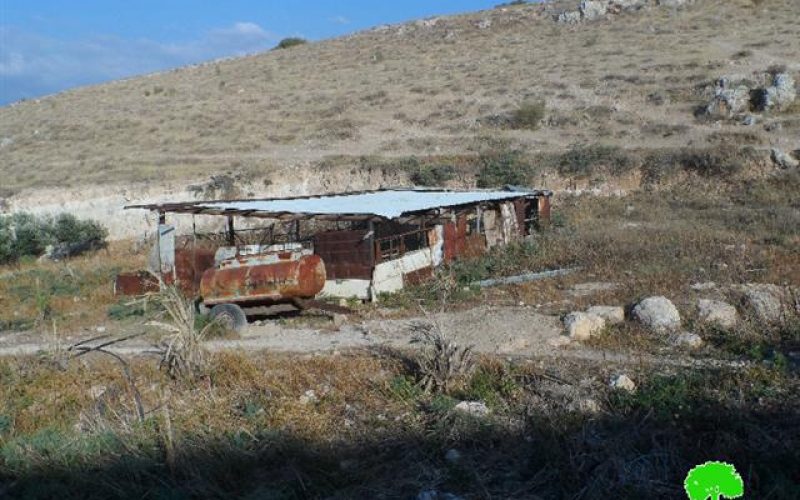 Violation: serving stop-work orders
Location: Kardala village- Tubas
Date: May 23, 2016
Perpetrators: Planning and Construction Committee- Israel Civil Administration
Victims: nine Palestinian families (69 members including 39 children)
Details:
The village of Kardala, northeast Tubas witnessed on May 23, 2016 the serving of stop-work orders on thirteen agricultural and residential structures on the claim of "unlicensed construction".
According to the orders, the affected were given a deadline until June 15, 2016 to complete all licensing procedures. This comes in time with the hearing session of Inspection Sub-Committee – Israel Civil Administration in the court of Beit El colony to consider whether to demolish the structures or restore their previous status.
It should be marked that the serving of orders came five days after notifying two houses in the village on the claim of unlicensed construction as well.
About Kardala:
Kardala is 18 km away from Tubas governorate; the village is still unacknowledged by the Israeli occupation. Kardala became an interest for the occupation due to the fact that it is located on lands classified as area "C" according to Oslo accords. According to the data of Kardala village council, there are 8 structures notified with stop-work orders, not mentioning the 13 facilities that were demolished in the area.
People of Kardala come hail originally from Tubas city; more specifically from the following families ( Sawafta, Daraghmeh, Qabha). The following table shows information about the affected owners and properties:
Affected citizen
Family
Minors
No. of structures
Aream2
No. of order
Notified structure
Photo
Samer Fuqha
6
3
1
90
200968
Sheep tent
1
Muneer Fuqha
8
5
1
60
200972
Barrack for sheep
2
Mahmoud Fuqha
5
2
1
90
200974
Barrack for sheep
3
Mithqal Fuqha
8
5
1
60
200967
Sheep tent
4
1
60
200969
Sheep tent
5
1
45
N/A
Tent
6
Bassan Fuqha
7
3
1
21
200971
Sheep tent
7
Mohammad Fuqha
9
5
1
40
200973
Yard roofed with metal slaps
8
Awwad Araysheh
7
4
1
75
201627
Barrack for cows
9
Ahmad Araysheh
11
7
1
90
201628
Barrack for chicken
10
1
90
201630
Barrack for chicken
10
1
60
201629
Residential room
10
Jihad Araysheh
8
5
1
90
200970
Barrack for sheep
11
Total
69
39
13
871
Source : Field observation- Department of Monitoring Israeli Violations- Land Research Center-2016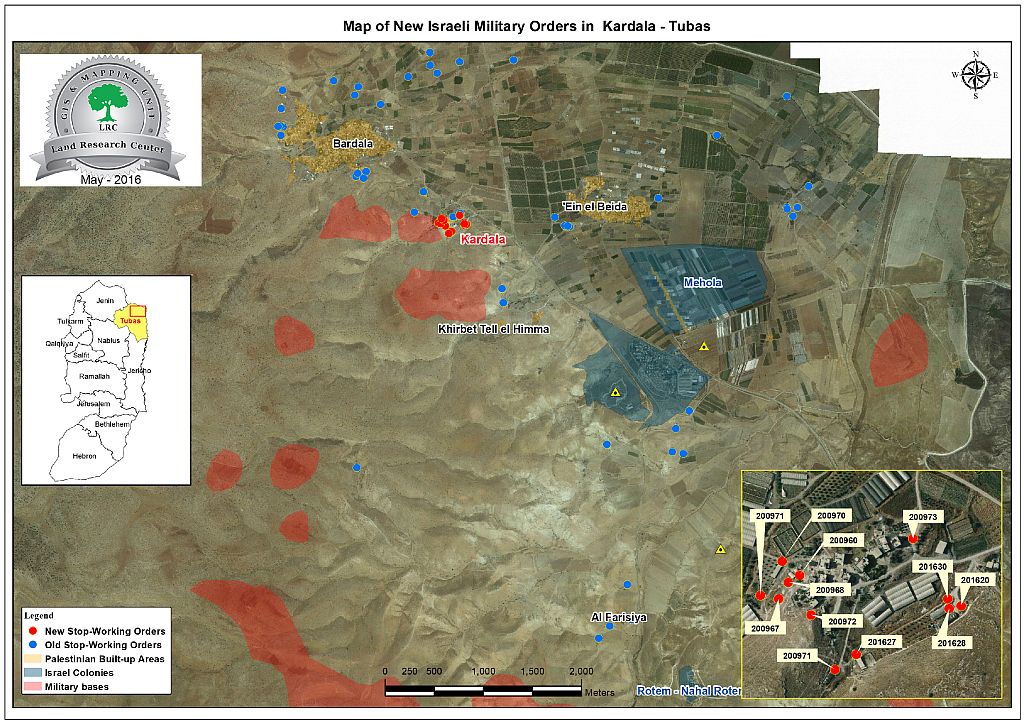 Israeli occupation authorities aim at emptying the area of Palestinian Jordan Valley for the favor of colonial interests. Statements made by Israeli officials assert the aforementioned; here are some:
Benjamin Netanyahu said in a statement :
"Israel will not accept any resettlements that don't include the presence of Israeli Occupation Forces in Palestinian Jordan Valley"
Israel Foreign Minister, Lieberman, stated:
"We refuse the presence of international forces in the area of Palestinian Jordan Valley for it is the key to Tel Aviv and the fortress against the threats we face"
Israel Minister of War, Iyhud Barak, stated:
"Between Jordan River and the Mediterranean Sea ,Israel will be founded"
Prepared by
The Land Research Center
LRC