Funded by the Dutch Representative Office
The Israeli occupation notifies agricultural structures of Stop-Work in Qusra town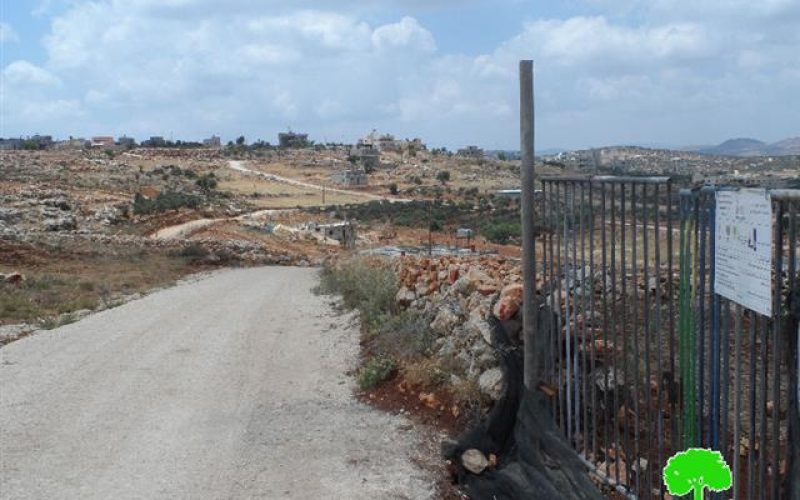 Violation: serving stop-work orders on structures
Location: Qusra village- Nablus
Date: May 24, 2016
Perpetrators: Planning and Construction Committee- Israel Civil Administration
Victims: four Palestinian families (34 members including 14 children)
Details:
The so-called Planning and Construction Committee- Israel Civil Administration served on May 24, 2016 stop-work orders on two agricultural rooms and two water wells in the area known as "Kita' Kamil", south Qusra town on the claim of "unlicensed construction".
The orders gave the affected owners a deadline until June 20, 2016 to complete all licensing procedures. This comes in time with the hearing session of the Inspection Sub-Committee in the Israeli Court of Beit El colony to consider the legal status of the notifies structures.
In addition, Israeli occupation authorities delivered Qusra village council a stop-work order on the agricultural road known as AL-Wa'ar, south of the village. Noteworthy, the road is of 300m in length and was implemented through Economic and Social Development Center of Palestine with funds from the Dutch Representative Office. Reportedly, the road serves 40 dunums of olive groves. The following table shows information about the affected people and properties:
| | | | | | | |
| --- | --- | --- | --- | --- | --- | --- |
| Affected citizen | Family | Aream2 | Nature of notified structure | No. of order | Photo | Remarks |
| Hussein Abu Rabada | 8 | 12 | Agricultural room | | | Funded by Anti-Wall Commission |
| Tariq Abu Rabada | 5 | 12 | Agricultural room | | | Funded by Anti-Wall Commission |
| Raed Da'aas | 9 | 60 m2 | Water catchment well | | | Implemented by Economic and Social Development Center of Palestine |
| Farid Hasan | 11 | 60 m2 | Water catchment well | | | Implemented by Economic and Social Development Center of Palestine |
| Agricultural road (300m) | | | | | | Implemented by Economic and Social Development Center of Palestine |
| Total | 33 | | | | | |
Source : Field observation- Department of Monitoring Israeli Violations- Land Research Center-2016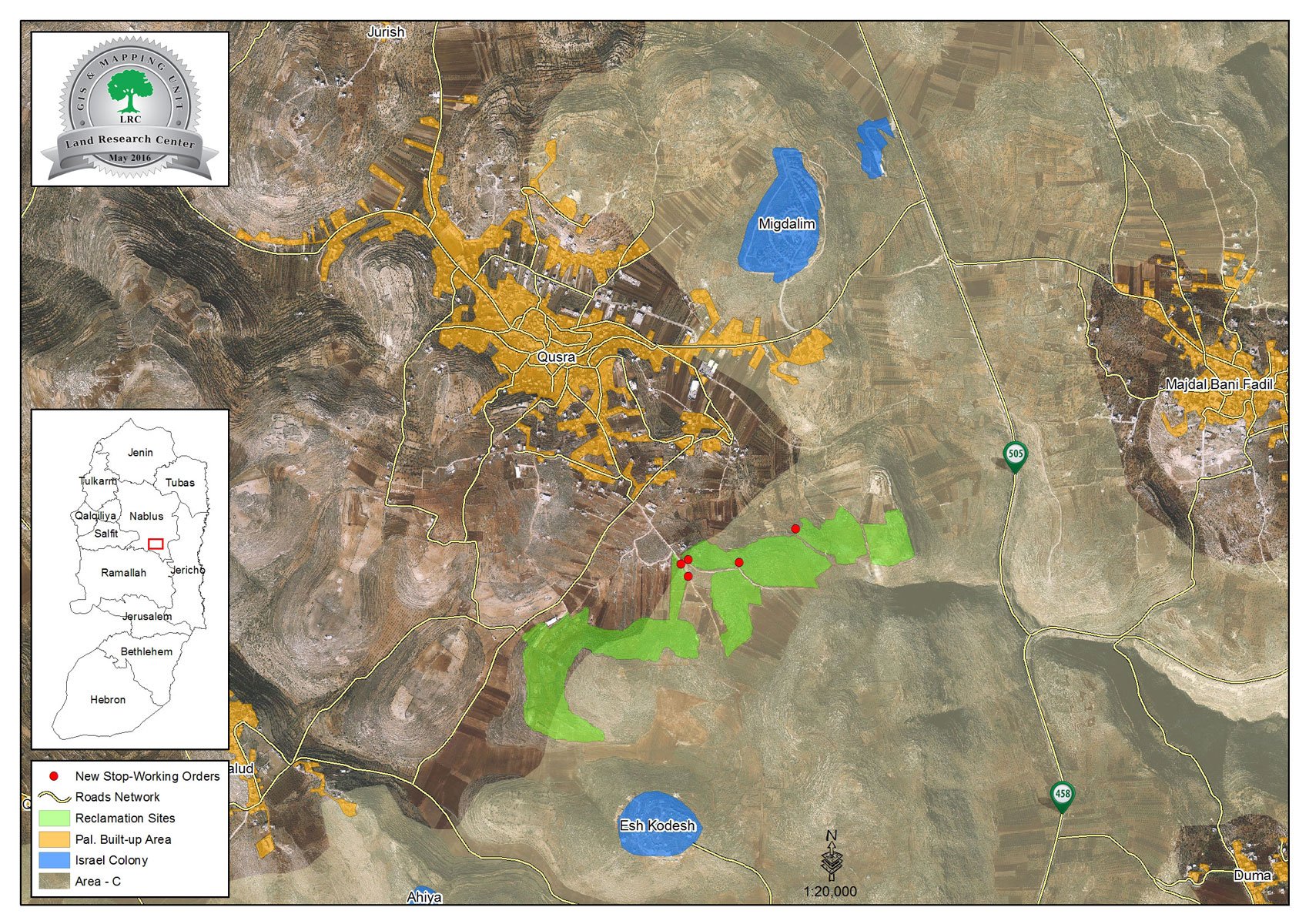 For further information on the violations and attacks Qusra village witnessed, please read the following reports issued by Land Research Center:
Demolition and stop-work orders on structures in Qusra village (LINK)
Banning the rehabilitation of 75 dunums in the Nablus village of Qusra (LINK)
The Israeli occupation notifies structures with demolition in the Nablus village of Qusra ( LINK)
About Qusra:[i]
It is located 23 km to the south of Nablus city and is administered by Qusra village Council. Qusra is surrounded by Jurish (south), Talfit (west), Majdal Bani Fadil (east), and Mizpe Rachel colony (south).
Qusra is inhabited by 5644 people according to 2014 PBS population projections. Its total area is 8886 dunums that include 775 dunums of built up area.
The Israeli occupation confiscated 223 dunums of the village lands for the sake of:
Migdalim colony that devoured 155 dunums. It was built in 1984 and is inhabited by 152 colonists.
Bypass road no. 508 that took over 68 dunums.
According to Oslo Accords, Qusra is divided into area B (4323 dunums) and area A (4563 dunums).
[1] Source: Geographic Information System- Monitoring Israeli Violations Team- Land Research Center
Land Research Center LRC sees that demolitions contradict with all of the International conventions and Humanitarian laws including:
Article 17 of the (1948) Universal Declaration of Human Rights stating: "Everyone has the right to own property alone as well as in association with others. No one shall be arbitrarily deprived of his property."
Section ‹G› of article 23 of the (1907) The Hague Conventions asserting: "In addition to the prohibitions provided by special Conventions, it is especially forbidden to destroy or seize the enemy's property, unless such destruction or seizure be imperatively demanded by the necessities of war."
Article 53 of the Geneva Fourth Convention (1948) declaring: "Any destruction by the Occupying Power of real or personal property belonging individually or collectively to private persons, or to the State, or to other public authorities, or to social or cooperative organizations, is prohibited, except where such destruction is rendered absolutely necessary by military operations."
Section 1, Article 11 of the International Covenant on Economic, Social and Cultural Rights (1966): "The States Parties to the present Covenant recognize the right of everyone to an adequate standard of living for himself and his family, including adequate food, clothing and housing, and to the continuous improvement of living conditions. The States Parties will take appropriate steps to ensure the realization of this right, recognizing to this effect the essential importance of international co-operation based on free consent."
Prepared by
The Land Research Center
LRC