Dozers of Israeli municipality in Jerusalem demolish a house in the Al-Isawiya town
Dozers relative to the occupation's municipality in Jerusalem on May 24, 2016 demolished a house in the Jerusalem town of Al-Isawiya on the claim of "unlicensed construction". The demolished house (200m2) was still under construction and is owned by citizen Ibrahim Mustafa Ali.
The wife of Ibrahim told Land Research Center the following:
" My husband established the house in 2009 to be home for our family. We live in a residence that is owned by my brother. Thus, my husband built a house on a 200m2 plot we own in Al-Dhuhra neighborhood in order to move in to it.
At time of construction, employees from the occupation's municipality arrived at the location and took photos of it. Later on, we received stop-work order and a fine of 8000 NIS on the building. We immediately sought an attorney to object to the order and obtain a license for the building.
At the dawn of May 24, 2016, two dozers relative to the occupation's municipality accompanied by a number of policemen raided the area and embarked on demolishing the house. Not only, the force brought down a wall that belongs to citizen Amin Khallaf".
It should be marked that citizen Ibrahim Mustfa is handicapped and unemployed.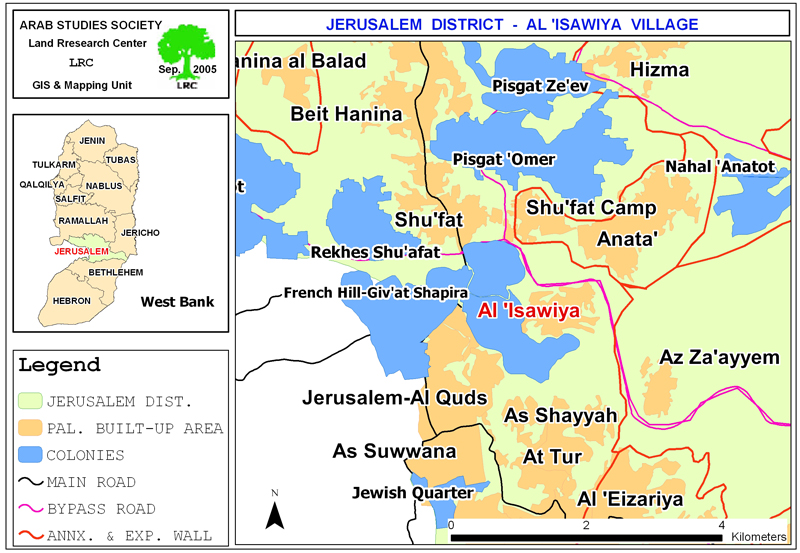 The occupation is seeking to empty the area from structures and people by conducting the policy of home demolition and lands confiscation in order to implement its plan of National Park, which devoured hundreds of dunums despite being officially and legally owned by Palestinians
The area of Al-Isawiya is suffering from Israeli measures and restrictions seen in closures, checkpoints and harassments. Kids, women and elderly suffer from soldiers where dozens of youth get detained on daily basis. Houses and structures get demolished and sabotaged as a result.
Prepared by
The Land Research Center
LRC