A military confiscation order on lands from the Hebron town of Beit Ummar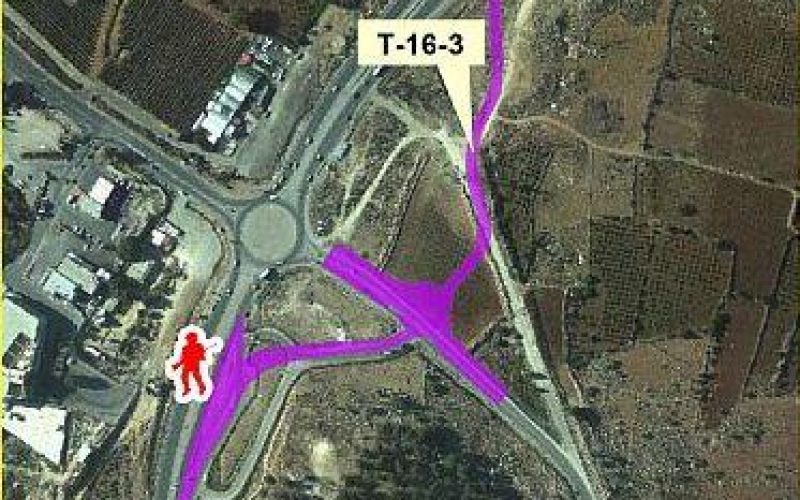 Violation: confiscation order
Location: Beit Ummar town- Hebron governorate
Date: May 10, 2016
Perpetrators: Israeli Occupation Forces
Victims: citizen Hasan Abu Iyyash
Details:
Israeli Occupation Forces issued on May 10, 2016 a military order to confiscate a plot from the town of Beit Ummar, north Hebron, claiming that a road will be opened there.
The order number (T/3/16) was signed by the commander of the Israeli army in the west Bank. The order was made to create a bypass road ,for vehicles coming from the south, that skips the junction of Gosh Zion colonies bloc. The order claims to reduce traffic when the road is opened.
The military order of confiscation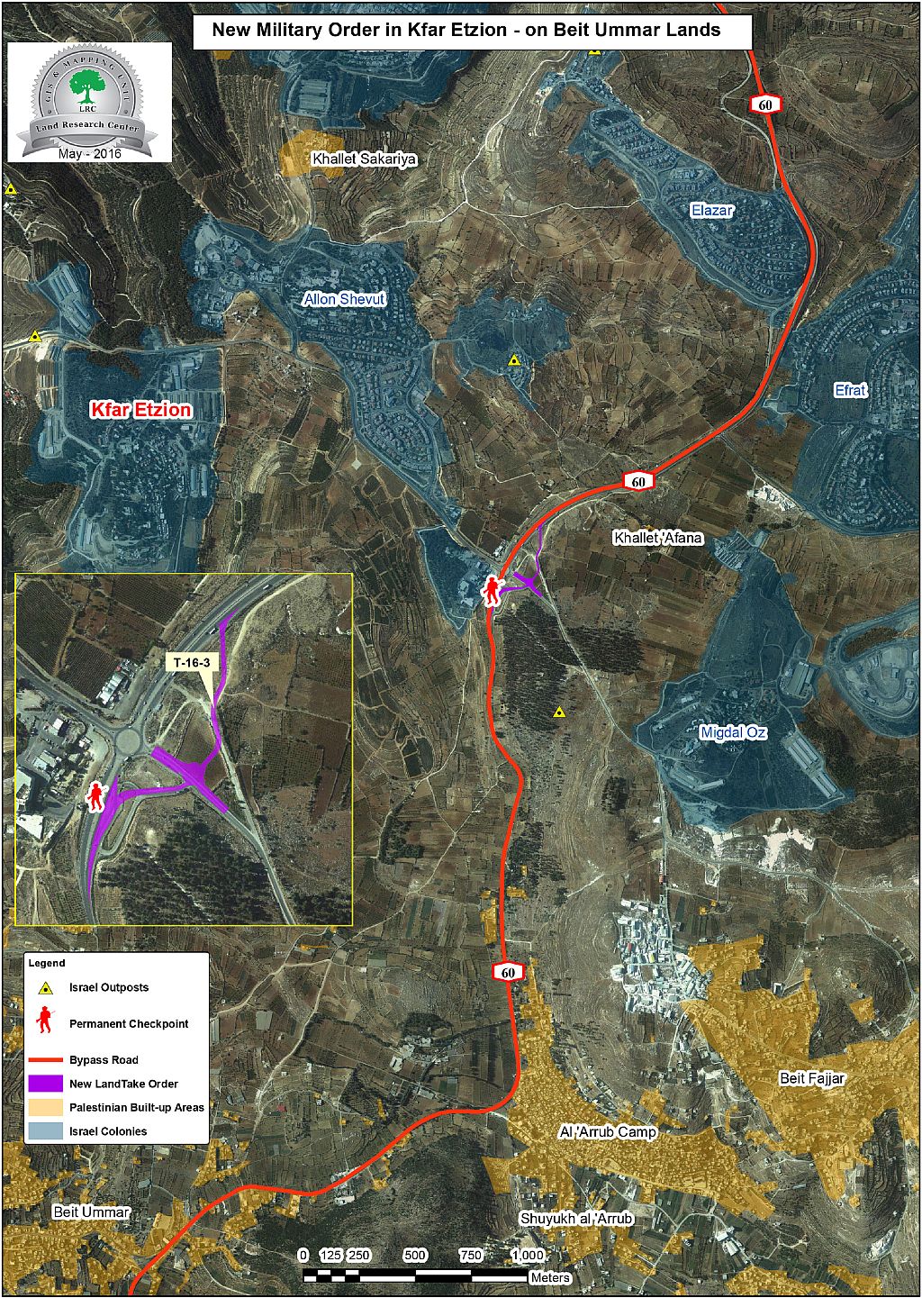 The validity of the order starts from the date of issuance on May 10, 2016 and lasts until December 31, 2018. Noteworthy, the order targeted an area of 8855 dunums from the natural block number 2 from Beit Ummar town.
A deadline of fourteen days only was given to the affected owner of land to object to the order in Israeli courts.
The confiscated land belongs to Citizen Ibrahim Abu Ayyash, who is a resident of Beit Ummar village. The seized land is located nearby the junction of Gosh Zion colonies bloc.
It should be marked that Israeli occupation authorities started the opening of the aforementioned road months ago. Israel claims that opening works are legal since the process came under military cover to "legally" take over lands.
About Beit Ummar:
It is located 12 km to Hebron city. The village's total area is 21,285 dunums, of which 1,375 dunums are considered the built-up area; around 13, 548 people inhabit Beit Ummar.
The Israeli occupation authorities confiscated 560 dunums from Beit Ummar for the favor of the bypass road no.60. The occupation also confiscated 1,216 dunums for the favor of the following colonies:
Colony

Year of establishment

Dunums confiscated from Beit Ummar

Built-up areadunums

No. of colonists

Karmei Zur

1984

179

289

623

Migdal Oz

1977

682

1,076.4

298

Kfar Etzion

1976

18.6

923.5

404

Efrat

1979

98.6

2,063.6

7,037

Alon Shevut

1971

237.8

934

3,146

Total

1216

5,286.5

11,508
Source: Geographic Information System- Monitoring Israeli Violations Team- Land Research Center
Some International conventions and Humanitarian laws pertaining to confiscating Palestinian lands are:
Article 17 of the Universal Declaration of Human Rights states:
Everyone has the right to own property alone as well as in association with others.
No one shall be arbitrarily deprived of his property.
Article 1 of the International Covenant on Civil and Political Rights States:
"All peoples may, for their own ends, freely dispose of their natural wealth and resources without prejudice to any obligations arising out of international economic co-operation, based upon the principle of mutual benefit, and international law. In no case may a people be deprived of its own means of subsistence."
Prepared by
The Land Research Center
LRC