The occupation municipality in Jerusalem demolishes a warehouse in At-Tur neighborhood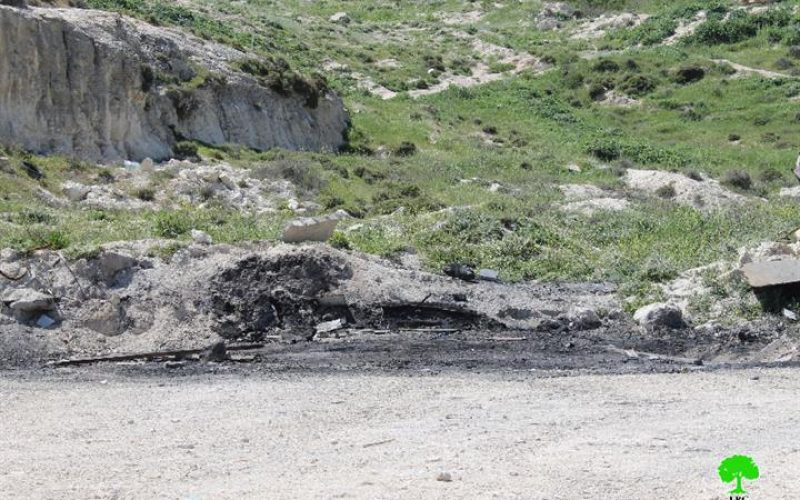 The dozers of the Israeli occupation municipality accompanied by Israel Nature Authority demolished a warehouse belonging to citizen Na'im Sbitan on the claim of "unlicensed construction". Noteworthy, the structure is founded in the area of Khallet Al-Ain from the Jerusalem neighborhood of At-Tur.
Citizen Sbitan told Land Research Center the following:
" Six month ago, I set up a 12m2 container on a plot I own in the area of Khallet Al-Ain to be used as a warehouse for my equipments. Since I work as a mechanic, I needed a place to store stuff related to my job like equipments, seats and car oils.
One week from setting up the container, I found a demolition order hung on the structure that is issued by the occupation's municipality. I didn't talk to anyone about the order and I received three different orders after that one.
On March 30, 2016, a massive force from Israel Police, Israel Nature Authority and two dozers came to the location and embarked on demolishing the structure. The damaged interior of the structure totaled 26,000 NIS.
This is not the first violation of its type since the occupation demolished a cars workshop I own and confiscated it interior".
The occupation municipality carries out all demolition operation on the claim of "unlicensed construction". The occupation's government keeps on imposing restrictions on constructions in Jerusalem; especially for Palestinians in order to stop their demographic expansion. Obtaining building permitslicenses in Jerusalem is almost impossible. Thousands of licensing applications are ignored and left in the drawers of the occupation municipality unconsidered . in the same time, thousands of colonial units are being approved for construction in Jerusalem.
Such Israeli measures and practices aim at creating a "reserve" area to be exploited for colonial expansionist plans, which are seen in the establishment of colonies, parks and public facilities. In other words, it is a Judaization plan being implemented in the city.
Prepared by
The Land Research Center
LRC