Stop-work orders on agricultural and residential structures in Yatta town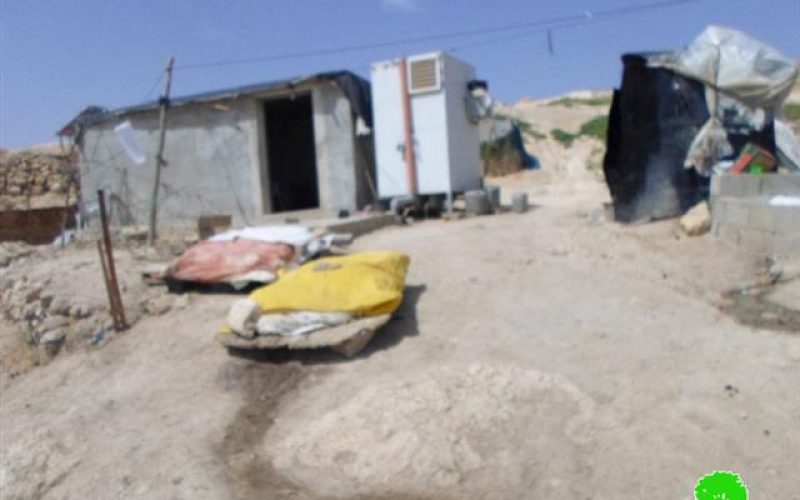 Violation: notifying 16 structures of stop-work
Location: Khirbet Al-Markiz- Yatta town
Date: April 05, 2016
Perpetrators: Planning and Construction Committee- Israel Civil Administration
Victims: residents of the hamlet
Details:
Israeli occupation authorities delivered on April 05, 2016 stop-work orders on residential and agricultural structures in the Yatta hamlet of Al-Markiz, south Hebron governorate on the claim of "unlicensed construction".
It should be marked that a massive force from Israel Civil Administration and an army patrol raided the hamlet, hung the orders on the targeted structures and took some photos of the location before the force had left.
The orders mentioned that construction works were "unlicensed" and ordered halt on them. May 02, 2016 was assigned as the hearing session of Inspection Sub-Committee in the court of Beit El colony to consider the status of the notified structures.
Noteworthy, the orders mentioned the possibility to apply for a building license but clearly stated that such licenses will not be granted to the affected citizens. The following table shows information about the affected people and properties:
No.
Name
Family
No. of targeted structures
Aream2
Targeted structure
Use of structure
Order
Photo
1
Ibrahim Abu Iram
8
1
30
Tent
For sheep
180660
1
Yousef Makhamreh
1
20
Room
Residence
180662
2
2
7
1
3
Portable toilet
External unit
1
60
Barn
For sheep
180661
3
1
—
Solar panels
For electricity generating
4
Omar Housheyyeh
1
10
Tent
Kitchen unit
180663
5
3
11
1
3
Portable toilet
External unit
6
1
20
Room
Residence
N.A
1
—
Solar panels
For electricity generating
7
1
20
Shed
For sheep
N.A
Najati Najajreh
1
20
Room
Residence
180665
8
4
7
1
20
Shed
For sheep
N.A
1
—
Solar panels
For electricity generating
N.A
Issa Hamamdeh
1
20
Room
Residence
9
5
6
180664
1
20
Shed
For sheep
N.A
1
3
Portable toilet
External unit
Total
39
16
249
Source : Field observation- Department of Monitoring Israeli Violations- Land Research Center-2016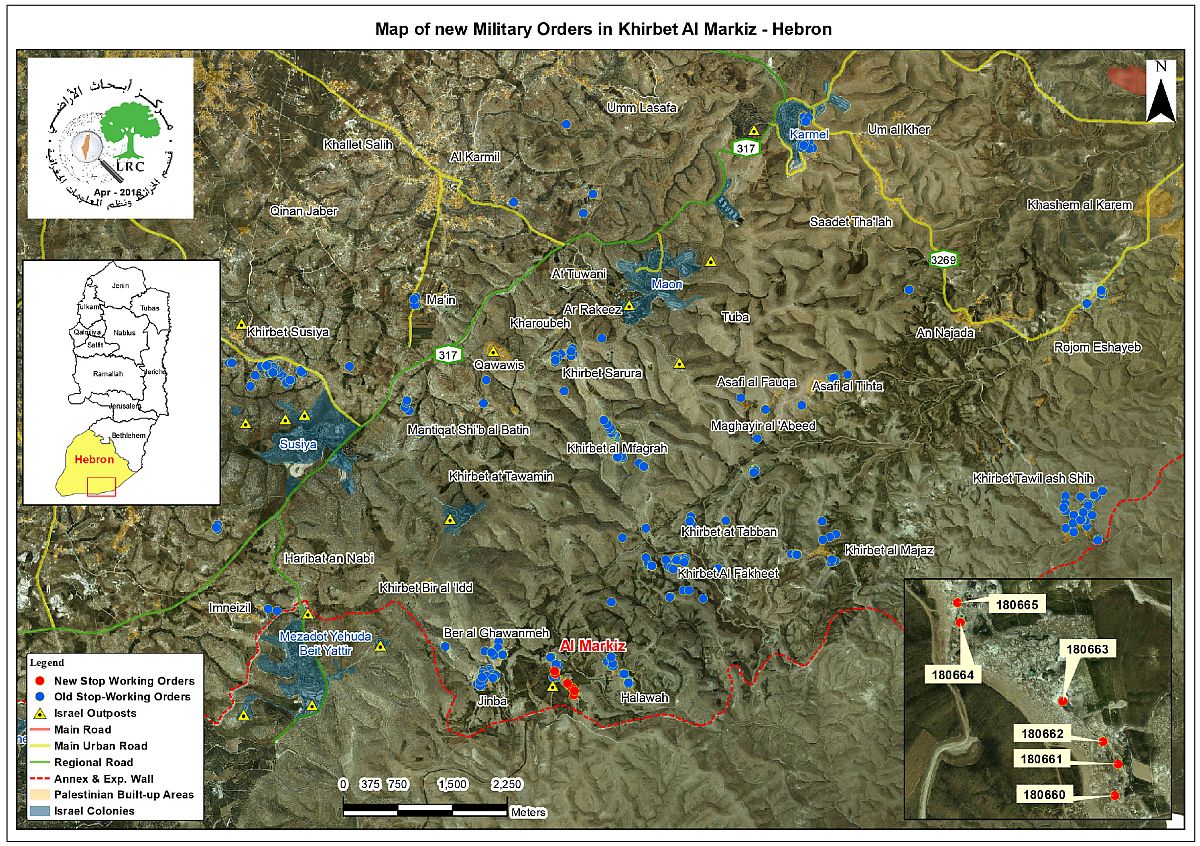 It should be marked that Israeli occupation authorities have been lately escalating the targeting of structures in the area of Masafer Yatta in order to force people move out their habitat to create an opportunity of takeover; especially due to the proximity of Israeli colonies namely (Karmel, Ma'on, Yaacov Dalia and Susiya)
Prepared by
The Land Research Center
LRC