Israeli Occupation Forces notify chicken farm and water well of demolition in Nablus city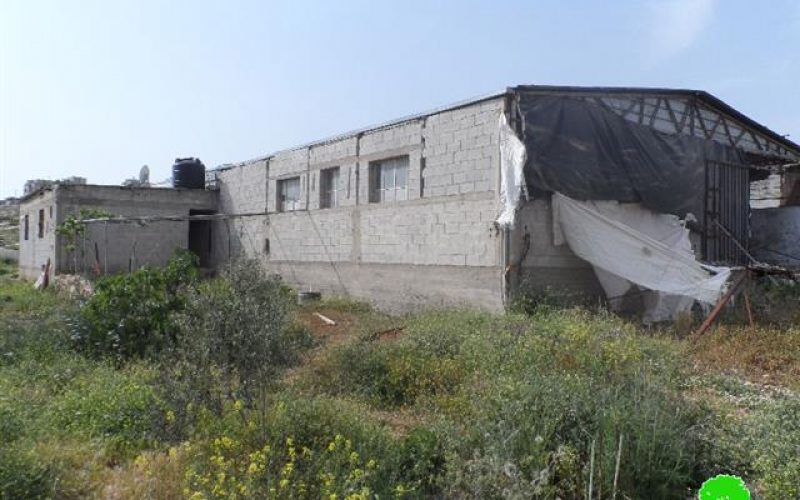 Violation: demolition order on structures
Location: Beit Dajan village- Nablus
Date: April 05, 2016
Perpetrators: Israeli Occupation Forces and Civil Administration
Victims: four Palestinian families
Details:
The so-called Planning and Construction Committee- Israel Civil Administration delivered on April 05, 2016 orders that mention giving "additional opportunity to object demolition" on chicken farm and water well. A deadline of three day only was specified in the orders.
It should be marked that the notified structures were served stop-work orders on March 05, 2013 on the claim of "unlicensed construction". At time, the affected sought to apply for building permits in Israel Civil Administration, which stalled and never granted them licenses. Eventually, the structures were served the recent orders.
The structures are reported founded in the eastern side of Beit Dajan village, the major parts of it are considered closed military zones by the Israeli occupation. Noteworthy, most of the agricultural structures in that area are notified with either stop-work or demolition.
It should also be marked that the structures were served stop-work orders on February 24, 2016. For more details, read the following report (Link).
The notified well is reported to be implemented through Palestinian Hydrology Group and funded by EU. The well totals 90m3. The following table shows information about the targeted structures and owners:
Affected citizen

Family

Minors

Notified structure

Aream2

No. of order

Photo

Nader Hajj Mohammad and his three brothers (Naser, Mansour and Nasri)

34

17

Chicken farm+ workers room+ storage unit

340

Water well

90م3
Photos 1+2: the military orders served on the structures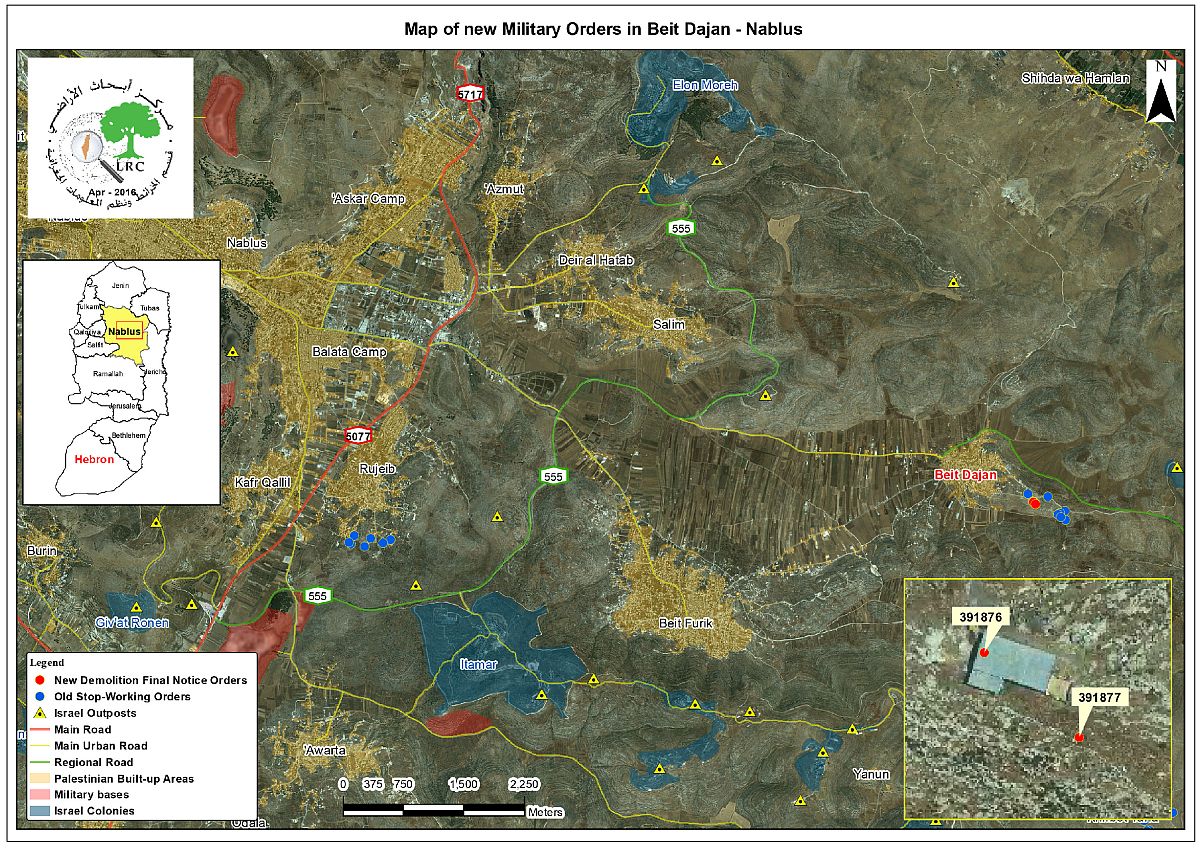 The chairman of Beit Dajan village council told Land Research Center that there are around 21 residence and agricultural barrack notified of stop-work over the past three years. Orders were intensively served in the eastern side of the village, which the occupation transformed into closed military zones.
About Beit Dajan:
It is located 10 km to the east of Nablus; its total area is 44100 dunums including 360 dunums of built-up area inhabited by 3900 people (2010 census) in addition to 12500 dunums that are related to the Jordan Valley. A large part of the village lands was confiscated for the construction of the colony of Mehola in 1973.
Beit Dajan is surrounded by a number of villages namely (Salem, Deir al-Hatab, Talluza, Beit Furik, Ghoor el-Far'a ) and depends on grains cultivation and fruitful trees such like olive, figs and almond.
Prepared by
The Land Research Center
LRC