Israeli Occupation Forces demolish the residence of martyr Ehab Maswadeh's father in Hebron
Violation: demolishing the walls of a residence
Location: Jabal Al-Sharif- Hebron
Date: March 31, 2016
Perpetrators: Israeli Occupation Forces
Victims: family of citizen Fat-hi Maswadeh
Details:
Israeli Occupation Forces demolished on March 31, 2016 the walls of residence Fat-hi Maswadeh, the father of martyr Ehab, in the area of Jabal Al-Sharif, south Hebron. It should be marked that the force raided the area at 24:00 and encircled the building, where the targeted house is founded. Soldiers then ordered the residents to evacuate the apartment in ten minutes. Shortly after, the family was held in a nearby apartment in the same time soldiers demolished the walls of their house.
The demolition was carried out on the claim that Ehab carried out a stabbing attack against a soldiers near the Abraham Mosque on December 07, 2016.
At time the occupation served a demolition order on Ehab's residence, Masawadeh family submitted a plea to Israel Supreme Court to halt the order but the decision ruled the demolition of the structure. Noteworthy, the order was issued in reference to the British Emergency Law of 1945, taking into account that that law was abolished long ago.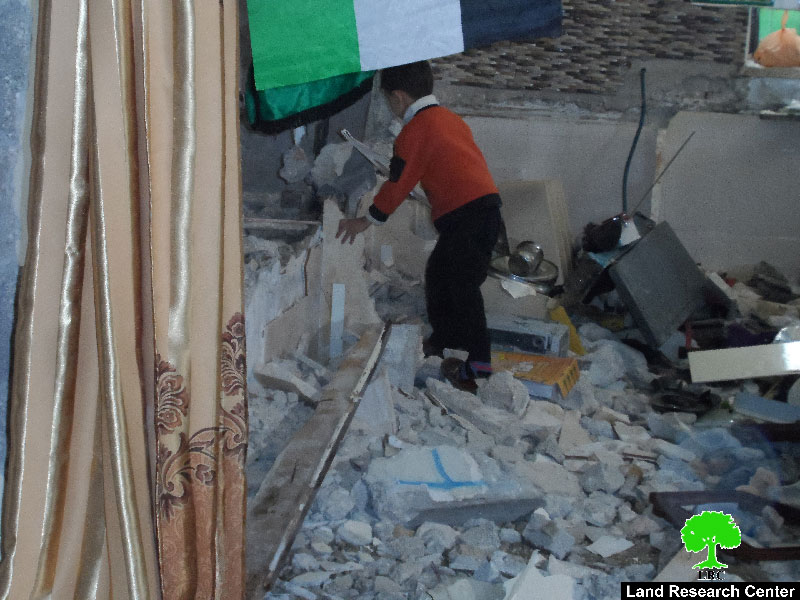 Article 119 of that law states that if a structure got demolished, owners cannot re-establish any structure in the demolished spot.
It is reported that the demolished apartment totals 160n2 and is located in the first floor of a five story building. The six member family of martyr Ehab including two children reside in the building. In a previous raid, Israeli Occupation Forces took spatial measurements of the apartment in preparation for the demolition operation.
Since Al-Aqsa uprising of 2015 until the date of this report, Israeli Occupation Forces demolished 26 residence on the claim of " Security purposes", causing 115 persons including 51 children to become homeless. Closing and detonating house also caused 42 residence to get partially damaged and uninhabitable.
It should be marked that Jerusalem was most targeted by "Security demolition" with a rate of 9 fully demolished houses and 11 partially demolished ones. Nablus came second with six fully demolished houses and 24 partially damaged ones. As for Ramallah and Hebron governorates, both got five residences demolished in each.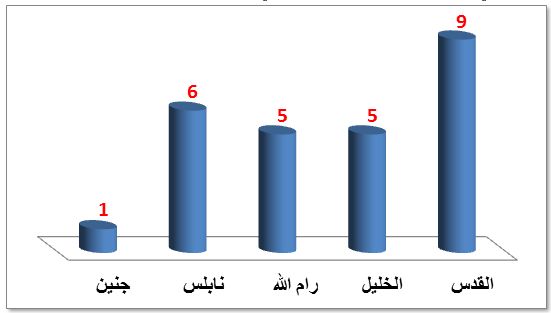 The graph illustrates the number of demolished residences on the claim of "Security Purposes" in West Bank and East Jerusalem since September 2015 until March 31, 2016
Land Research Center sees the vicious attack on Palestinian buildings as a collective punishment against the families of martyrs and prisoners. The occupation seeks to traumatize and humiliate Palestinian families through such practices.
The Israeli government claims such orders to be deterrent for Palestinians who carry out stabbing or killing attacks. Such attacks come in response for colonists' attacks on Palestinians, the latest of which was represented in torching a family alive, not mentioning running over kids and women, attacks on trees (torching , cutting down, robbing) and lands confiscation.
Prepared by
The Land Research Center
LRC