Stop-work orders on seven residences in Bani Naim town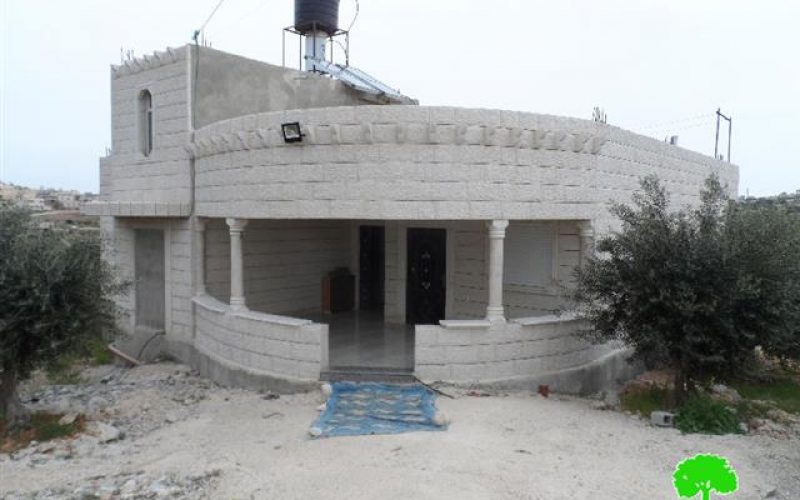 Violation: serving stop-work orders
Location: Khallet Abu Al-Rida- Bani Na'im
Date: March 23, 2016
Perpetrators: Planning and Construction Committee- Israel Civil Administration
Victims: residents from the village
Details:
Israeli occupation authorities notified on March 23, 2016 seven residences of stop-work and construction in the town of Bani Na'im, east Hebron on the claim of "unlicensed construction".
It is reported that vehicles from Israel Civil Administration and an army patrol raided the area known as Khallet Abu Bida, west of Bani Na'im, hung the order on the affected houses and took some photos of them before leaving the scene.
The notices mentioned that the structures were unlicensed and ordered a halt on construction works. April 18, 2016 was assigned as the hearing session of the Inspection Sub-Committee – Israel Civil Administration in the Israeli court of Beit El colony to consider the status of the notified structure.
It should be marked that some of the targeted residences are still under construction while others are in the finishing phase. The following table shows information about the targeted houses and owners:
No.

Name

Family

Minors

Aream2

No. of floors

No. of apartments

Nature of structure

Year of establishment

No. of order

Photo of house

1

Bahaa Al-Fheili

5

3

138

2

1

A residence+ warehouse (finishing phase)

2016

2

Fuad Al-Fheili

8

6

100

1

1

Residence (finishing phase)

2015

3

Jalal Al-Fheili

3

1

100

1

1

Ready for moving in

2015

4

Jamil AL-Fheili

7

5

190

2

2

Under construction

2016

5

Abdallah Tarayrah

0

0

800

2

6

Four apartment and two warehouses

2014

6

Rebhi Mowas

8

1

250

1

4

Warehouses( finishing phase)

2015

7

Muhanad Al-Mteiri

4

2

200

2

1

A residence and a basement

2014

Total

35

18

1778

11

16
Source : Field observation- Department of Monitoring Israeli Violations- Land Research Center-2016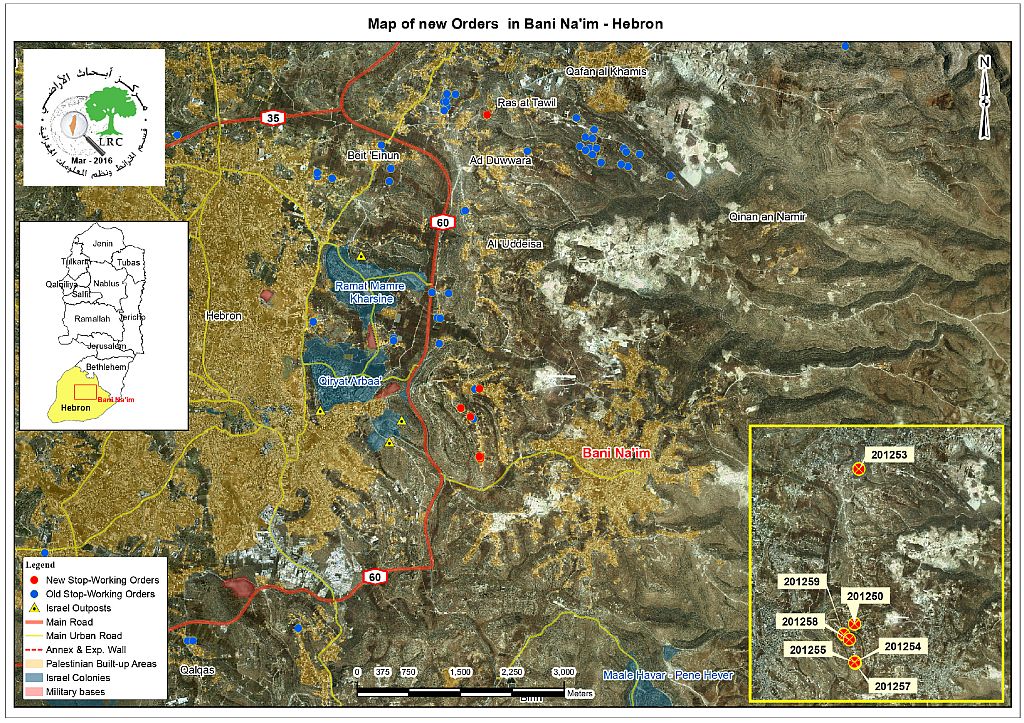 It should be marked that Israeli occupation authorities mention, in served orders, the possibility to apply for construction licenses, which the occupation never grant for Palestinians. Permits denial come on feeble pretexts and claims. In the same time , the Planning and Construction Committee- Israel Civil Administration grants building permits for colonists to expand colonies on occupied lands in 1967 and plans to establish new colonies in violation of international laws and human rights conventions.
According to a leftist Israeli source, the Supreme Council of Planning granted only one building permit for a single Palestinian construction in 2014. The source asserted that permits approval is linked to a political level. This is to say that Israeli government aim at limiting down Palestinian demographic expansion to create a "reserve" in area "C" for colonial plans of expansion.
Prepared by
The Land Research Center
LRC