Israeli Occupation Forces demolish residential and agricultural structures in Ramallah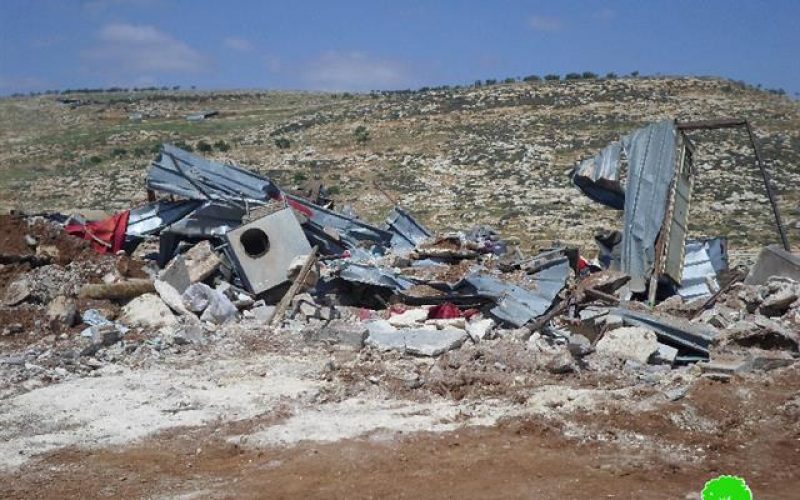 Violation

: demolition of structures

Location: Ramon village- Ramallah city
Date: March 29, 2016
Perpetrators: Israeli Occupation Forces
Victims: three Palestinian families
Details:
Israeli Occupation Forces and a staff from Israel Civil Administration raided on March 29, 2016 the Ramallah village of Al-Ramon; more specifically the area known as "Hawod Al-Quseirat".
It should be marked that dozers of the occupation embarked on demolishing three residences, agricultural barrack and a kitchen owned by three families from the area. The following table shows information about the affected people and property:
Affected citizen

Family

Demolished structures

No. of demolished residences

Aream2

No. of sheep barracks

Aream2

Other structures

Mohammad Kahla

7

1

60

1

280

Metal slaps kitchen 12m2

Salman Kalha

5

1

45

Qusai Kalha

4

1

60

Total

16

3

165

1

280

1
Source : Field observation- Department of Monitoring Israeli Violations- Land Research Center-2016
Photos 1-4: sings of destruction following the latest demolition operation
It should be marked that the affected families were served stop-work orders on their structures on May 201. Due to the fact the lands on which the structures are founded are neither rented and nor owned by anyone, licensing applications were denied for the structures' owners on September 2015 by Israel Civil Administration . Eventually, the structures got demolished as a result.
It is reported that the affected families come from Ramon village and that they depend on agriculture and livestock as source of income.
The Israeli occupation is known to claim Palestinian constructions "unlicensed" to get them demolished in areas classified "C" according to Oslo Accords. It is an Israeli means to create "reserve" lands for colonial expansionist plans.
Prepared by
The Land Research Center
LRC