For the second time in a month, the occupation forces demolish structures in Khirbet Al-Farisiya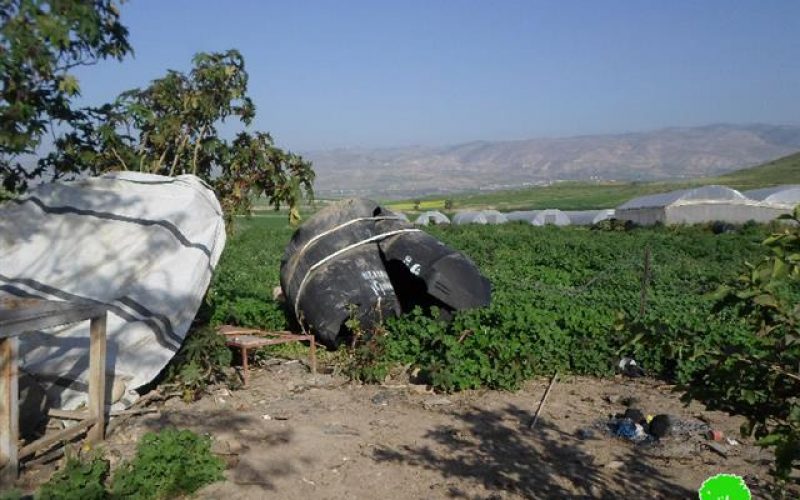 Violation

: demolition of structures

Location: Khirbet Al-Farisiya- Tubas governorate
Date: February 29, 2016
Perpetrators: Israeli Occupation Forces
Victims: four Bedouin families
Details:
For the second time in a month, the area of Al-Farisiya witnessed demolition operations that aim at emptying the area from indigenous inhabitants to serve colonial expansion.
It is reported that t a massive force from the occupation army accompanied by a staff from the Civil Administration raided on February 29, 2016 the area and embarked on demolishing four residential tents and two for sheep belonging to four Bedouin families. Also, two storage units and a water tank were demolished as a result.
It should be marked the two of the demolished tents were gifted by the Palestinian Red Crescent to shelter families after the first demolition occurred on February 11, 2016. The first demolition resulted in the destruction of 11 residential tents, 8 sheep tents and an agricultural barrack.
It should be also marked that the affected families received final demolition order on August 2015 and that an Israeli court ruled the residents of the area out on the claim of the area being "military training zone". The following table shows information about the demolished structures and owners:
Affected citizen

Family

Minors

Demolished residence

Demolished structure

Other

No.

Aream2

Nature of structure

No.

Aream2

Nature of structure

Yousef Ayyadeh

4

2

1

60

Residential tent

1

60

Sheep tent

Allan Daraghmeh

5

1

1

45

Residential tent

1

6

Storehouse

3 bees hives, generator

Mohammad Subeih

3

0

1

60

Tent gifted by Palestinian Red Crescent

1

6

Storehouse

Hamed Daraghmeh

10

3

1

60

Tent gifted by Palestinian Red Crescent

1

90

Sheep tent

Water tank (1m3)

Total

22

6

4

225

4

162

1
Source : Field observation- Department of Monitoring Israeli Violations- Land Research Center-2106

Khirbet Al Farisiya:
Khirbet Al Farisiya is located in Wadi Al Malih in Tubas Governorate at a distance of 20 kilometers east of the city of Tubas. The lands of the Khirbet stretch between Al Tayasir checkpoint and the Jordan River. Its current population is 400 Palestinians while the number exceeded 1,000 before the Israeli occupation of 1967.
The residents of the Khirbet largely depend on farming and herding as main source of income. The main clans in the area are Bisharat, Dababiyyat and Dharaghma from the city of Tubas and the town of Tammun. A number of the residents have their roots in the area of Yatta in Hebron Governorate.
Land Research Center LRC sees that demolitions contradict with and violate all of the International conventions and Humanitarian laws including:
Article 17 of the (1948) Universal Declaration of Human Rights stating: "Everyone has the right to own property alone as well as in association with others. No one shall be arbitrarily deprived of his property."
Section ‹G› of article 23 of the (1907) The Hague Conventions asserting: "In addition to the prohibitions provided by special Conventions, it is especially forbidden to destroy or seize the enemy's property, unless such destruction or seizure be imperatively demanded by the necessities of war."
Article 53 of the Geneva Fourth Convention (1948) declaring: "Any destruction by the Occupying Power of real or personal property belonging individually or collectively to private persons, or to the State, or to other public authorities, or to social or cooperative organizations, is prohibited, except where such destruction is rendered absolutely necessary by military operations."
Section 1, Article 11 of the International Covenant on Economic, Social and Cultural Rights (1966): "The States Parties to the present Covenant recognize the right of everyone to an adequate standard of living for himself and his family, including adequate food, clothing and housing, and to the continuous improvement of living conditions. The States Parties importance of international co-operation based on free consent."will take appropriate steps to ensure the realization of this right, recognizing to this effect the essential
For further information about what Khirbet al-Farisiya went through during 2014, please read through the following reports issued by the department of Monitoring Israeli Violations Team- Land Research Center:
Prepared by
The Land Research Center
LRC