The Israeli Occupation Forces demolish cows farm and vegetables storage unit in Tubas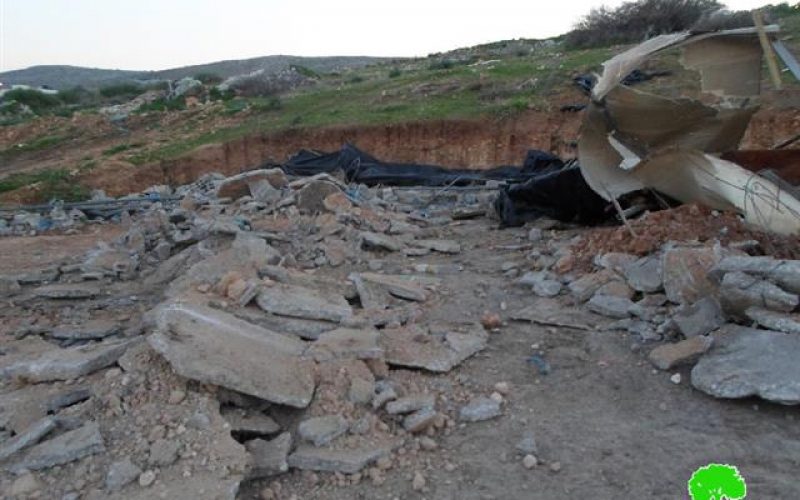 Violation: demolition of structures
Location: Bardala and Ein Al-Beida villages
Date: February 11, 2016
Perpetrators: Israeli Occupation Forces
Victims: two families (18 members)
Details:
The villages of Bardala and Ein Al-Beida, east Tubas governorate witnessed on February 11, 2016 a new attack that aimed at forcing Palestinian to move out and abandon their land.
It was reported that force from the occupation army accompanied by two military dozers raided the Ein Al-Beida village from the eastern side and embarked on demolishing a metal slaps barrack that was used as cows farm and two plastic storage units owned by citizen Zeyad Fuqha. The occupation claimed the farm "unlicensed construction despite it being established seven years ago.
In Bardala village, the dozers of the occupation reached out a station founded a one dunum plot. The structure belongs to Imad Sawafta and is composed of mobile room (16m2) and a storage unit (350m2). Noteworthy, the structure is used to gather farmers' production to be packed and shipped to occupied territories of 1967 and other Palestinian cities. The following table shows information about the affected owners and properties:
Affected citizen

Location

Family

Minors

Nature of demolished structure

Photo

No.

Aream2

Nature of structure

Zeyad Fuqha

Ein Al-Beida

10

2

1

300

Metal slaps barrack (14 cows and 20 sheep)

2

100

Two plastic rooms (fodder storage unit)+ 2 feeders+ 3 drinking units for animals+ three tables

2

20

Portable toilet+ kitchen

Imad Sawafta

Bardala

8

4

1

16

Mobile room

1

350

Metal slaps and cement bricks

1

4

Portable toilet

Total

18

6

8

790
Source : Field observation- Department of Monitoring Israeli Violations- Land Research Center-2016
It should be marked that the occupation notified the aforementioned structures of Stop-Work on July 14, 2015 and of "additional chance to object to demolition order" on August 17, 2015. For further information, please read the report issued by Land Research Center in this regard (Link)
Land Research Center LRC sees that demolitions contradict with all of the International conventions and Humanitarian laws including:
Article 17 of the (1948) Universal Declaration of Human Rights stating: "Everyone has the right to own property alone as well as in association with others. No one shall be arbitrarily deprived of his property."
Section ‹G› of article 23 of the (1907) The Hague Conventions asserting: "In addition to the prohibitions provided by special Conventions, it is especially forbidden to destroy or seize the enemy's property, unless such destruction or seizure be imperatively demanded by the necessities of war."
Article 53 of the Geneva Fourth Convention (1948) declaring: "Any destruction by the Occupying Power of real or personal property belonging individually or collectively to private persons, or to the State, or to other public authorities, or to social or cooperative organizations, is prohibited, except where such destruction is rendered absolutely necessary by military operations."
Section 1, Article 11 of the International Covenant on Economic, Social and Cultural Rights (1966): "The States Parties to the present Covenant recognize the right of everyone to an adequate standard of living for himself and his family, including adequate food, clothing and housing, and to the continuous improvement of living conditions. The States Parties will take appropriate steps to ensure the realization of this right, recognizing to this effect the essential importance of international co-operation based on free consent."
About Bardala
Bardala is located in the northeastern part of the Jordan Valley; the village is situated 25 km to the north of Tubas. It is surrounded by the Green Line (north), Raba (west), Ain al Baeda (east) and Tubas (south).
It has a population of 2112 people according to a 2014 census. It's total area is 18329 dunum, 404 of which is built-up area.
The Israeli occupation devoured 252 dunums of its land to open the bypasses road #'90. It also confiscated 819 dunums to build the Separation Wall(8197 in length) and isolated 2100 dunums of Bardala land as a result.
According to Oslo Accords, 90% of the village is area C, i.e. under Israeli authority while only 5% is area B.
Area B (910 dunum)
Area C (16845 dunum)
About Ein al-Baida :
The village is 18km to the east of Tubas; it totals around 70,000 dunums, 11,000 of which are agricultural where 668 dunums are the village's built-up area.
1650 people are the total population of Ein al-Baida, 60% of which come originally from refugee origins and are distributed on the areas of al-Sakut, al-Himih and al-Deir as two main families namely (Daraghmah and Fuqha)
Of the agricultural lands, an area of 5,000 dunums is only used by farmers where 6,000 dunums are confiscated and given to colonists by the occupation.
The rest of the village's area is unused and declared as closed military zones and military training camps by the occupation.
Prepared by
The Land Research Center
LRC