The Israeli Occupation Forces demolish a number of structures in the Bedouin community of Arab Al-Kaabnah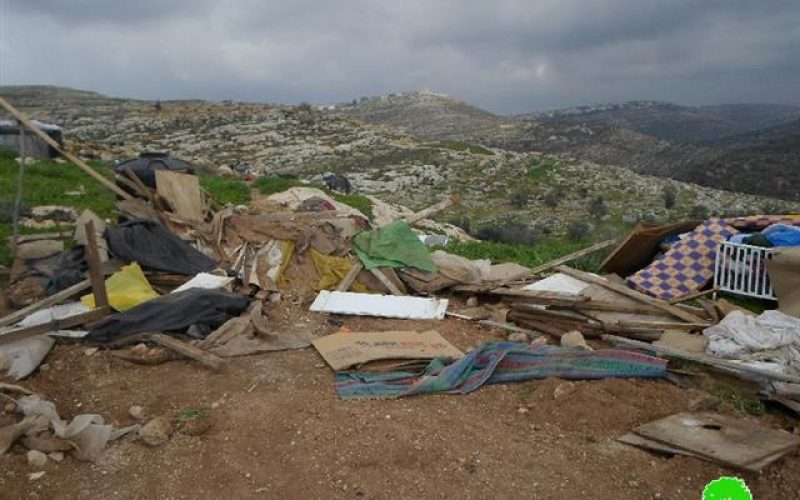 Violation: demolishing various structures
Location: Deir Ammar village- Ramallah
Date: February 01, 2016
Perpetrators: Israeli Occupation Forces
Victims: three Bedouin families
Details:
A massive force from Israeli Occupation Forces accompanied by a staff from the Civil Administration and two military dozers raided on February 01, 2016 the Bedouin community of Arab Al-Kaa'bnah, 4knm to the west of Deir Ammar village and carried out a vast demolition operation.
It should be marked that the demolition reached out three residential tents, a tent for sheep, a kitchen and a bathroom. The force withdrew at 9:30 in the morning leaving three Bedouin families (17 members including 11 children) homeless. Al-Kaa'bnah Bedouins are reported to live primitive life in tents that are made of hay and metal slaps for over 25 years. The following table shows information about the affected Bedouins:
Affected citizen

Family

Minors

Demolished structures

No. of photo

Remarks

Residential tent m2

Sheep tent m2

Others

Abdallah Jahaleen

5

3

1 (60)

—

Kitchen+ bathroom

Had structures demolished before.

Sayyah Jahaleen

8

66

1 (90)

1 (70)

Water hoses, power cables and a water tank

Had structures demolished before.

Ahmad Jahaleen

4

2

1 (60)

—

Kitchen+ bathroom

Had structures demolished before.

17

11

Three tents

1 tent

5
Source : Field observation- Department of Monitoring Israeli Violations- Land Research Center-2016
An affected resident of the demolition, Abdallah Jahaleen, told Land Research Center the following: " After getting our residences and barracks demolished by the occupation in 2013, we re-built them again with help and fund from the International Red Cross. On July 2014, we were served stop-work orders on our structures so we sought help through a human rights organization. But the occupation won since we don't have ownership documents on the lands. And in 2015, we received new notices giving us "additional opportunity to object demolition order" within three day deadline. Unfortunately, we lost the case"
It should be marked that the Bedouin community underwent a vast demolition operation on December 24, 2013 that left 14 families (60 members including 22 children) homeless. For more information, please read the report issued by Land Research Center in that regard (Ar, Eng)
About Al-Kaa'bnah:
It is indicated that the community of Arrab al-Jahhalin has originally roots in Bier es-Sab'a but the war of 1948 forced the residents to leave towards the area of south Hebron and then to the areas of the Palestinian Jordan Valley and other places in Ramallah and Tubas.
The population of the community is 60 people including 22 minors who live in there since 1996. Sheep herding is the main source of living and income for those residing the area.
Prepared by
The Land Research Center
LRC