Demolition of 17 residential and agricultural structures in the Nablus hamlet "Khirbet" of Tana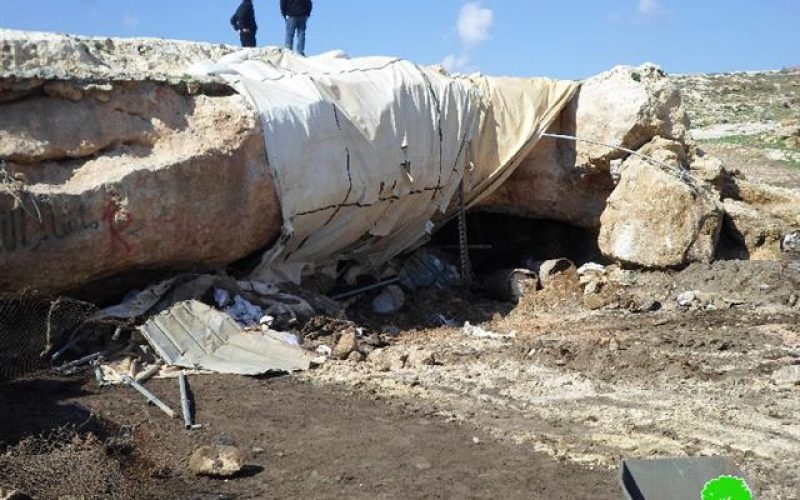 Violation: demolition of structures
Location: Khirbet Tana- Nablus governorate
Date: February 09, 2016
Perpetrators: Israel Civil Administration and army forces
Victims: 8 Palestinian families ( 38 members including 17 children)
Details:
A massive force from the Israeli Occupation Forces on February 09, 2016 stormed the area of Khirbet Tana, 4km to the east of Beit Furik village in Nablus governorate and embarked on a large-scale demolition operation that reached out several residential and agricultural structures.
It should be marked that six residential tents, facilities for sheep husbandry including an agricultural barrack and three tents for sheep all funded by EU through ACTED organization in addition to six barns were reported entirely demolished. The demolition operation left eight Palestinian families (38 members including 17 children) homeless.
The occupation justified the demolition on the claim of presence in "closed military zone" despite that residents of the area have official ownership documents on the lands, not mentioning that they reside the area for over 10 years.
Photos 1-6: the destructiondamage resulted to the demolition
It is reported that Israel Supreme Court rejected on November 2015 the plea submitted by the hamlet's residents to halt the displacement order issued by the court on February 2014.
The following table shows information about the affected resident and their properties:
#

Affected citizen

Family

No. of sheep

Demolished structure

Remarks

Residential tentm2

Tent barrack- m2

Barnm2

Othersm2

1

Radwan Khatatbih

4

100

45

–

100

External toilet+ kitchen and one m3 tank

Donated by EU

2

Mohammad Khatatbah

4

45

–

–

A tent donated by EU

3

Ibrahim Hanafi

6

130

45

45

100

A tent for fodder(12)

Residential and sheep tents are donated by EU

4

Mohammad Hanafi

6

135

20

60

100

External toilet + kitchen

Demolishing part of a residential cave and a barrack for sheep

5

Wasif Hanafi

1

180

45

45

100

External toilet + kitchen+ chicken coop

The residential tens and sheep tent are donated by EU

6

Saif Hanafi

4

–

45

0

–

Donated by EU

7

Raed Hanafi

9

110

45

45

100

A tent for fodder+ external toilet + kitchen

Tents are donated by EU

8

Yousef Hanafi

3

170

0

0

100

Fodder storage unit

Total

38

825

290

195

600
Source : Field observation- Department of Monitoring Israeli Violations- Land Research Center-2016
It should be marked that the targeted lands belong to 50 families(300 citizen) and are relative to the nearby village of Beit Furik.
Khirbet Tana has a total land area of 6000 dunums that are all classified as area "C" according to Oslo Accords. One third of Tana's lands was confiscated for the favor of Mekhora and Jetit colonies.
Despite the fact that the hamlet is founded before the occupation itself, the Civil Administration still refuses to allow citizens to expand and construct on their lands. Most of the hamlet's residents live in houses built by bricks and metal slaps, tents and caves. Tana hamlet accommodates a mosque and a single school.
It should be marked that Tana underwent thirteen demolition operations since 2005.
Israel Civil Administration is reported to reject developmental master plans for the hamlet where the neighboring colonies of Mekhora and Jetit enjoy all such privileges denied for Palestinians. As a result, the hamlet of Tana is still "Unrecognized" despite the ownership documents residents have on their lands and properties.
It became clear that the occupation intend to demolish all structures even the ones donated and funded by the EU and any other international organization. This step is taken as a collective punishment and a backlash for the EU on its stand stating that the West Bank including area "C" don't fall under the control of Israel.
Land Research Center LRC sees that demolitions contradict with all of the International conventions and Humanitarian laws including:
Article 17 of the (1948) Universal Declaration of Human Rights stating: "Everyone has the right to own property alone as well as in association with others. No one shall be arbitrarily deprived of his property."
Section ‹G› of article 23 of the (1907) The Hague Conventions asserting: "In addition to the prohibitions provided by special Conventions, it is especially forbidden to destroy or seize the enemy's property, unless such destruction or seizure be imperatively demanded by the necessities of war."
Article 53 of the Geneva Fourth Convention (1948) declaring: "Any destruction by the Occupying Power of real or personal property belonging individually or collectively to private persons, or to the State, or to other public authorities, or to social or cooperative organizations, is prohibited, except where such destruction is rendered absolutely necessary by military operations."
Section 1, Article 11 of the International Covenant on Economic, Social and Cultural Rights (1966): "The States Parties to the present Covenant recognize the right of everyone to an adequate standard of living for himself and his family, including adequate food, clothing and housing, and to the continuous improvement of living conditions. The States Parties will take appropriate steps to ensure the realization of this right, recognizing to this effect the essential importance of international co-operation based on free consent."
Prepared by
The Land Research Center
LRC