The Israeli Occupation Forces threat Ain Al-Rash-ash hamlet of demolition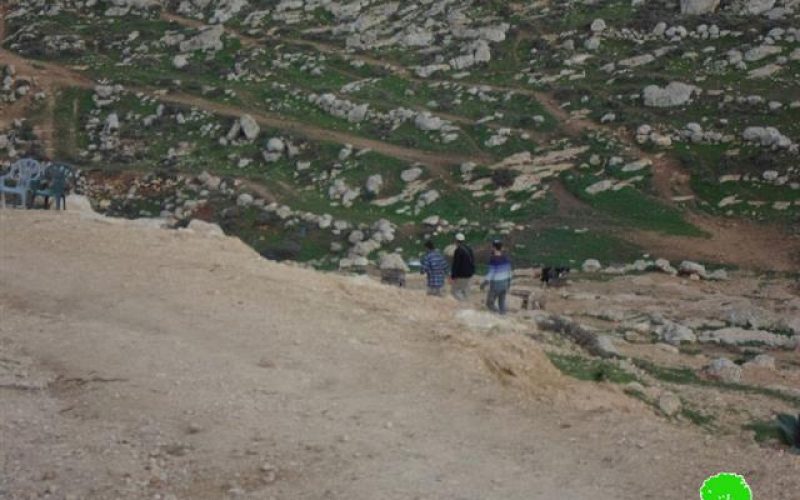 Violation: threat of demolition
Location: southeast Duma village- Nablus
Date: January 28, 2016
Perpetrators: Israeli Occupation Forces
Victims: 7 Bedouin families
Details:
With no infrastructure and electricity, the Bedouins of Al-Kaa'bnah have been residing the area known as Ain Al-Rash-ash, south Nablus city for over 30years. Living in houses made by hey and metal slaps, most of Al-Kaa'bnah Bedouins were born there developing a unique bondage with the land, valleys and mountains.
It should be marked that the area is located amidst three Israeli colonies namely (Kida, Yesh Kodish and Shilo). Not only, a military map is founded in the nearby, causing so much damage and changing facts on the ground.
On January 28, 2016 the Israeli Occupation Forces raided the community and verbally notified the residents of eviction within days on the claim that the area is "closed military zone"
Photo 1-6: view of the Bedouin community
It is indicated that the Israeli occupation authorities notified the residents of the community of eviction in 2014 on the claim of the area being "closed military zone". Al-Kaa'bnah people objected to the order in Israel Supreme Court through a human rights organization on July 2014. The plea was rejected on 2015 and the area was declared "closed military zone".
The residents of the Bedouin community showed unprecedented resilience and steadfastness on their land despite all dangers and threats of the occupation. The following table shows information about the affected families due to the eviction order:
Affected citizen

Family

Minors

No. of sheep

Notified structure

Residential tent barrack (m2)

Sheep tent barrack (m2)

Suliman Al-Zawahrih

7

3

160

Two tents (45 +60)

Sheep tent(90) fodder barrack (12) and a barn(160)

Atta Al-Zawahrih

5

3

60

Tent (45)

Sa'd Al-Zawahrih

5

3

75

Tent (60)

Mahmoud Al-Zawahrih

3

1

23

Barrack (45)

Muneer Al-Kaa'bnah

9

3

144

Tent(90) +barrack (60)

Sheep barrack (40)

Wael Kaa'bnah

4

2

22

Barrack (45)

Sheep barrack (40)

Jasir Kaa'bnah

3

1

25

Barrack (45)

Sheep barrack (60)

Kayid Al-Zawahrih

11

4

42

Two tents (60+60)

Sheep barrack(60), sheep tent(60) and fodder storage unit (12)

Ali Al-Zawahrih

5

3

11

Tent (45)

Raed Al-Zawahrih

6

4

23

Barrack (45)

Dahish Al-Zawahrih

3

1

10

Barrack (45)

61

28

595

Eight tents + six barracks

4 sheep tents+ 2 barracks+ two fodder storage units
Copy of some of the military orders that were handed to residents of
Kherbit Ein Ar Rashash back in November 2015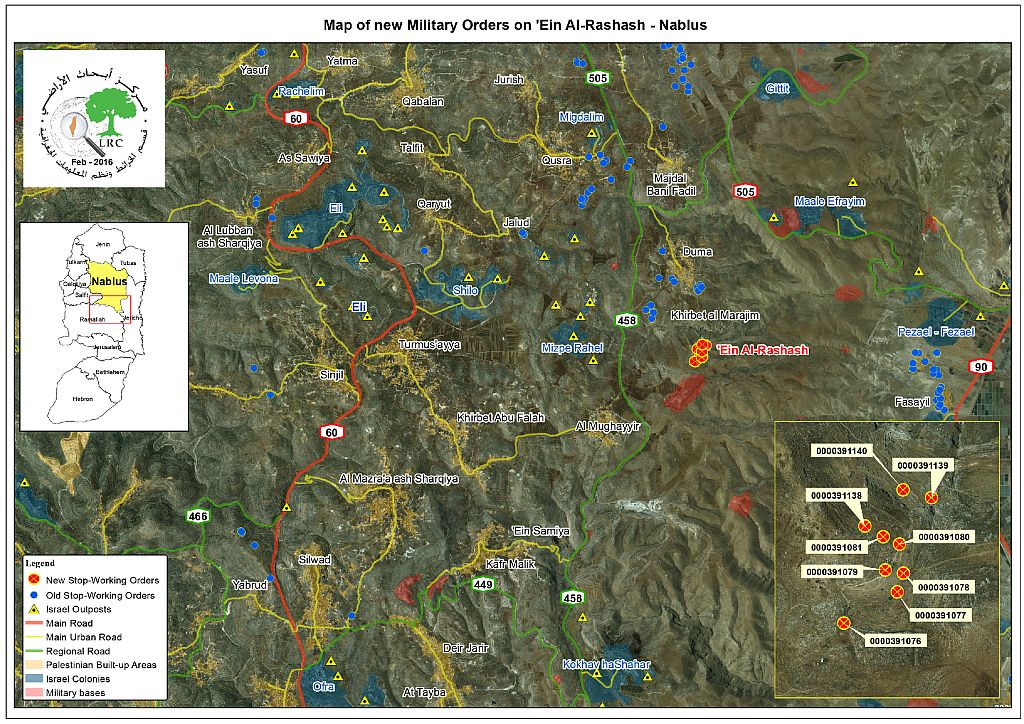 Prepared by
The Land Research Center
LRC