The Israeli Occupation Forces demolish two agricultural structures In Beit Ummar town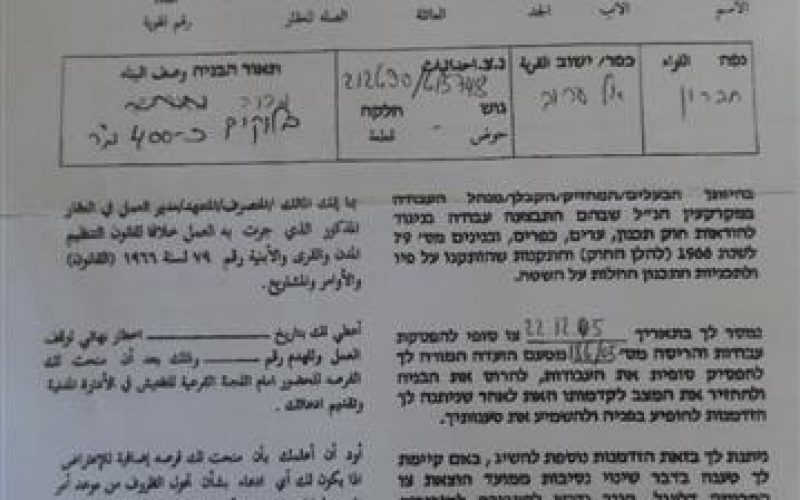 Violation: demolishing agricultural structures
Location: east Beit Ummar town
Date: January 14, 2016
Perpetrators: Israel Civil Administration and army troops
Victims: Faruq Abu Ayyash and Khalid Samahin
Details:
The Israeli Occupation Forces demolished on January 14, 2016 two agricultural structures for chicken husbandry, east Beit Ummar town and next to the bypass road number 60.
It is reported that a massive force from the occupation army accompanied by a staff from the Civil Administration and JCB dozer raided the area and demolished the structures on the claim of "unlicensed construction".
Structure of Faruq Abu Ayyash:
The Israeli Occupation Forces demolished Faruq's chicken barrack. The 100m2 metal slaps barrack was built in 2005 next to an old one established during the seventies. Noteworthy, the occupation only demolished the recently built structure.
Photos 1-3: signs of demolition
Abu Ayyash said that a six family members benefited from the structure. He also pointed out that the Israeli occupation authorities served the structure a stop-work order in 2005 and a demolition order in 2014. At time, Abu Ayyash objected to the orders in Israel Supreme Court ; he submitted a master plan of the plot as an evidence but the occupation refused to grant him a building permit.
Structure of Khalid Samahin:
The occupation dozer also demolished another chicken barrack owned by citizen Mohammad Samahin. Noteworthy, Samahin's structure is located right next to Abu Ayyash's.
The affected citizen said that workers accompanying the force evacuated some of the structure's interior while others disconnected the power in preparation for the dozer to demolish the barrack.
In addition to demolishing the 650m2 barrack, the dozer reached out Samahin's 100m2 room that was used as a resting room for the facility workers.
Photos 4-7: sings of demolition
It should be marked that Samahin received a stop-work order on his structure on January 24, 2005. Thus, the citizen prepared a legal file to license his structure but the occupation issued on February 22 a "final demolition order" on structure.
Surprisingly, the occupation served on August 27, 2015 an "additional opportunity to object demolition" order within a three day deadline only. Samahin immediately objected to the order using the same evidence of the Abu Ayyash but the demolition was approved effective.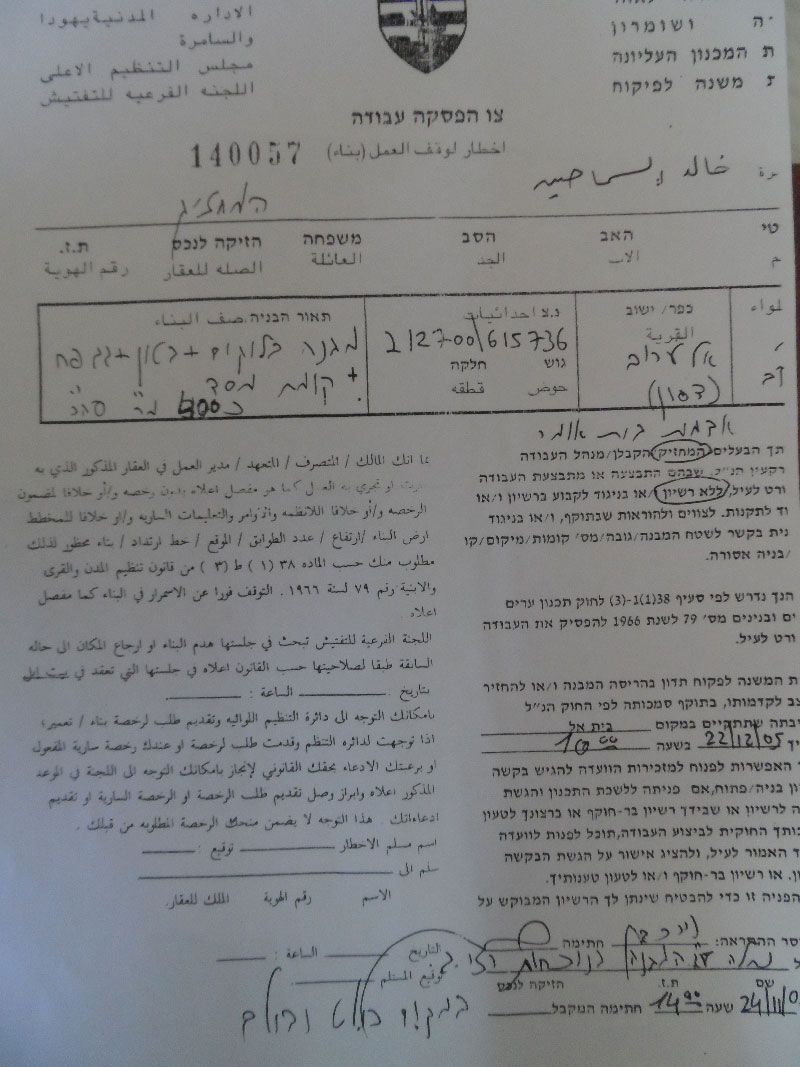 Photo 8: the orders served on Samahin's
It is indicated that the demolished structure was considered a source of income for Sarahin's six member family including four children. It should be also marked that the demolished structures are founded in front of the recently taken over building of Beit Al-Baraka. Israel Security minister ,Yalun, ratified a plan to annex 40dunums of Beit Al-Baraka to the colonies bloc of Gosh Etzion.
Prepared by
The Land Research Center
LRC