The Israeli Occupation Forces deliver stop-work orders in Nablus hamlet of Al-Marajim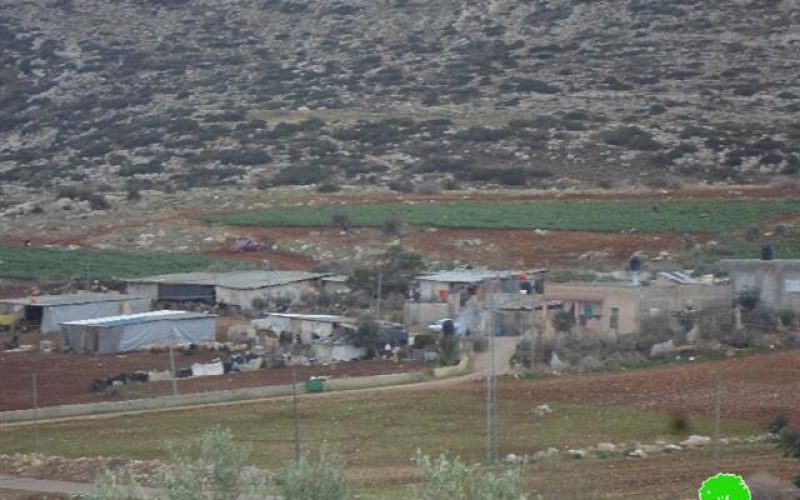 Violation: serving stop-work orders
Location: Al-Marajim hamlet
Date: January 10, 2016
Perpetrators: Planning and Construction Committee- Israel Civil Administration
Victims: three Palestinian families
Details:
A massive force from the Israeli occupation army accompanied by a staff from the Civil Administration raided on January 10, 2016 Al-Marajim hamlet, east Duma village in Nablus and delivered three families stop-work orders on their structures claiming them "unlicensed construction"
According to the military order, the affected owners were given a deadline until February 03, 2016 to complete all licensing procedures and documents to be later submitted to Beit El court to consider the legal status of the notified structures.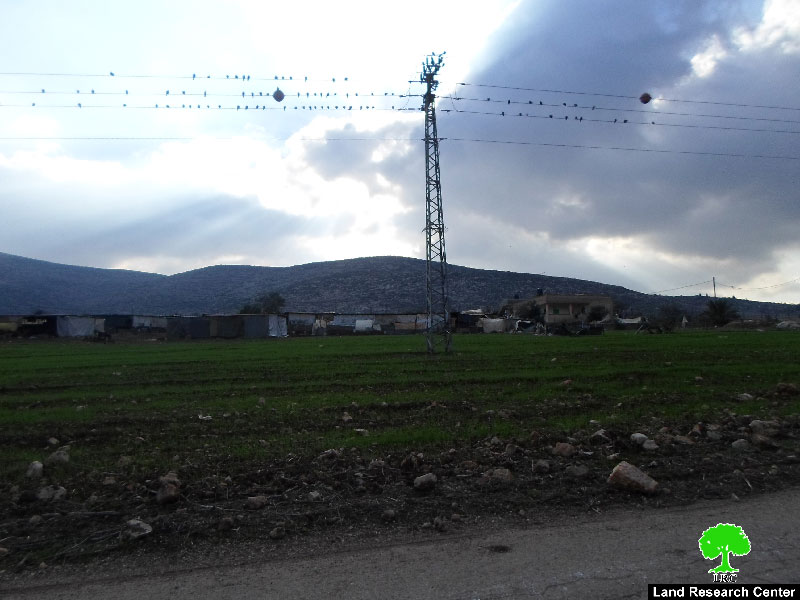 Photo 1: a view of the hamlet
The Sheikh of the hamlet, Mohammad Dawabshih told Land Research Center the following: " Al-Marajim hamlet is one of the communities the occupation doesn't recognize in area classified "C". All of the hamlet's structures are notified either of stop-work or demolition. Despite that residents apply for building permits and license, the occupation turns them down in a step to force the inhabitants to move out of their hamlet". The following table shows information about the damage resulted due to the orders:
| | | | | | |
| --- | --- | --- | --- | --- | --- |
| Affected citizen | Family | Minors | Aream2 | No. of order | Nature of struture |
| Hasan Dawabshih | 6 | 2 | 60 | | Residential room (metal slaps and cement blocks) |
| Imran Dawabshih | 8 | 5 | 75 | | Residential room (metal slaps and cement blocks) |
| Jamal Al-Tawail | 5 | 2 | (9+45) | | Mini market+ room |
| Total | 19 | 9 | 189 | | Three rooms and a mini market |
Source : Field observation- Department of Monitoring Israeli Violations- Land Research Center-2016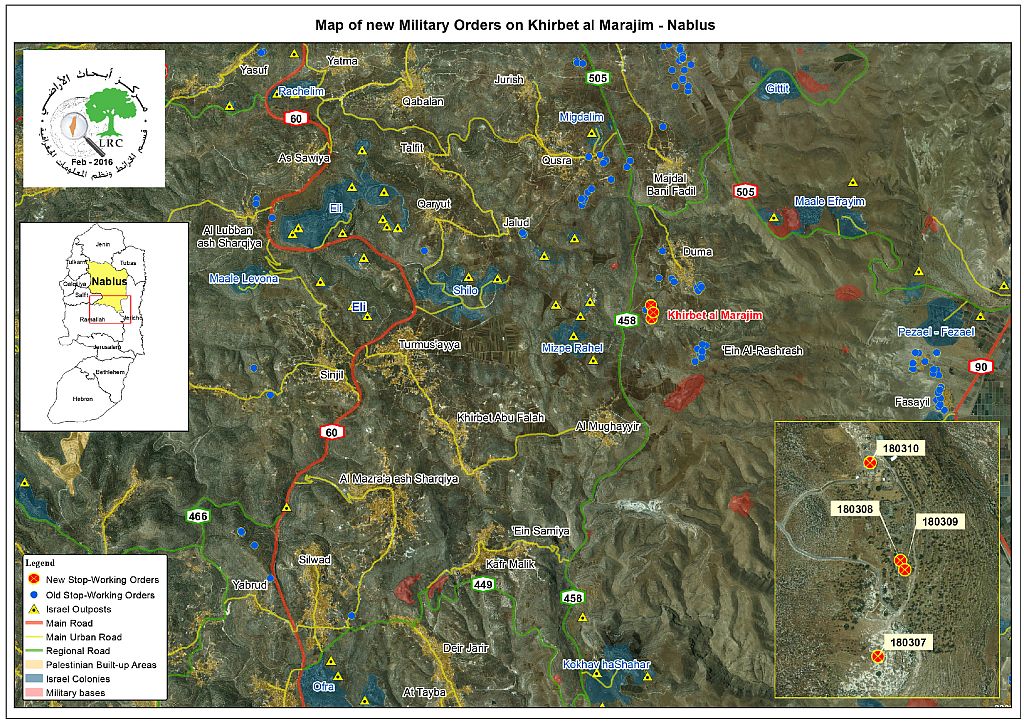 It should be marked that Al-Marajim hamlet is located 4km to the east of Duma village; it is founded between two mountains. Administratively, the hamlet follows Duma village despite being relative to Talfit village, south Nablus.
The hamlets populates 420 people on a total land area of 13,000 dunums. Residents of the hamlet mostly depend on the agriculture and livestock as sources of income.
Al-Marajim ,as other hamlets in the southern suburbs of Nablus, is a targeted of displacement by the occupation. Most of the simple houses of the hamlet (metal slaps and cement blocks) are notified either of stop-work or demolition.
Prepared by
The Land Research Center
LRC