The Israeli Occupation Forces confiscate digging equipments from Khirbet Al-Mfuqara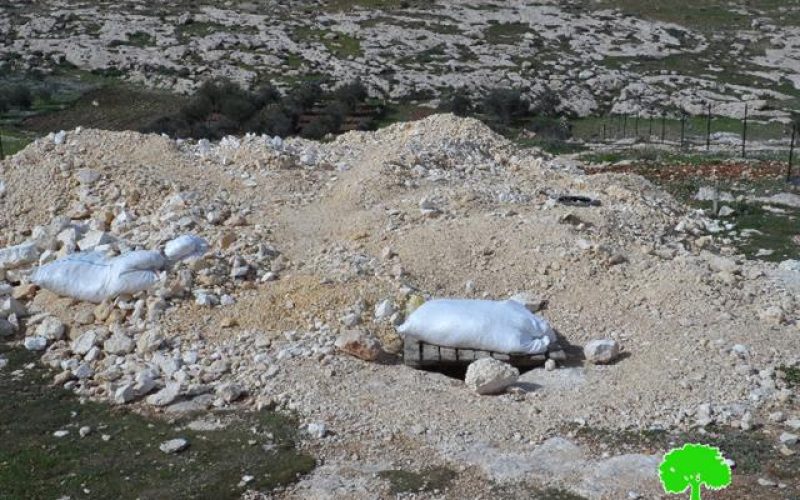 Violation: confiscation of equipments
Location: Khirbet Al-Mfuqara- Yatta
Date: January 17, 2016
Perpetrators: Israel Civil Administration and army forces
Victims: Citizen Mahmoud Hamamdeh
Details:
The Israeli Occupation Forces confiscated on January 17, 2016 digging equipments owned by Citizen Mahmoud Hamamdeh from Khirbet Al-Mfuqara, east Yatta town in Hebron governorate.
Hamamdeh (50) told a researcher from Land Research Center the following: " I started digging water well in the land of Ahmad Makhamara from the Khirbet. After eight days of work, I was surprised to see two army patrols arriving at the place. I was asked about the nature of my work and about the air compressor I used at the work site. I answered that the compressor broke and needs to be fixed. Shortly after, the force ordered me to stop work but I told them that I didn't receive any military order stating so".
Hamamadeh added:
" The officer deceived me by advising me to dismantle the winch and move the compressor away of the working site. This what I immediately did to be later surprised by a vehicle relative to the Civil Administration raiding the area and confiscating the equipments"
Hamamdeh pointed out that soldiers and workers from the Civil Administration moved the equipments through a truck to Kfar Etzion colony. A minute of confiscation was delivered to the equipments' owner.
It should be marked that Hamamdeh sent a request to restore his equipment to the fax number of the Civil Administration, which was mentioned on the minute of confiscation. He also phone called the officer but no one responded.
Photos 1+2: the minute of confiscation
It should be marked that digging water wells is Hamamdeh and his two sons' only source of income to support a 14 member family.
One of the confiscated items was an electricity generator, which Hamamadeh used to provide power to his house. Now the family is deprived of electricity as a result. Hmamadeh affirmed that his losses are estimated of 35,000 NIS.
Some international laws and convections pertaining to confiscation and destruction of properties:
Art. 147. Grave breaches to which the preceding Article relates shall be those involving any of the following acts, if committed against persons or property protected by the present Convention: wilful killing, torture or inhuman treatment, including biological experiments, wilfully causing great suffering or serious injury to body or health, unlawful deportation or transfer or unlawful confinement of a protected person, compelling a protected person to serve in the forces of a hostile Power, or wilfully depriving a protected person of the rights of fair and regular trial prescribed in the present Convention, taking of hostages and extensive destruction and appropriation of property, not justified by military necessity and carried out unlawfully and wantonly.
Article 17 of the (1948) Universal Declaration of Human Rights stating: "Everyone has the right to own property alone as well as in association with others. No one shall be arbitrarily deprived of his property."
Section ‹G› of article 23 of the (1907) The Hague Conventions asserting: "In addition to the prohibitions provided by special Conventions, it is especially forbidden to destroy or seize the enemy's property, unless such destruction or seizure be imperatively demanded by the necessities of war."
Prepared by
The Land Research Center
LRC