Itamar colonists take over more lands from Awarta village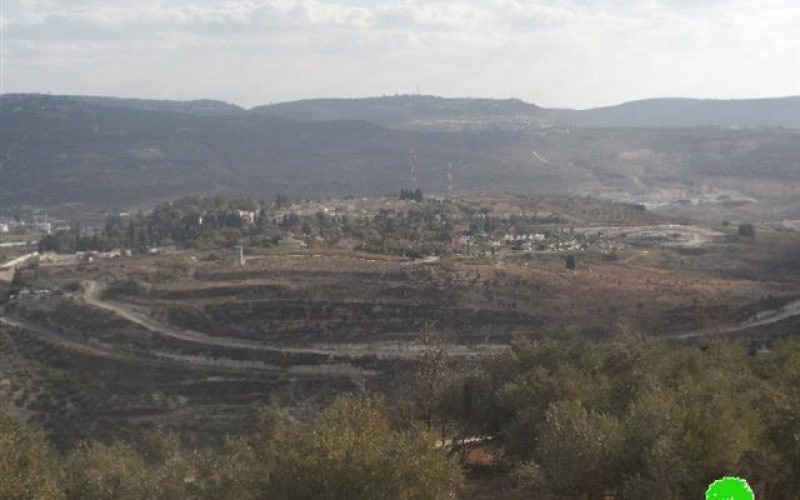 Violation: annexing agricultural lands to Itamar colony
Location: Awarta village- Nablus
Date: January 05, 2016
Perpetrators: Itamar colonists
Victims: farmers and land owners
Details:
Colonists of Itamar annexed on January 05, 2016 vast area of agricultural lands located between the villages of Awarta and Al-Yanun, more specifically the area known as Al-Bayyada. Noteworthy, the annexed areas were fenced by colonists to ensure the takeover .
Ghassan Daghlas, the responsible of the colonization file, told Land Research Center that fencing the aforementioned lands occurred in random areas close to the colony's periphery. This means that those lands will be illegally annexed to the colony.
The chairman of Yanun village council also told Land Research Center that the targeted lands were declared inaccessible for farmers but during specific times of the year under the condition of obtaining prior coordination from Israel Civil Administration. Yet, the area is accessible for colonists who graze their cows and sheep destroying crops and aging olive trees.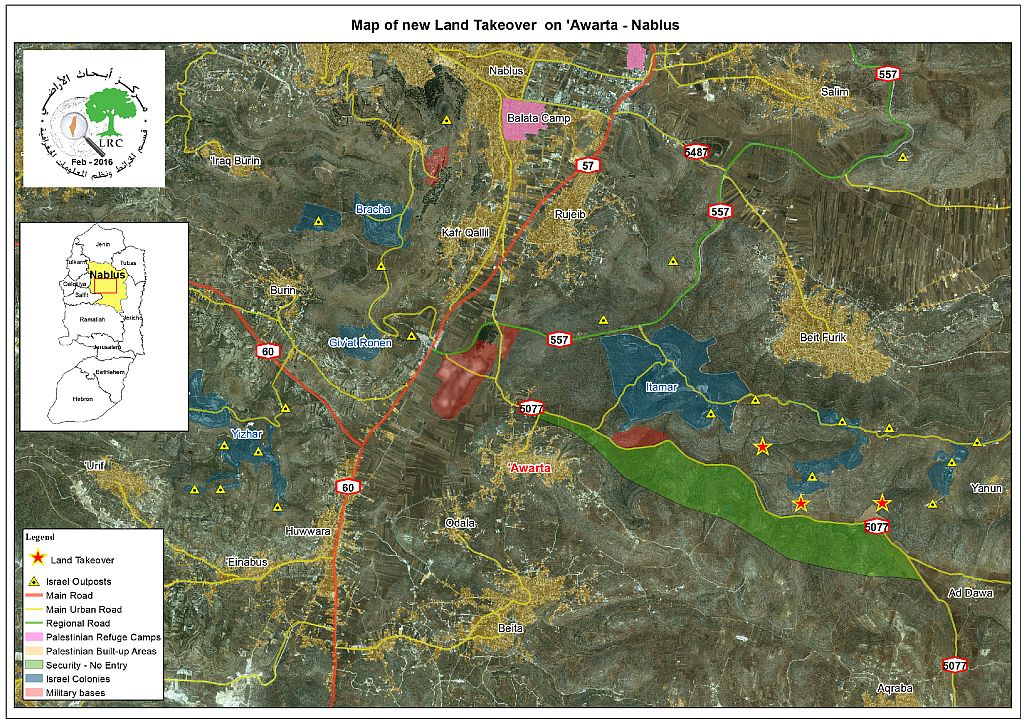 Itamar colony expanding on lands of Awarta
It should be marked that the owners of the fenced lands have previously submitted complaints to Israel Police, describing how their trees and crops have been damaged due to colonists grazing their livestock in the area. Unsurprisingly, Israel Police turned the deaf ear to the farmers and the complaint has never been considered.
Until the date of this report issuance, no fix statistics on the total area of the fenced lands is available due to the difficulty of accessing the targeted area.
About Itamar:
The colony was established by the students of Ma'ir Institution; it was first called Tal Hayeem as a sign to initiate the so-called Jewish Life in the location that is considered religious referring to a person called Elazar Itamar.
The colony then expanded and was later given the name Itamar. Its area tripled over the past thirty years. Now, the colony is of 6963 dunums, of which 253 dunums are the colony's built up area, where 651 colonists reside (2015).
Prepared by
The Land Research Center
LRC