Israeli stone quarries and crushers are founded on Palestinian private lands and do continuously expand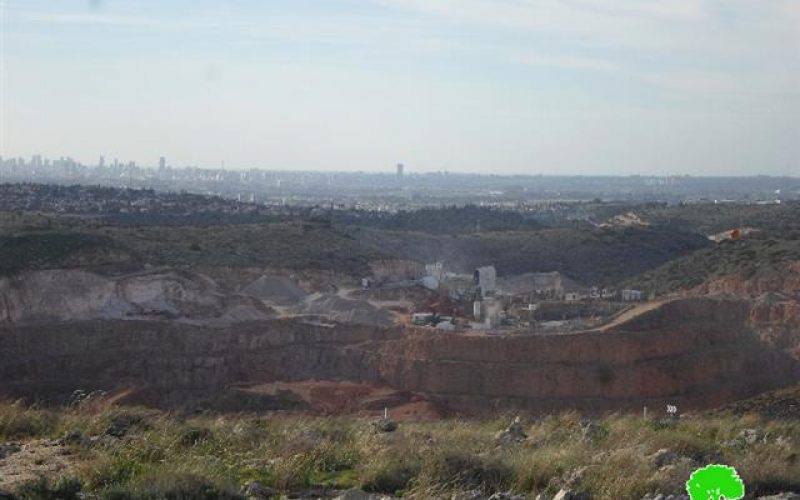 Preamble:
Since the Israeli occupation of the West Bank in 1967, the Israeli governments sought to take over Palestine's natural resources of the West Bank; especially after taking over the ones in the occupied territories of 1948. This step came to destroy the Palestinian economy and boost the Israeli one.
In 1967, the Israeli occupation sent a large number of geologists to best exploit natural resources in the occupied territories through military orders issued by the Civil Administration of each area in Palestine. As a result, Israel controlled all the natural resources; both above and under the ground such like water, stones, metals, gas and etc. Measures such like financial fines and complicated licensing procedures were imposed on Palestinians working in the stones sector as well as the owners of artisan wells.
In the same time, Israeli facilitated the work of colonists in the sector of stones and allowed all Israeli citizens to dig artisan wells so that the occupation expands and takes over more land.
Israeli stone quarries and crushers devour 3522 dunums of Palestinian private lands in the West Bank until 2015
Over the past five years, Israeli stone quarries have been expanding through taking over neighboring Palestinian private lands.
According to a report featured in Haaretz newspaper on January 04, 2016, stone quarries have expanded their areas on confiscated lands more than allowed by Israel Civil Administration.
The report mentioned that the Civil Administration is to legitimize the new takeovers and even allow more areas to be taken by the stone quarries.
It is reported that a total of 10 Israeli stone quarries are founded on confiscated lands from the West Bank. These quarries are run by Israeli companies andor colonists.
It should be marked that Israel Supreme court rejected a plea submitted through the human rights association Yesh Din in regard to the stone quarries. The court said that such quarries serve the needs of Palestinian and Israelis and don't, in anyway, violate international laws and conventions.
It is well-known that Israel Supreme Court rules in favor of colonists and rejects any pleas or objections made by Palestinians.
In the same time Israel Supreme Court ruled in favor of expanding the stone quarries, it refused the pleas submitted to stop the demolitions of the residences of martyrs Abu Jamal and I'lyyan.
In late 2011, Israel Supreme Court made a decision allowing Israeli stone quarries to keep on thier work in the West Bank in order to meet the economical needs of Israel stone's market. Land Research Center reported the aforementioned (Link).
At the beginning of 2016, ten Israeli stone crushers and quarries were documented producing 2930 tons of crushed stones, 1400 tons of gravel "base course" and 3030 tons of rock dust "powder".
It should be marked that 80% of the aforementioned quantities are used as a cover to establish and expand colonies across Palestine. Ironically, Israeli colonies are being expanded and established in Palestine using the natural resources of the occupied territories.
The following table shows information about the Israeli stone quarries and crushers that confiscate lands from the West Bank and East Jerusalem until 2015:
1

'Illit

Jerusalem

Bedouins of Nkheilih

1990

194

250

160

0

2

Meidan

Hebron

Al-Burj

1992

642

0

600

750

3

Wad Al-Khalil

Hebron

Khirbet Al-Rahwa

1995

347

400

380

0

4

Ben Ari

Hebron

Suba- Idhna

1996

280

0

200

350

5

Gal 'Illit

Hebron

South of Ad-Dhahiriya

2014

325

400

340

0

6

Har Mod'in

Ramallah

Khirbet Bani Harith

2002

350

400

400

0

7

Nov

Ramallah

Shuqba

2003

318

350

0

300

8

Keitar

Salfit

Az-Zawiya

1997

675

700

500

0

9

Ali Zahav

Salfit

Kfar Ad-Dik

2013

119

130

90

0

10

Tsofin

Qalqiliya

Jayyus

2009

272

300

360

0

Total

3522

2930

3030

1400
Source: Field observation- Department of Monitoring Israeli Violations- Land Research Center -2016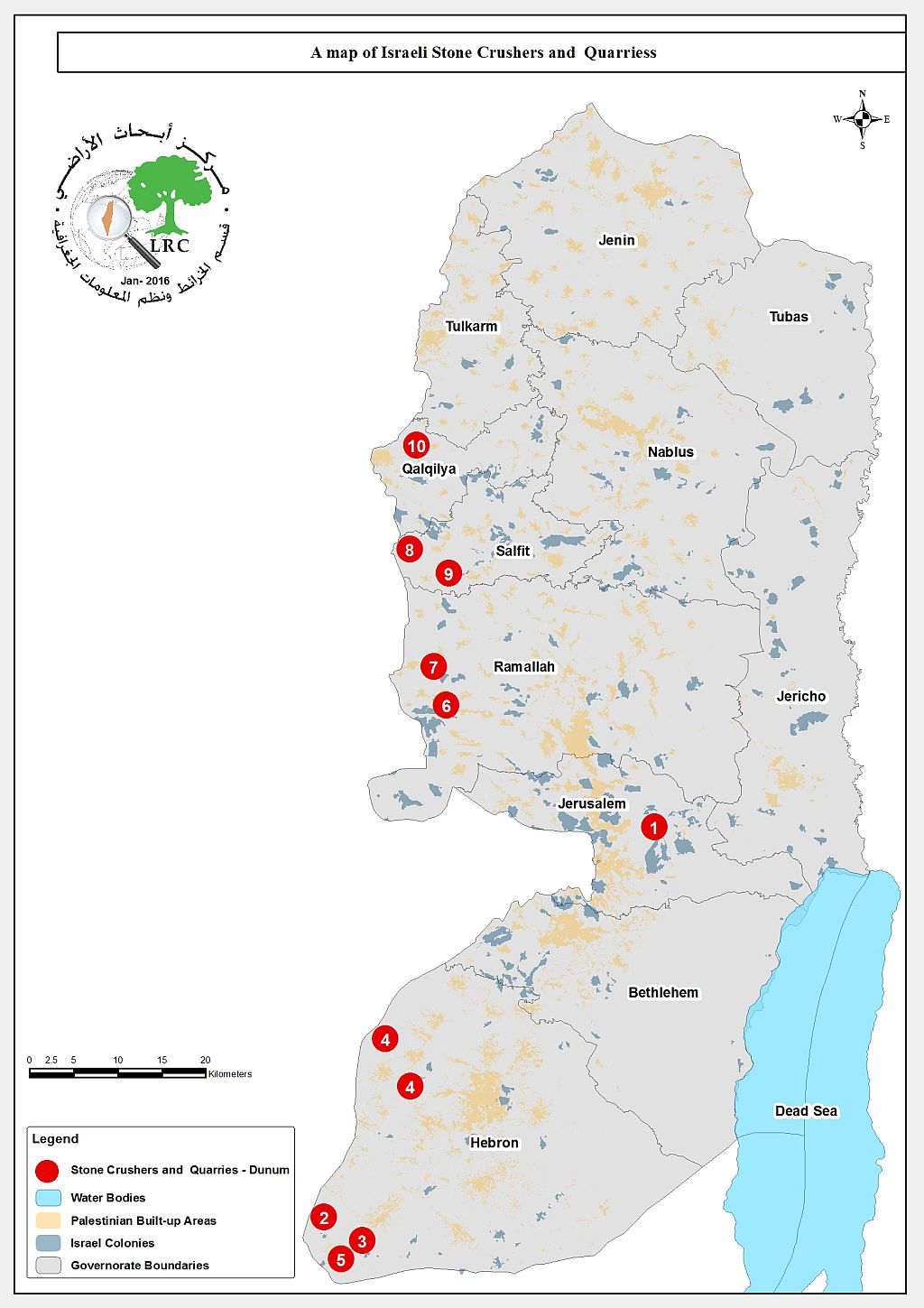 A map illustrating the location of Israeli stone quarries and crushers on confiscated Palestinian lands
Land Research Center sees that the decision made by Israel Supreme Court a blatant violation and contradiction of the Hague convention that stated the prohibition of exploiting the natural resource of occupied territories by the occupiers and the preservation of such resources. This proves how phony the Israeli law is, which only stands with colonists and their interests, forgetting all about Palestinians and their rights.
The decision is also a breach of the following international laws and conventions
The International Covenant on Civil and Political Rights:
All peoples may, for their own ends, freely dispose of their natural wealth and resources without prejudice to any obligations arising out of international economic co-operation, based upon the principle of mutual benefit, and international law. In no case may a people be deprived of its own means of subsistence.
Article 17 of the (1948) Universal Declaration of Human Rights stating: "Everyone has the right to own property alone as well as in association with others. No one shall be arbitrarily deprived of his property."
Not to forget, this decision is also a breach of the latest resolution passed by the General Assembly of the United Nations regarding the Palestinian sovereignty over natural resources under occupation. The resolution number 38/144 issued on December 22, 2015, stated "Permanent sovereignty of the Palestinian people in the Occupied Palestinian Territory, including East Jerusalem, and of the Arab population in the occupied Syrian Golan over their natural resources".
The adopted resolution demands that Israel cease the exploitation, damage, cause of loss or depletion and endangerment of Palestinian natural resources, and recognize the right of Palestinians under military occupation to claim restitution.
Prepared by
The Land Research Center
LRC