Israeli Occupation Forces demolish number of agricultural structures in Tubas governorate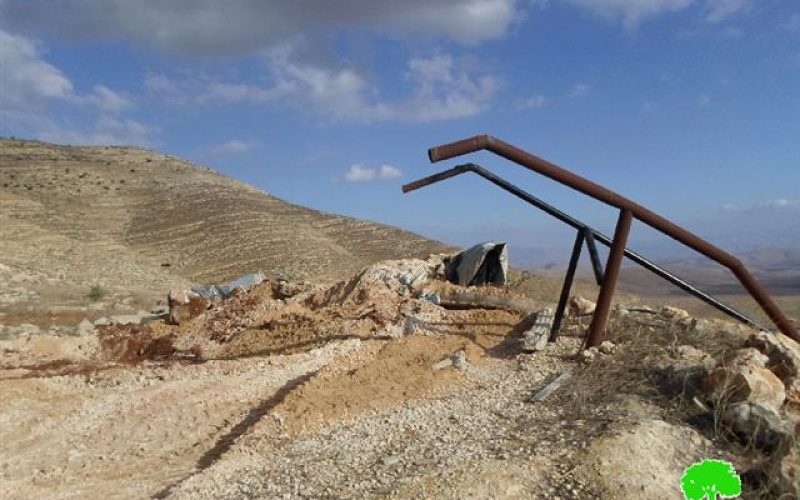 Violation: demolishing agricultural barracks and water tower
Location: Khirbet Ainon- Tubas
Date: January 14, 2016
Perpetrators: Israel Civil Administration
Victims: number of agricultural families
Details:
Eight km to the east of Tubas, Ainon hamlet witnessed a new attack carried out by Israel Civil Administration. A force from the occupation army raided on January 14, 2016 the area and embarked on demolishing four agricultural barracks, a residential tent and water tower. Noteworthy, the 200m3 water tower was built in 2013 with funds from World Union of Churches for the sake of providing the 190 residents of Ainon with drinking water. The occupation justified the demolition on the claim of "unlicensed construction".
Residents of the hamlet are now forced to buy drinking water from the neighboring village of Yarza. This will increase the price unit of water and will put a heavy burden on the shoulders of villagers.
It should be marked that the demolished structures have been notified of stop-work on February 2015. The orders were renewed on July 2015 and the structures were recently demolished as a result. Noteworthy, owners of structures tried to license their properties but the occupation refused granting Palestinians building permits on the claim of "construction on closed military zone". The following table shows damage resulted due to the demolition:
Affected

Family

Minors

Demolished structures

Remarks

Photo

Barrack

Residential tent

Others

Mousa Daraghma

9

4

300m2 barrack

90m2 residential tent

Animals feeders

Chicken husbandry barrack

Adnan Daraghma

4

2

250m2 barrack

Animals feeders and animals' meds

Sheep barrack

Mahmoud Maslamani

7

4

160m2 barrack

Storage unit of fodders

Mohammad Daraghma

9

4

120m2 barrack

Sheep barrack

Yarza water tower

0

Metal water tower built in 2013

Total

29

14

4

1

1
Source : Field observation- Department of Monitoring Israeli Violations- Land Research Center-2016
It should be marked that the hamlet of Ainon witnessed, over the past two years, many violations and attacks carried out by the occupation forces and the so-called Israel Nature Authority. Attacks were represented in uprooting seedlings and trees, confiscating water trucks and demolishing agricultural and residential structures.
Prepared by
The Land Research Center
LRC