Israeli Forces demolish the residence of prisoner Raghib Ileiwi in Nablus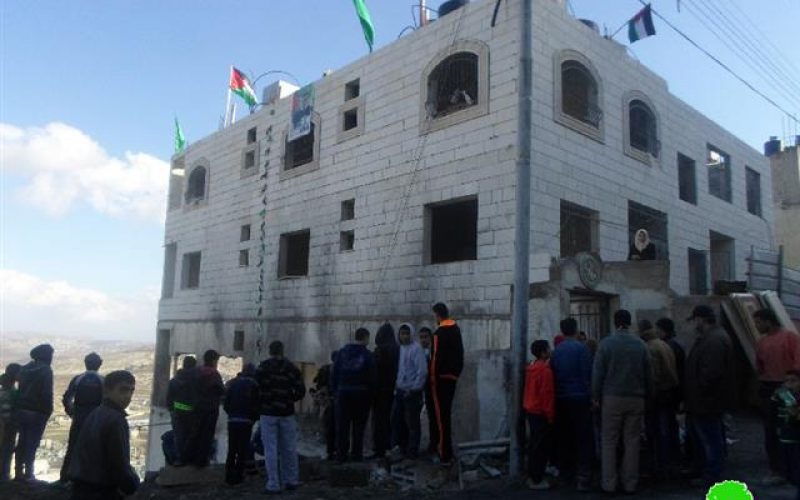 Violation: demolishing a house
Location: Al-Dahya area- east Nablus
Date: December 03, 2015
Perpetrators: the Israeli occupation forces
Victims: 8 Palestinian families
Details:
A massive force from the Israeli occupation army accompanied by explosives experts raided on December 03, 2015 the area of Al-Dahya, east of Nablus city to detonate the residence of prisoner Raghib Ileiwi (38) who is the alleged brain behind the killing of a colonist and his wife nearby Itamar colony on October 2015. The forces evacuated the residents of the building (four floors and 8 eight apartments) where the targeted house is located. Noteworthy, each apartment is of 110m2 in area. Also, the building is inhabited by 8 families totaling 51 members.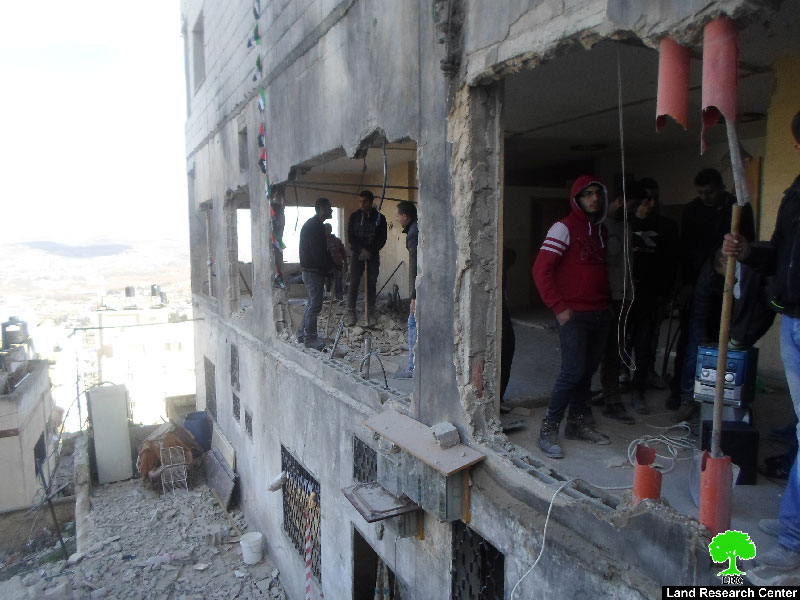 Photos 1-7: the destruction that followed the detonation of the building on December 03, 2015

Photos 8+9: the demolition order on the building
It should be marked that the explosives' workers poked holes in the walls of Raghib's apartment in the second floor of the building to be planted with explosives. After the detonation, the neighboring apartment belonging to the brother of Raghib was entirely destroyed due to the explosion. The other apartments are now unsafe for moving in after sustaining more than 60% damage.
According to the data of Land Research Center, the damage reached out the neighboring residences and the nearby mosque. Cracks in the walls and broken windows were obvious signs of the explosion.
It is worthy to indicate that Ghalib Ileiwi was accused of killing a colonist and his wife nearby Itamar colony by the Israeli government. Ghalib was arrested on October 07, 2015; his house was served a confiscation order 14 days later. The family filed a plea to Israel Supreme court to halt the demolition order but it was rejected on December 1st and the demolition was approved effective. The house was demolished on December 03, 2015 as a result.
The Israeli occupation authorities also demolished the house of three other suspects of the killing incident in the area of Nablus namely (Karam Al-Masri, Yahya Al-Hajj Ahamad and Samir AL-Kusa)
Prepared by
The Land Research Center
LRC